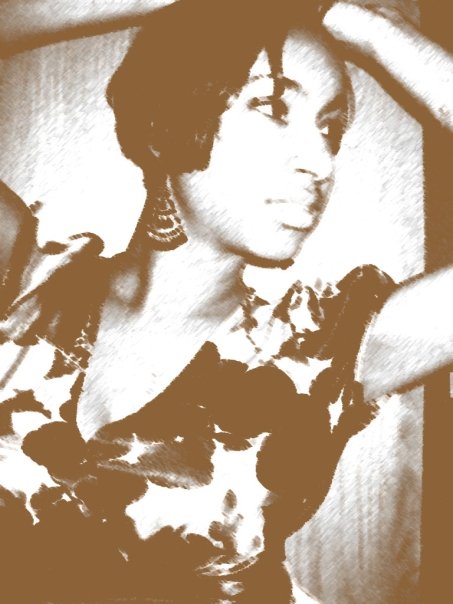 Name: Jenita Miller
Where do you live? Lumberton, NC, USA
Area of study: MFA Fashion Design and Merchandising
Day job / occupation: Devoted Student
What qualities do you most value in others?
Creativity, kindness, sense of humor, someone who has drive and ideas.
Name three of your favorite designers, journalists, blogs, etc:
Sense I've been studying fashion this semester, I've found love for couture designers, Yves Saint Laurent, Emilio Pucci, Chado Ralph Rucci, Vionnet, Jean Paul Gaultier, Versace, and Gucci. My favorite ready-to-wear deigners, Zuhair Murad, Alexandre Vauthier, and Pacco Rabanne so far.
I enjoy shopping at TJX stores and Forever21. I'm into trends, classics, and I love artistic-style clothing such as paint stroke printing, abstract, and geometric printing.
My favorite Youtube casters are BeautyQQ (Shanghai), AModelRecommends (Look-Alike Kate Moss Model), GiannyL (from Paraguay: She can make anything from scratch!), ItsRoseRoma, DulceCandy85, MasqueradeMakeup (Russia), Wen88888 (Worldwide Travelers), and MisfitMassacreMakeup. My favorite blogger so far is Aparment 15 and Lacquerholic.
List a guilty pleasure:
I enjoy reading Harper's Bazaar. I've been a subscriber to Teen Vogue and Vogue. I'm looking to subscribe back to InStyle and try Elle Décor along with People StyleWatch. I hope to find a discount dealer and have more time to look through the magazines.
I am a long-time fan of What Not To Wear, Jerseylicious (StyleNetwork), Selling New York, House Hunters/International, Top Chef, Restaurant Impossible, Food Network, Food Channel. I enjoy watching the Housewives of New York, Atlanta, and Orange County. I enjoy watching show like Peter Perfect (no longer on air) and Tabitha's Salon Takeover because it inspires me to one day help businesses that are in trouble and could use tweaking. It also informs me of different marketing for small businesses. I really enjoy watching reality shows.
What is your present state of mind?
Right now, I feel I've made the best decision by choosing the Academy of Arts University. I have been torn between fashion and interior decorating for a while. I've been learning about both apparel and home accessories this semester. I now feel I can combine the two without leaving one out because both are apart of the fashion world and very similar.
Decorating is use of common themes, color schemes, or about a different place in time. Many people are improving their current homes or more into creating a sanctuary at home. Many love to keep looking good with the latest fashions whether they're going on an extravagant trip or going to the supermarket. And apparel and accessories are about having a certain look and if you have different styles, it's like who do I want to be today.
Follow the jump to read more!
What is your dream job?
My dream job is to be a buyer. I hope to get to travel the world and buy apparel. I would love to also visit third world countries and buy personally from the people who make the products such as woven baskets, necklaces, handmade satchels, etc. I would love to attend several fashion weeks. And to live a very comfortable lifestyle.
What is the most important thing that people should know about you?
I'm relentless. I don't give up on things I start. I put my all into my personal interests.
When was the first time you recognized your interest in fashion?
I've always been interested in fashion. I was interested in becoming a designer as a child. I made complete outfits from worned out T-shirts and hosiery (layers and sheers). One of my pivotal moments is finding what I wanted to do was while playing with my new Barbie play set. It was a cash register that came with pink clothes hangers and a tiny credit card that swiped through the register. Once it was swiped, it automatically said, "Cha-Ching". I enjoy telling to the other Barbies. I also enjoyed being a salesman at yard sales.
I designed an evening gown for my senior project in high school. I picked out the fabric and design from illustration while working with my mentor. I figured becoming a fashion designer would be quite difficult to make a living so opted out. Although I went to school for Business administration, my mindset was always creativity. While in school, I knew I wanted to have my own retail business. In the past 5 years, I've gain interest in interior decorating. I've also always wanted to be a model and I have tried out for Barbizon modeling agency while attending college. I do feel my business degree is a great foundation for the fashion world.
I hope to become a household name if I find great success. Otherwise having my own store with apparel, accessories, and home accents will be great. I've told myself, if I have my own store, I would buy items to sell and design my own line on the side to see how it does. So no matter my direction, I always found myself reverting back to fashion and discovered again my first love. My second love is interior decorating.
Where have you found inspiration lately?
I have found inspiration in putting looks together. I'm currently building a blog but I think a website will be better because a blog is only for posting. I have many topics to talk about. As of this week, I'm a finalist for Rimmel's Next 10 competition. I have put a look together using their cosmetics and videotape me applying the makeup. I've also created a short commercial-like video introducing my tutorial. It took me about 6 hours to complete the video shooting and editing. I didn't mind because I enjoy putting lots of effect in things like that. If I win, I get free products over a 10 month period along with European-style gifts. I also will participate in reviewing products. I just hope to become a winner. The voting starts soon and ends by the first week of January. Here's my video: http://www.youtube.com/watch?v=J22CtyCLYXw
What is your most valued possession?
I don't have any but I do take pride in taking care of everything I own.
What music do you like to listen to?
My favorite types of music is dance, eletronica, house, chillout/lounge, new wave, worldbeat, pop and alterative rock music. Dance and House music is the modern version of disco and funk. My favorite artist include Kaskade, Blue Six, Sade, Kylie Minogue, Miguel Migs, Lady Gaga, Madonna, Nadia Ali, Frou Frou, Weekend Players, Jennifer Lopez, SOS Band, Tears for Fears, The Script, Goo Goo Dolls, Jason Derulo, Samantha James, Naked Music.
If you had an opportunity to travel back in time, who would you like to meet, and why?
I've always said, if I had the opportunity to travel back in time, I would revisit the 70s. I love prints such as paisley, geometrics, etc. I feel is one of the most appreciated decades as a lot of fashion from that decade is rebirth over and over. I would have loved to have met Bob Mackie although he's still living. Bob Mackie had made beautiful outfits in the past for Cher on Cher and Sunny Show. Although I wasn't born back then to see every out she wore, I can pick the favorites I've seen such as the Indian outfit, colorful sequined gown, and a turquoise pantsuit.
For more On Online, click here.