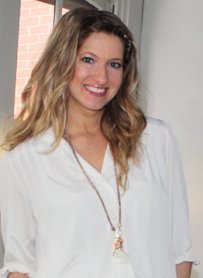 Name: Christine Esoldo
Where do you live? Lancaster, Pa. with plans of moving to Los Angeles sometime in the next few years
Area of study: MFA in merchandising (I have a BA in journalism)
Day job/occupation: I work in digital marketing, content strategy/copywriting, and user experience. I'm also in the process of launching a pet photography business and I volunteer at my local Humane League as a photographer.
What qualities do you most value in others?
Authenticity, reliability, and the ability to laugh at oneself even through embarrassing moments. I also appreciate a good grasp of basic grammar and knowledge of the difference between "they're," "their," and "there."
Who are some of your favorite designers, journalists, bloggers, stores, etc?
I'm sort of a jewelry junkie, especially statement jewelry. My favorite designers include DanniJo, Fenton, Fallon, and Lulu Frost. I also love J.Crew jewelry and have recently purchased way too many items from JewelMint. And of course, you can never go wrong with Tiffany.
 List a guilty pleasure:
I might be embarrassing myself here, but I love watching reruns of Ghost Whisperer and I was super disappointed when they cancelled it unexpectedly (Melinda's clothes were amazing and I loved her antique shop!). Nothing like a relaxing evening at home curled up on the couch with my beagles, sipping on a glass of wine, reading magazines, and watching Ghost Whisperer. I've also been known to watch reruns of The Hills while on the treadmill. Watching a good catfight really gets the adrenaline pumping.
Follow the jump to read more!What is your present state of mind?
Hopeful and determined. And under-caffeinated.
 What is your dream job?
Running my own jewelry company that also gives back to the community and important causes in a big way. Or running a beagle rescue. I'll probably end up doing both and I'll find a way to combine them.
What is the most important thing that people should know about you?
I don't believe in failure. Not that failure doesn't happen, because it sure does. But when it happens, it's not the end of the road; it's just a bump in it. Pick yourself up and keep moving forward. Also, I believe in understanding and revering the semicolon. It's the best (and most misunderstood) punctuation.
When was the first time you recognized your interest in fashion?
Probably when I was digging around in my mom's jewelry box or closet as a small child. I always loved fashion and clothes, especially jewelry. In fact, my first "job" was designing and making jewelry out of clay. I set up a display board, made up order forms, and sent it to my mom's office, where several people ordered. I soon wised up and started taking custom orders, too. I was quite the entrepreneurial 11-year-old. Not much has changed in two decades.
Where have you found inspiration lately?
Inspiration is everywhere! Nature, magazines, photography, store windows, architecture, on the street, in the grocery store, wherever! It never comes from just one place for me.
What is your most valued possession?
Not exactly a possession, but I love my beagles. They make my life better. Truly. Animals are amazing creatures. And after that, I'd say my camera, computer, and all of the equipment that goes with it, along with my photographs. And then my wedding bands/engagement ring.
What music do you like to listen to?
Well, since it's the holidays, I've been listening to the holiday station on Pandora pretty much non-stop. Other than that, I like a pretty wide range of music and it's hard for me to pin down a favorite.
If you had an opportunity to travel back in time, who would you like to meet, and why?
I would want to meet my ancestors. My great, great, great grandparents. I'd love to know the people who helped shaped my existence. And while I've already met her and had the pleasure of spending 18 years with her before her passing, I'd love to chill with my awesome grandmother back when she was young.
For more On Online, click here.