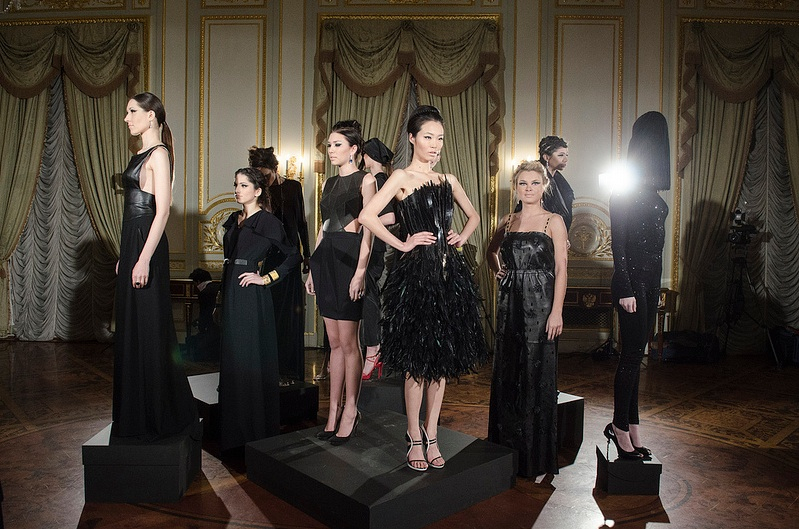 Front row: Tegin, Irina Shaposhnikova, Dmitry Loginov Arsenicum, Tegin, Headpiece by Sergey Polyakov. Back row: Aleksandr Khrisanfov, Serguei Teplov, Bessarion. Photography: Kris Connor / Getty Images
London, Paris, Milan, and now Moscow!
Russian lifestyle magazine, DEPESHA, along with the Consulate General of the Russian Federation, hosted the Russian Fashion Industry Presentation and Reception during New York Fashion Week last month. Featuring, original works from modern Russian designers including Irina Shaposhnikova, Aleksandr Khrisanfov, Serguei Teplov, Dmitry Loginov ARSENICUM, Tegin, BEssARION, Sergey Polyakov and Viva Vox, the evening celebrated Russia's growing presence within the global fashion community.
"Something really special is happening in Russian fashion nowadays," said Stephan Rabimov, DEPESHA founder and editor-in-chief, "The industry is currently experiencing amazing creative and commercial success domestically. If this momentum keeps up, it could potentially engulf the world of fashion in the way that Belgian and Japanese designers transformed it at the turn of this century. Russia could be the next fashion hothouse!"
Over 350 guests attended the presentation including American figure skater Johnny Weir, The Real Housewives of New York City's Alex McCord, as well as New York City Ballet principal dancers Irina Dvorovenko and Maxim Beloserkovsky. The evening also featured original and provocative works by leading Russian photographers Danil Golovkin, Natalie Arefieva, and Dmitry Zhuravlev, accompanied by a live piano performance by Carnegie Hall featured musician, Ethan Nanev.
To view the gorgeous designs on display, click here. For more information about DEPESHA, visit www.depesha.com.