The holidays are upon us, and with them some of our most treasured traditions. Check out the San Francisco Ballet's annual performance of the "Nutcracker,'' a tradition since 1944, watch the Lighted Boat Parade from Fisherman's Wharf, and join in the Holiday Fanfare fun at the Civic Center. If you're looking for something a bit more artistic, you can also take in the new exhibition by the Zurich-born, New York-based artist Urs Fischer at the Gagosian San Francisco gallery. Happy holidays!
Monday

Redbubble Made In House Pop-Up Shop
Time: 10:00am – 4:00pm 
Cost: Free
Redbubble, an online marketplace for creatives to sell their work, has opened a pop-up shop right next door to the Academy of Art University at 633 Howard Street. Pop over until December 16th and meet Guatemalan artist José Ochoa and Academy of Art University Illustration alumna Katie Crumpton, the Artists in Residence and creators of the artwork on the comfy tee's and adorable totes! Everything in the store is created from José and Katie's work and would be the perfect stand-out, one-of-a-kind holiday present.
Tuesday
San Francisco Ballet "Nutcracker"
Time: 7:00pm
Cost: From $64.00
Bring in the most magical time of the year in true San Francisco style. Making its American premiere at the San Francisco's War Memorial Opera House on Christmas Eve 1944, the "Nutcracker" and San Francisco Ballet have since become an acclaimed Bay Area tradition. Watch as Clara is taken on a global adventure where snowflakes dance around the stage, flowers come to life, and the Sugar Plum fairy wows children and adults alike. Tickets are selling out fast; save your spot today!
Wednesday

Mind Moves | Urs Fischer
Time: 10:00am – 6:00pm
Cost:
Zurich-born and New York-based artist, Urs Fischer, takes over Gagosian San Francisco with his new paintings and sculptures in an exhibition titled "Mind Moves." Urs redefines the audience's ideas of lines, shape and color as he seemingly overcomes a rigid idea of space. Crossing boundaries and combining all art forms, Urs creates art by redefining order. As he says, "At its core, art is all about order. When you're an artist, you basically arrange, rearrange, or alter you play off order."
Thursday

Toy Drive, Veteran's Fundraiser and Ferrari Fashion Show by Vasily Vein
Time: 7:00pm – 10:00pm
Cost: Free donation ticket, $60 General Admission
Join one of the hottest fashion 'giving back' gatherings in San Francisco to say thank you to combat injured veterans, and show compassion for less fortunate children while enjoying a Vasiliy Vein Design Fashion Show. Register for a donation ticket and bring one of the selected unwrapped gifts – Pony toys, winter jackets, Princess doll, etc. – for entry to the exclusive event. Bid on two stunning gowns by Vasily without guilt as 100% of the proceeds are going to benefit the 501(c)3 non profit charity Warfighter Gardens which aims to help PTSD affected veterans. Experience glamour as you give back this holiday season.
Friday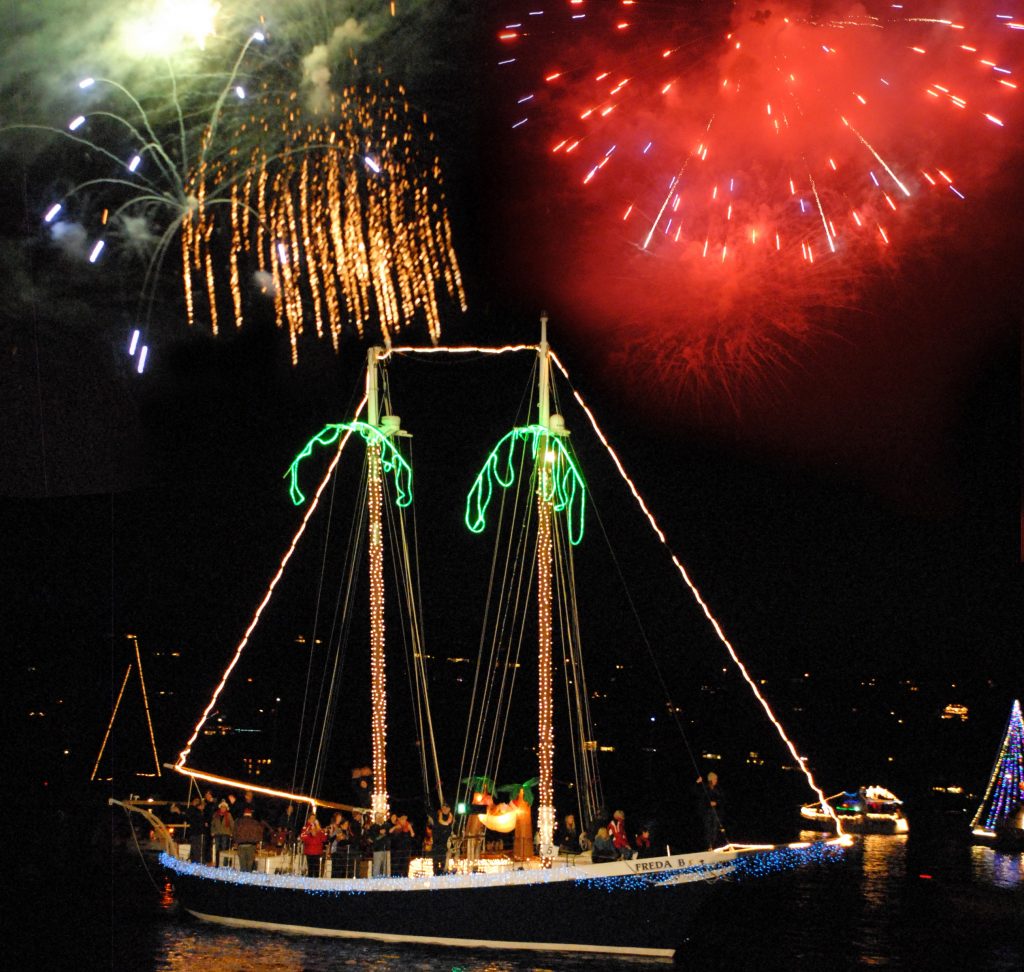 Time: 6:00pm – 8:00pm
Cost: Free
Celebrate the holiday season rain or shine with the oldest and largest lighted holiday boat parade on the San Francisco Bay. Watch as boats from St. Francis Yacht Club, Golden Gate Yacht Club, Sea Scouts and more, adorned with lights parade along the Embarcadero from Pier 39 to Crissy Field and back. Enjoy prime views and special holiday menus at Pier 39 and the Marina Green.
Saturday

Love To Give Pop-Up | WHICHKIM
Time: 11:00am – 5:00pm
Cost: Free
Need some last minute, stylish gifts? And need them on a budget? WHICHKIM, founded by Academy of Art University School of Fashion alumna Dahae Kim, will be having a Pop-Up Shop Saturday and Sunday with up to 80% off. Exclusive collections by Min Edition and Kajan Cake will be available as well. Enjoy warm drinks, delicious snacks, and fashionable looks at Celery Space in Berkeley for these two days only!
Sunday
Holiday Fanfare
Time: 12:30pm – 7:00pm
Cost: Free
Holiday Fanfare, presented by the Civic Center Community Benefit District and San Francisco Conservatory of Music, will have you feeling fancy and festive this holiday season. With free concerts throughout December, enjoy the final day of shows with a free matinee at the Opera House and an evening performance at the intersection of Grove and Franklin. Free festive fun!