N.I.C.E. Collective and artist Jonathan Solo mix together for an "exploration of how material limits can create limitless art objects." Utilizing recycled industrial paper, the collective and the artist have "created pieces both humble and full of wonder, pragmatic and idealistic, and pure and profane."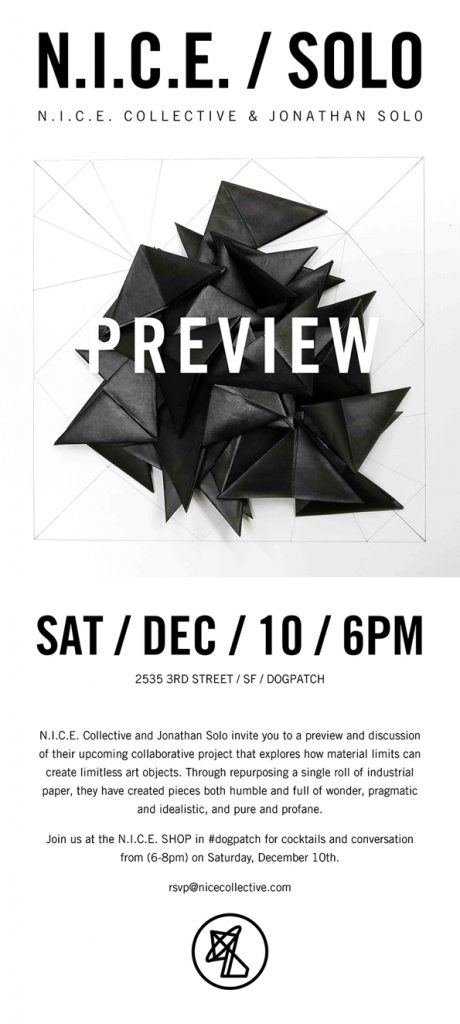 Expect to be moved. Especially, given that our own Executive Director of the School of Fashion, Simon Ungless, will be joining the unveiling of the collection as a moderator, in discussion with artist Jonathan Solo, and N.I.C.E. Collective founders Joe Haller and Ian Hannula. In a place where fashion and art meet subversive and avant-garde the united forces that will come together this Saturday, December 10th is unprecedented. Bring a friend, as this event guarantees a unique experience.
[metaslider id=39424]
N.I.C.E. Collective is a San Francisco-based designer clothing brand founded in 1997 by dance music veterans Joe Haller and Ian Hannula who took silhouettes, energy and attitude of the streetwear they themselves wore and loved and combined these with better fabrics and quality construction. N.I.C.E. Collective has outfitted tours for Coldplay, Nine Inch Nails, Smashing Pumpkins and The Police. The brands celebrity following includes Robert Pattinson, Gavin Rossdale and Brad Pitt to name a few. GQ Magazine featured Nice Collective in its roundup of 'The Best New Designers in America' in 2007.
WHEN: Saturday/ December 10 / rsvp@nicecollective.com
WHERE: N.I.C.E. SHOP / 2535 3rd Street SF / DOGPATCH DISTRICT
AGENDA:
6:00pm – Preview
7:00pm – Moderator Simon Ungless, Executive Director, School of Fashion, in discussion with Joe Haller, Ian Hannula, and Jonathan Solo.

ABOUT JOE AND IAN
Joe Haller was raised in New York and into his 20s worked as a radiology tech. During his off hours, he produced dance music and organized parties in clubs around New York City. A professional bike racer, Ian Hannula was raised in Atlanta, Georgia and studied combat photography in the Marine Corps. He created dance music events in Atlanta and was a resident DJ in two top clubs. Joe and Ian met on the dance floor in San Francisco in 1995. Their connection was instant, fueled by their common interests in art, music, and fashion. They initially started N.I.C.E. Collective as loose amalgamation of talent that would launch parties and club nights, a record label, a DJ agency, and a clothing line. Though neither had any fashion training, Haller and Hannula began by producing experimental pieces such as deconstructed-then-reconstructed camouflage shirts, pullover sweaters made from electric blankets with the controls still attached, and shirts that transformed into kites.