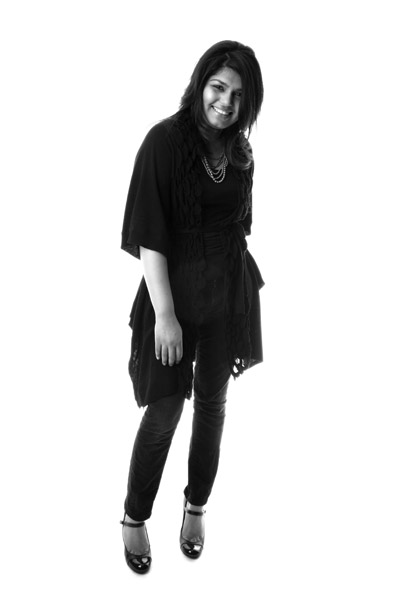 Sabah Mansoor Husain, of Bangalore, India, entered the Academy of Art University for her MFA degree in Fashion and Knitwear Design, after receiving her BA degree in Textile Design from Bangalore's Srishti School of Art Design and Technology in 2005.
Sabah's knitwear collection combines an eclectic set of techniques derived from both craft and design. She drew upon traditional methods of felting fabrics, crochet, hand embroidery and Shibori (a Japanese technique of dyeing a pattern which begins with binding, stitching, folding, twisting and compressing fabric); Sabah incorporated these first steps of Shibori to manipulate the fabrics and enhance the sculptural textures in her collection.
Commissioned beads and crystals:
Inspired by chandeliers, Sabah worked with an artisan in Firozabad, India to customize the jewel-shaped crystals and faceted glass beads she used to embellish to her entirely black and charcoal collection.
The use of 'felting':
"I learned how to create felt from artist Tenzin Yang, a woman who makes felt hats and bags in a small shop in Darjeeling, India. When I began developing my collection, I remembered her patience in teaching me the process she had such passion for – a process that had been passed down through generations in her family…I would love to see her reaction to my collection; sadly do not have contact with her anymore."
Sabah's experience commissioning the beads and crystals:
"When I began working on my collection, a search for the right materials led me on an interesting exploration. I wanted to use a jewel component; however, I was not satisfied with the size and scale of the crystals available at local stores. I searched shops and salvage yards for crystal chandeliers, yet didn't find the colors and quantities that I needed. Since I grew up in India, and started my design career in the textile industry, I had heard about factories and artisans who created faceted glass beads and bangles in a small city called Firozabad, located within the state of Uttar Pradesh. I traveled there and discovered a small workshop run by a gentleman, Ahmed Farouq. He agreed to work with me and together we designed the pieces from scratch; he even taught me how to facet glass and make it shine like crystal. In a gesture that seems to speak of the importance of his craft and the personal dedication to his work, Mr. Farouq made the trip from Firozabad to Bangalore in order to work on the final product and hand-deliver the finished pieces to me."
Sabah's education in textiles and her career in design began in her hometown of Bangalore, India. Her Fall 2010 collection is evidence of her knowledge of, and appreciation for, the traditional handcrafts and skill for which India is renowned. The collection also reflects Sabah's keen sense of sculptural shape and design. In reference to the collection, she states, "I used the centuries-old traditions of knit and felt techniques to expand conceptual boundaries between art, craft and design. I drew strongly upon the traditional techniques of felting, Shibori and hand-embroidery to act as 'resists', and I combined wet-felting with knitted fabric to purposefully create surfaces that marry these techniques and yet, are not defined by either".
In 2005 Sabah developed a project using two distinct and separate methods; she created unique surfaces by molding fabric around copper shapes, and made a knit 'light-up' by weaving optic fibers together to create the 'fabric'. She also launched a footwear and handbag design company, Peach Cobbler, which also produced accessories for other designers based in India.
Photo credit: Bob Toy
Click here for more info on Mercedes-Benz Fashion Week Fall 2010.