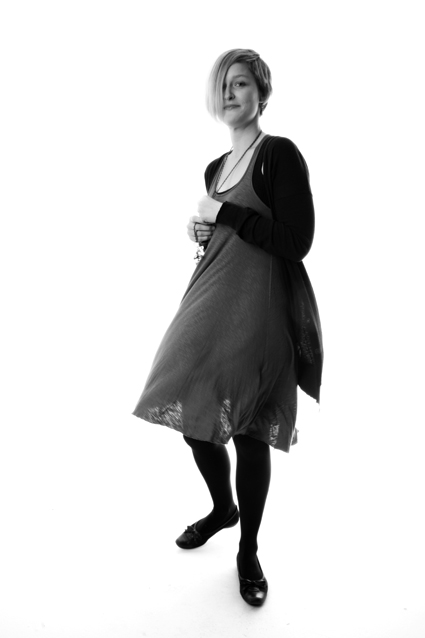 Born on West Point U.S. Army Base in New York, Bethany Meuleners has lived in California, Nebraska, Virginia, and Germany. She now considers 'home' where her family has settled in Northern Virginia. Before pursuing a MFA in Fashion Design and Knitwear Design at Academy of Art University, Bethany received a BS with Honors, Dual Degree in Apparel Design and Fashion Merchandising from the University of Delaware in 2005. In addition to graduating Magne Cum Laude, she studied costume design in London and International Marketing Management in Peru.
Inspiration for her Fall 2010 Collection:
"I focused on combining knits and wovens into one fabric and/or garment. With a double major in Fashion Design and Knitwear Design, this naturally came into play while working on my final collection. For my inspiration development, I envisioned a young girl playing dress up before going out – grabbing several
different layers, throwing them on, and letting them land wherever they fell."
"My visual inspiration for my knits was derived from 3D images and futurism photo images, such as Duchamp's painting Nude Descending a Staircase. All of these have a theme in common: the visual effect of more than one image (sometimes the same image several times) layered on top of each other but slightly off-kilter. This worked with the combination of knits and wovens, making them into different layers but still part of the same fabric or garment."
Photo credit: Bob Toy
Click here for more info on Mercedes-Benz Fashion Week Fall 2010.