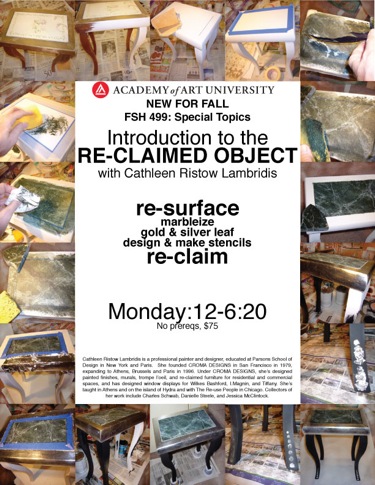 Sounds pretty interesting, huh? It actually really interesting.
The new fall class is taught by Cathleen Ristow Lambridis, a painter and designer who studied at Parsons School of Design in New York and Paris. She founded Croma Designs in San Francisco in 1979 and expanded her work to Athens, Brussels and Paris.
She recently came to the school to give us a preview of her work and what will be taught in the class — and her work is quite engrossing. In the class, you will learn to re-surface re-claimed objects, marbelize, design stencils, use gold & silver leaf and even learn the basics of color mixing. Her techniques can be used in all disciplines of design — specifically textiles.
If you are interested, sign up!
And P.S. — Cathleen was once a judge on Iron Chef America! That is just awesome.