After 26+ hours of travel, textile design students Jennifer Isaza and Adriane-Lauren Hueso landed in Bangalore, India last week to begin their student exchange program at the National Institute of Fashion Technology.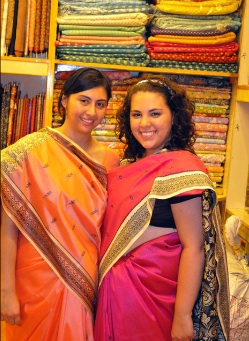 Jennifer and Adriane were nice enough to send us some of their first adventurous 24 Hours in Bangalore:
– "We almost died, like seven times!" (in regards to their wild taxi drive from the airport)
– A troupe of monkeys outside their B&B were screeching all night. "We woke up to the sounds of monkeys, parrots, cows, and some other animals this morning."
– The fusion European and Indian food is "delicious."
– They hired personal auto rickshaw driver, Rasool, for day of power shopping (see photos). "We went insane; the colors are amazing!" Purchased: multiple saris, salwar kameez, bedding, scarves, etc.
If you want to know how it is to ride in an auto rickshaw, check out the following video:
Follow more of their adventures at Jennifer's Tumblr blog: jengalore.tumblr.com