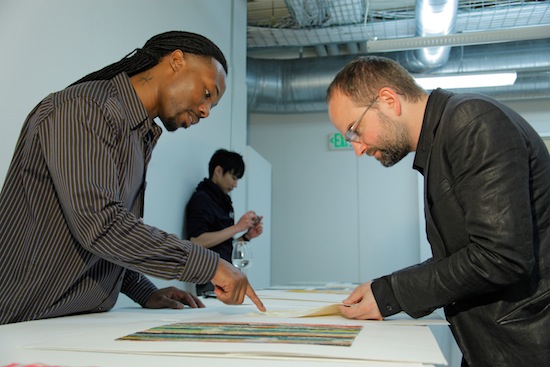 In 2007, William West was an online student studying from Atlanta, GA. Last year decided to move to the Bay Area to finish onsite. As he graduated with his M.F.A. this year, William was part of the Portfolio Review before the fashion show where he stood with his work and presented his swatches to guests and industry professionals. One of the guests was Nathalie Rykiel, President and Artistic Director of Sonia Rykiel. Fashion School Daily chatted with William about his encounter with Nathalie:
So, what did Nathalie say to you?
She didn't really talk too much. I was explaining my process and she kept coming back to one of my designs. She said she really liked it — she liked the colors. She came back to me twice and then asked if I would sell it.
Tell us about the swatch she bought:
I used two different techniques — paper stencil and heat transfer to create the design. I used the colors mustard, orange, cranberry, green and black in horizontal stripes. The season was Resort and my inspiration was a Florida motel in the '70s.
Any good feedback from the other guests:
Daniel Silver from Duckie Brown gave me good feedback. Most of my collection was silk and he said that he wanted to see more jersey. He liked the colors and we talked about cost efficient printing and techniques. Andrew Buckler said he liked the colors as well and took one of my cards.
What is next for Will West?
I have a few plans that I am working on. I am looking to relocate back East and see where it goes form there.
Will you miss the Bay Area?
The Bay Area is a very beautiful place and people here express themselves freely here. I will miss that a lot. However, I miss the East Coast much more. I enjoy having all four seasons!
You can visit William's online portfolio at willwest.carbonmade.com. You can also follow him on Twitter:
@willwestly