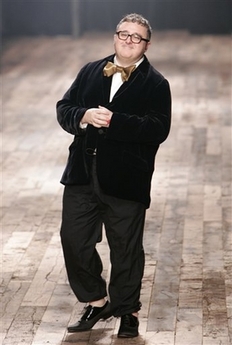 Many of you are on that path to become a brilliant fashion designer – but here's a word of advice: it doesn't pay to be a nasty diva (and that's putting it mildly).
My Fashion Life recently reported that the creative director of Lanvin, Alber Elbaz (pictured on right) "refuses to work with 'b*****s'."
Ouch. I think you know what letters go into those asterisks.
Elbaz further explains that working with people he doesn't get along with messes with his creative mojo – and we definitely do not want any of that happening.
He also says, "The people I chose to run my new store in London are nice. I cannot work with b*****s, I can't, I can't."
Wait a minute. Maybe the censored word is "butchers." Perhaps Elbaz is a vegetarian.
Elbaz even says that if he had to choose between a co-worker who is talented and b****y or less talented and good – he'd go with the one with less talent.
In any matter, take this as a lesson kids – being a prima donna isn't exactly the best way to get your foot in the door.