A Council of Fashion Designers of America award, featured on the Sartorialist and an injury at Paris Fashion Week (more on that later) – it has been quite a year for Ghazaleh Khalifeh.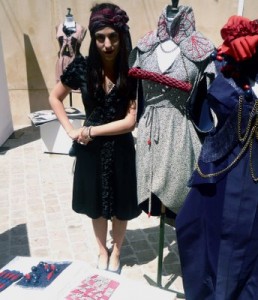 It all started when Ghazaleh was awarded with the $25,000 Geoffrey Beene Design Scholarship Award from the CFDA (that's a lot of money). She was presented with the award in June 2008 at the CFDA Awards Gala where she rubbed elbows with Carolina Herrera, Peter Som and CFDA Queen Bee (i.e. President) Diane von Furstenberg
As an added bonus, she received the French Exchange Scholarship to attend L'Ecole de la Chambre Syndicale de la Couture Parisienne – and she is did pretty well in the City of Light.
"At L'Ecole de la Chambre Syndicale de la Couture Parisienne we had to create a grand thesis/senior collection to the president of the school, professors and professionals in the industry," she says. "Out of over sixty students, I received the highest score!"
She was chosen to have her collection displayed at La Cour de Marais gallery and who should happen to be there? Maria Cornejo!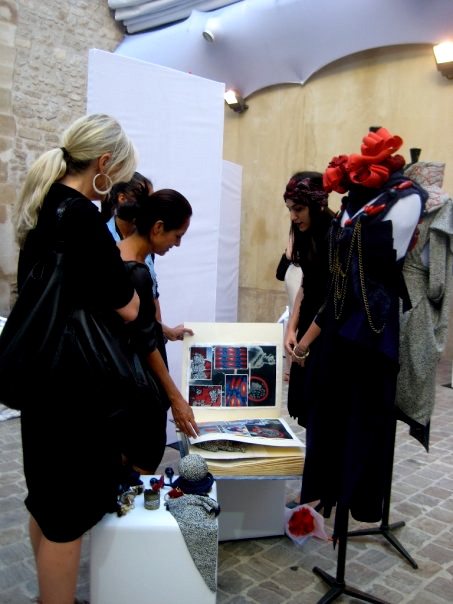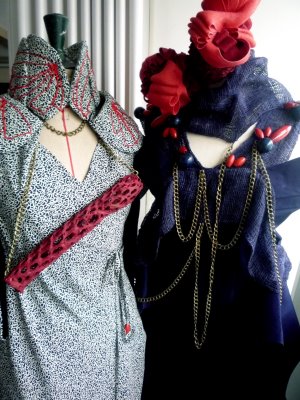 "She was there because of her pop up store in Paris which was pretty much across the street!" says Ghazaleh.
While she was in Paris, Ghazaleh got a chance to attend Paris Fashion Week. She surely will be the envy of all her fashionable friends because she got to sit in on the runway shows of and even suffered an injury for one designer in particular.
"Running to the Lanvin show, I fell and injured myself," says Ghazaleh. "But I ignored the pain and went to the hospital afterwards!"
Now that's what I call dedication.
So how does one get into such prominent designer shows at Paris Fashion Week? Well besides some tickets courtesy of Gladys Perint Palmer, Ghazaleh had some…interesting ways of getting "in."
"It took long hours of standing in cold weather, clever thinking, occasional false identities, lots of charm and perseverance!" admits Ghazaleh.
Let's just say that not everyone should try this. Ghazaleh is just really good at it.
As another bonus, Ghazaleh fancy looks caught the eye of the one and only Sartorialist. Not once…not twice…but THREE times.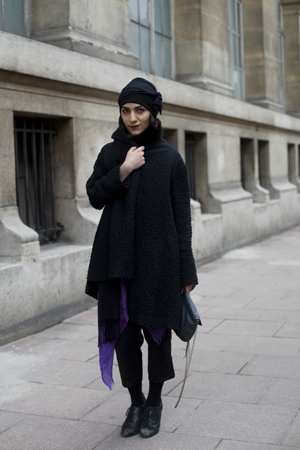 Ain't that fancy?
Ghazaleh will be back in San Francisco for the entire month of August to work on her senior collection, but she plans on going back to Paris for work.
Welcome back Ghazaleh! We know Paris loves you, but San Francisco loves you just as much!