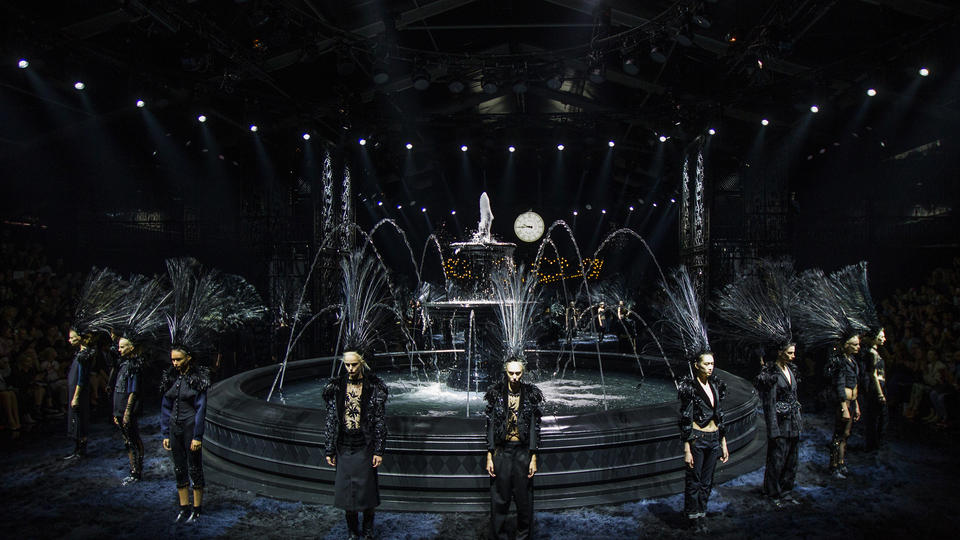 Models around the fountain at the Spring 2014 Louis Vuitton show finale. Image courtesy of AP Photo/Jacques Brinon.
 It was impossible to mistake the dearly departed subtext in the gorgeously macabre scene of carousels, fountains and hotel elevators, all in shades of black, that met guests arriving at last week's Spring 2014 show for Louis Vuitton. After long speculation that American designer Marc Jacobs, who has helmed the house for 16 years, would be leaving his position, the chicly somber collection seemed to affirm the rumors. Noir look after look included cropped pea coats, boyfriend jeans, asymmetrically hemmed tunic dresses and pencil skirts, each making their final march for Marc.
The designer, largely credited with building Louis Vuitton's presence in ready-to-wear, confirmed he will be leaving his position to concentrate on his own label. With elements of his collection being celebrated as couture worthy in their construction, Marc Jacob's swan song is certainly leaving a large legacy (possibly for Nicolas Ghesquière?) to live up to.
Click here to learn more about Marc Jacobs. To see more "Monday Morning Photos," click here.