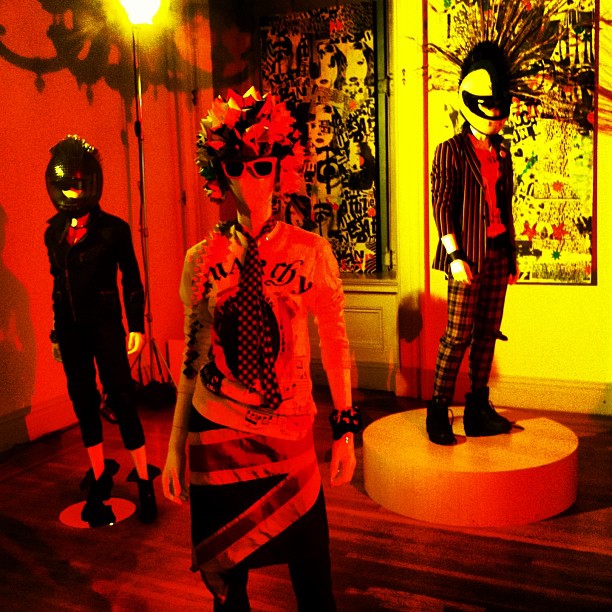 Discarded motorcycle helmets redesigned by FSH 201 students, vintage Vivienne Westwood apparel courtesy of Keanan Duffty, on display at The Old Mint. Photo courtesy of Russell Clower.
Good morning fashion students. Hope you enjoyed the amazing sunshine in San Francisco this weekend! For today's Monday Morning Photo, we've featured an image taken of the current student installation on display courtesy of the San Francisco Museum and Historical Society at The Old Mint. Students from FSH 201 The Reclaimed Object were asked to work with discarded and damaged motorcycle helmets and turn them into artistic statements. Inspired by a retro-punk sensibility and vintage Vivienne Westwood clothing, students used a variety of materials to re-work the damaged headgear into fashionable heads-on statements. Hannah Cho's porcupine helmet made entirely of steel construction nails urges you to look, but don't touch! Gina Chou's helmet design was done in camouflage with a fantasy element of a pearlized unicorn horn, resulting in "glamouflaged" head gear. An old fashioned footballer's helmet became the basis for Nori Ogata's head full of 'cooty-catcher' origami abstraction with a color palette inspired by Stephen Sprouse.  Finally, Caitlyn Randrup created a faux-hawk, mohawk made of broom bristles, dried wheat and tall grasses.
The installation will be on display through April 28th so be sure not to miss it! For more information on the exhibitions from the San Francisco Museum and Historical Society, click here.
Vintage Vivienne Westwood apparel courtesy of FSH Merchandising Senior Director, Keanan Duffty
 Mannequin stylists — Natalie Cheung and Con He
 Large format Photos — styling a la Sid Vicious by Natalie Cheung
 Visual Merchandising installation —- Janie Atkinson