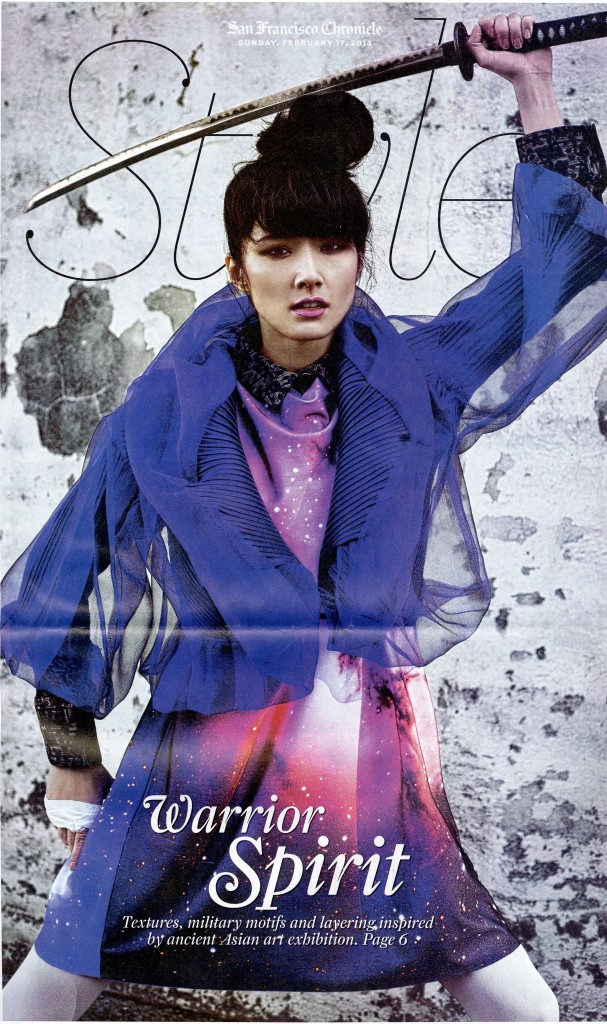 Happy Monday everyone – we hope you were all able to enjoy the gorgeous sunshine in SF this weekend! For today's edition of Monday Morning Photo we've got an amazing editorial featured in yesterday's San Francisco Chronicle Sunday Style Section, and styled by one of our very own students! Noah Shaw, BFA Fashion Design, was asked to style and produce the photo shoot specifically for the Chronicle after they saw her work during a classroom visit.
Noah took inspiration from the Asian Art Museum's latest exhibition, "China's Terracotta Warriors: The First Emporer's Legacy". The editorial features the gorgeous Annie Maki striking combative, warrior-like poses, beautifully styled in a number of bold, graphic ensembles. The images, shot by MFA Photography student Isabella Bejarano, are wonderfully dynamic and engaging. We expect to see much more from these two in the future!
[justified_image_grid row_height=300 height_deviation=200 ids="21657,21656,21655,21654,21653″]
Credits: Photos by Isabella Bejarano / Styled by Noah Shaw / Model – Annie Maki, City Models, Inc. / Photo Assistant – Nick Gutierrez / Hair by Desiree Moon Cerda / Makeup by Cynthea Amnatkeo.
Check out the entire feature on SF Gate!