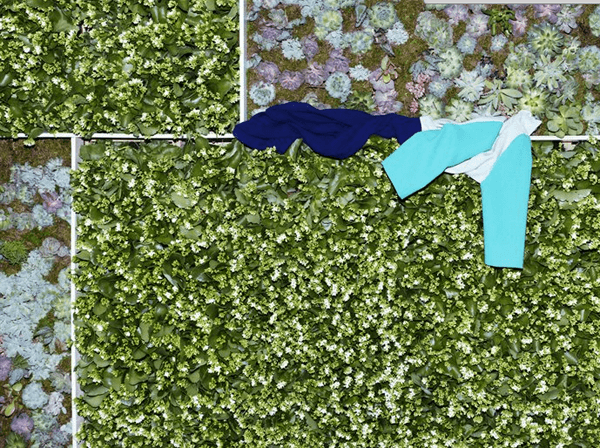 Roksanda Ilincic's wall of flowers. Photo Courtesy of Freddie Helwig/NOWNESS.
In this edition of Monday Morning Photo, we bring you a series of images (courtesy of NOWNESS) from fashion's secret garden party. What exactly is the secret garden party, you may wonder? It is a set of installations at Harvey Nichol's department store in London, inspired by the tropical prints and bright colors from six designers' summer collections. The celebrated designers include Christopher Vos and Peter Pilotto, Roksanda Ilincic, Marios Schwab, James Long, Mary Katrantzou, and Maarten Van Der Horst for Lulu & Co.
We are in love with Roksanda Illincic's massive wall of flowers and Mary Katrantzou's stained glass windows – but truly,  they are all beautiful works of art. James Long said of the project, "It's fun visualizing your ideas in another way. I would love to create an environment for each collection – it tells another part of the story."  If you happen to be in London this summer, be sure to stop by Harvey Nick's and see them for yourself!
Follow the jump for more photos!
[imagebrowser id=15]
Source: NOWNESS