With the Twilight movie epidemic spreading to theaters again this Friday (Nov. 20) with the second installment titled New Moon, MFA fashion journalism students Shaneia Caldwell, Ana J. Cepeda, Yvette Delgado, Mignon, Gould, Claudia Paolinelli, Brian Kennedy, and Sata Schramm decided to tackle the vampire saga with a "news package".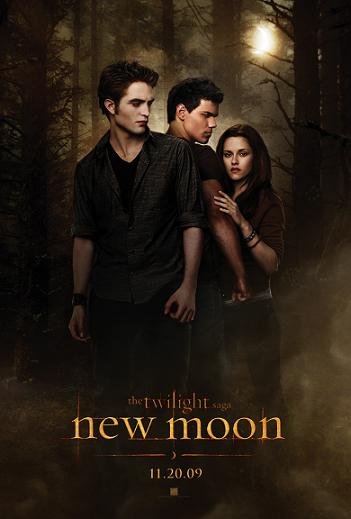 From fashion to pop culture to beauty, the students dissected the phenomenon. Brian saw the parallel of Prada's Fall 2009 collection with vampires and werewolves; Mignon explored the musical score and Shaneia showed us all the venomous beauty products associated with the franchise.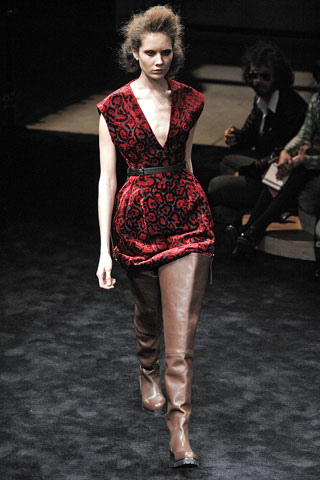 A piece from Prada's Fall 2009 collection
Here's an excerpt from Sata's piece that explored where Edward Cullen (the main vamp in the story) ends and where heartthrob Robert Pattinson begins (and vice versa):
Since Robert Pattinson exploded onto the scene roughly one year after promotion for the first installment of the Twilight series began. Girls around the world have been going crazy for him. As spectators to the phenomenon, we have to ask ourselves if the Twi-hards losing their minds over Pattinson or over his character, Edward Cullen.

Fictional characters have a habit of worming their way into young girls' affections – especially moody young male characters. The case was no different with Edward Cullen, a mind-reading vampire who can run really fast and is obsessed with a classmate, one Bella Swan (played by Kristen Stewart). Fans posting to online forums call him protective, which is apparently a good thing, though possessive may be a better descriptor. Sarah Haskins broke it down in one of her "Target Women" segments: Edward Cullen is empathetic and shares his feelings, but best of all he's a bad boy.

It's a cliche that girls are attracted to dangerous bad boys, but maybe it's a cliche for a reason. Girls have been fantasizing about bad boy Edward long enough for the phrase "Team Edward" to have become a cultural meme.
And did we mention that the director of the first Twilight film, Catherine Hardwicke, was a guest at our show in April?
To read more 'New Moon' articles from our MFA Fashion Journalist, visit their site, MOCK 641.