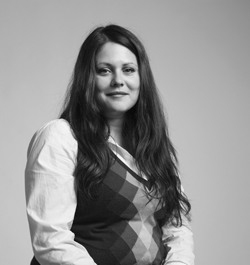 Iglika Vasileva Matthews is originally from Bulgaria, where she earned a B.F.A. in Textile Design from Varna Free University. She came to Academy of Art University to earn her M.F.A. degree in Fashion Design, and previously debuted her work as part of the Italian Trade Commission Collection at the University's Spring 2012 Mercedes-Benz Fashion Week show.
For her Spring 2013 collection, Matthews drew inspiration from buildings designed by architect Zaha Hadid. Hadid's structures often create an illusion of movement in static objects, which Matthews sought to replicate in her collection.
Follow the jump for our interview with Iglika!
When did you first realize you wanted to be a designer?
For as long as I can remember, I have been surrounded by fashion. Both of my parents worked in textiles – my father was a buyer for large apparel companies and my mother knitted custom clothes. My mother never left the house until she was perfectly dressed and styled. This had a huge influence on me.
What was the first article of clothing you ever designed?
I have been drawing designs in my notebooks since I was a little kid, but my first real design was in high school. I took the sleeves off of one of my shirts and sewed them onto the collar. It was a sleeveless, high-collar top and I wore it all the time.
What other designers do you admire and why?
Alexander McQueen is my biggest inspiration. For me, he was an artist in fashion. I admired how he use his tailoring skills to create pieces of art.
My personal design aesthetic, however, is more like Stella McCartney or Phoebe Philo. Because of my background in textiles and weaving, I also love Gucci and Chanel. Gucci for their fabric manipulations, and Chanel for their wovens.
What is your present state of mind?
Stressed out.
What has been the hardest part of designing and creating your own collection?
Sourcing has been particularly difficult. Trying to manage my time has also been hard because I have been working with suppliers to source speciality fabrics and manipulations.
Where do you find inspiration?
For this project, my inspiration was architecture. But I find inspiration in everything around me.
What do you love most about being a designer?
I love the process of taking a drawing and turning it into a 3-D garment.
What is the most important thing people should know about you?
I am determined.
For more on the Academy of Art University Spring 2013 Fashion Show, click here.