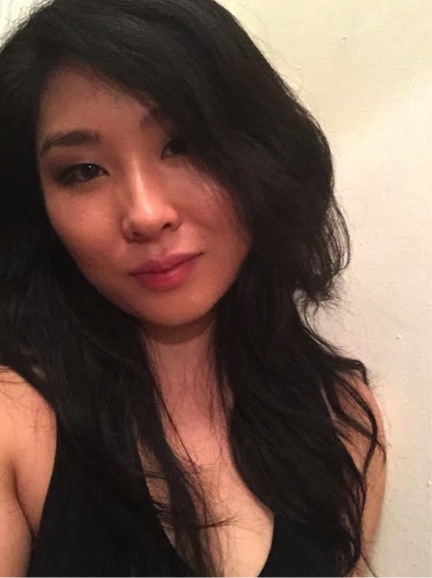 There are certain people who belong in a big city. Angela Han is one of those people. Growing up in North Carolina, she always knew that she was different. Not only was she a minority because of her nationality (Han's parents moved to the US from China during college), but she liked to wear black everyday, listen to rock and was always more progressively mature than those around her. In our interview, Han reflects on her past, her passions and where she hopes to be in the future.
Samantha Rathman: I understand that your major is Fashion Journalism, What made you decide to take on a PR internship?
Angela Han: This internship was suggested to me by Paul Wilner, who is the journalism coordinator for the School of Fashion. He has been somewhat of a mentor to me throughout my years here at the Academy of Art University.
SR: Have you always been into fashion?
AH: Actually I started out writing for underground music magazines like Scene Trash and Estrella, but I have always had an appreciation for fashion. I love looking at editorials in print magazines. Music and fashion are very similar, they both deal with aesthetics and thinking about what the people want to see and hear. Fashion and music are both ways of expressing yourself.
SR: What was it like coming from a smaller town to San Francisco?
AH: I never really felt like I belonged in North Carolina. So coming here was good for me, I love the weather and all the craziness that comes with being in a big city. I like the idea that you never really know what you are going to get in a big city. There is more diversity and honestly there are some really weird people-which I like.
SR: Who or what inspires you?
AH: My parents have always been a huge inspiration. Both of my parents are extremely hard workers. They've set an example and have instilled in a great work ethic in me.
SR: What are some of your favorite publications?
AH: Most of my favorite publications are located in London, I'm a fan of AnOther Magazine, Fucking Young!, i-D, Dazed and Interview Magazine. I would love to write for any of these in the future. Right now, I write for dot429 where I am able to use my writing to advocate for the LGBT community. It is something I have always been passionate about.
SR: Since you have been a part of the music scene for a while, who are some of your favorite bands?
AH: I am really into Shoegaze music, which is basically like this cloud of sound. I also like punk bands like My Bloody Valentine.
SR: Who are some of your favorite designers?
AH: Gareth Pugh, Christopher Kane, Ann Demeulemeester, Balenciaga, Proenza Schouler, Jil Sander, and Margiela.
SR: Is there any specific person you look to for street style inspiration?
AH: Not really, I usually don't follow street style closely. Style is personal and when it comes to street style, it seems like a lot of people get caught up in trying to recreate a look or trying to stand out from the rest. But, if I had to choose I'd go Scandinavian. I love Stockholm and Copenhagen fashion.
SR: You're in your last semester of school, have you thought about your next step after graduation?
AH: I don't have any set plans. I'd like to stay in San Francisco for at least another year, but I'm also open to moving to another city like New York, Vancouver, or even Boston. I'm going to be open minded and seize whatever opportunity that comes my way and that sounds most enticing.
SR: Lastly, do you have any advice for new students or anyone hoping to get into journalism?
AH: I would say it's important to kill your ego, listen to feedback from instructors and show up on time.
Having her writing published online as well as in print publications for both the music and fashion realm, Han is the perfect fit for the Spring internship. She has been a recurring contributor for Fashion School Daily and has also contributed to our very own 180 magazine. Be sure to keep up with her writing here on Fashion School Daily.
Written by: Samantha Rathman