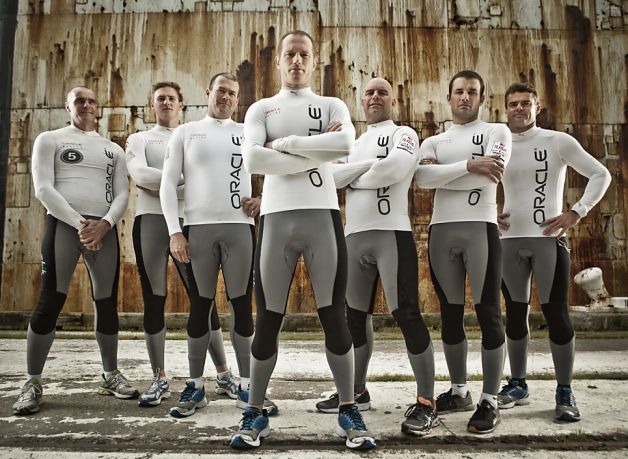 Part of the Oracle Racing Team: (from left): Piet Van Nieuwenhuijzen, Kyle Langford, Dirk de Ridder, James Spithill, John Kostecki, Joe Newton, and Darren Bundock. Photo by Russell Yip, Courtesy of The SF Chronicle.
You may have noticed the increasing number of sail boats in the bay – or the influx of hunky men – both a result of the America's Cup World Series taking place in San Francisco this summer. For anyone who doesn't know, the America's Cup is the most prestigious sailing competition in the world, as well as the oldest active trophy in international sport – whoa!
Our hometown sailing crew, Oracle Team USA backed by the Golden Gate Yacht Club, are the current defending champions, having won the 33rd America's Cup challenge in 2010. Any team wishing to challenge the defenders must compete in two separate qualifying races – the America's Cup World Series, happening in SF this summer, and the Louis Vuitton Cup which will take place next year. The winner of the Louis Vuitton Cup will then challenge our defending champs in the 34th America's Cup in September 2013.
Though the actual race is still a year away, editors at the San Francisco Chronicle thought it was about time we got to know the men of Oracle Team USA – and we're glad they did. In a hilarious behind-the-scenes video, photographers and journalists from the SF is Style section dive beneath the surface and reveal their true personalities – one teammate even admits to wearing some seriously revealing undergarments.
Follow the jump to watch the video and head over to SF Gate to read the entire article!