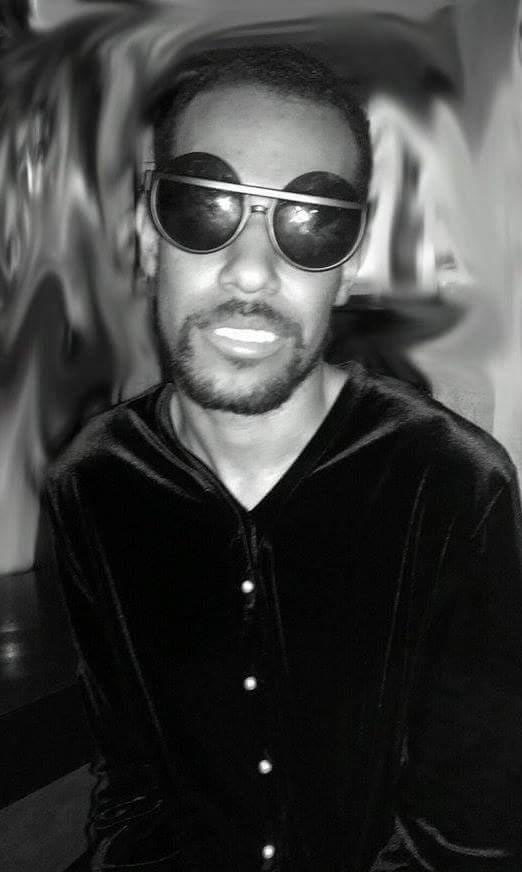 I was fortunate enough to attend Mercedes-Benz Fashion Week in New York with Malcolm Thomas while interning with School of Fashion Public Relations and Special Events office at Academy of Art University. His style is an amalgamation of Saint Laurent and Commes Des Garcons, a mixture of rock-n-roll and anti-fashion. As much as he loves his leather jackets and shaggy furs, Malcolm also is keen on slouchy silk blazers and drop crotch pants.
It was no surprise to me when I found out that Malcolm's astrological sign was Cancer. Us water signs usually get along great together. So we quickly connected and began sharing stories, experiences and desires for the future. When I first got a chance to speak with Malcolm we sat in Café Dior, the beautiful little café located at 625 Polk St. He was very soft spoken but there was a definite coolness to him. It's in Malcolm articles that his undeniable artistic voice and edgy style are present.
Public relations intern, blogger and BFA Fashion Journalism student Malcolm Thomas has built a platform of notable PR internships. Currently, Malcolm is in his final semester at Academy of Art University in San Francisco, where he has contributed to the Academy of Art University Newspaper and School of Fashion blog, Fashion School Daily. Malcolm's most recent story "Lights.Camera.Catwalk" is on the front page of the Academy Art U News "Special Mercedes-Benz Fashion Week Edition." Other recent stories include "Behind the Seams: MBFW Fall 2015 Backstage Diary and Kimball Studio: A Diary". You can read these and more on the Fashion School Daily blog.
With a set plan to move to New York after he graduates in the spring with multiple interviews under his belt, Malcolm is well on his way to a prosperous future. He will continue styling and collaborating with plans of starting his own menswear publication in the near future.
Jeanie Walsh: What made you decide to come study at Academy of Art University?
Malcolm Thomas: It was a happy accident really. I had originally planned on going to school in New York, however those plans fell through. I spent a miserable year at home and one day I happened to be flipping through Vogue and I saw an ad for the Academy of Art University. I inquired, went to New York to their show at Mercedes-Benz Fashion Week and before I knew it, I packed my bags and was on an airplane to San Francisco.
JW: Style-wise who inspires you? Where do you draw your inspiration & ideas?
MT: I have lots of inspirations. It's not so much a person as a place and a time period. For me the 60's and 70's are huge inspirations. California is an inspiration. Music is an inspiration. I like to listen to a variety of music from The Rolling Stones and the Velvet Underground to Goldfrapp and Lana Del Rey. Lana is an artist who really inspires me. She's brilliantly able to capture the sound and mood of a bygone era and make it relevant and exciting to a whole new generation.
JW: What are your favorite reads?
MT: DV by Diana Vreeland, A.L.T. by Andre Leon Talley and Balenciaga: The Master of Us All by Mary Blume. Ironically, I don't read as many books as I used to.
JW: What's your favorite fashion moment so far in your career?
MT: I've been lucky so far to have a handful. Last summer in New York I had plenty. Interviewing Alexandre Plokhov at his studio in Chelsea was a great experience. He's such a humble and straightforward guy. I respect that. He has his own line and designs the Helmut Lang men's collections.  Also interviewing Judson Harmon. He's like this wunderkind. He's a model, entrepreneur and designer and he was only 22 at the time. He has so much knowledge about the industry, I was dumbfounded. His store is called ODD.
JW: Can you share an experience that you had during fashion week?
MT: Sitting second row at a fashion show and watching Kelly Cutrone come out and greet the guests. My heart almost stopped. I have her first book, If You Have to Cry Go Outside. It's so good, everyone should read it!
JW: Where would you like to see yourself after you graduate and in 5 years? Who would you like to collaborate with?
MT: Well this is my last semester. I'm moving to New York, but in five years I hope to be living in Europe, preferably in London. Eventually though I want to move back to California and move to LA. I'd love to collaborate with Hedi Slimane. He's chasing the same ghost as I am. I'd also love to collaborate with independent and emerging designers as a consultant and mentor someday. In my long-term future I want to start my own menswear publication.
Follow Malcolm Thomas along his journalism career path and on his Instagram page.
By Jeanie Walsh, MFA Fashion Journalism