Brittany Burggraff, B.F.A. Fashion Design and Wendy Tam, B.F.A. Textile Design have collaborated on a women's wear collection for the Graduation Fashion show.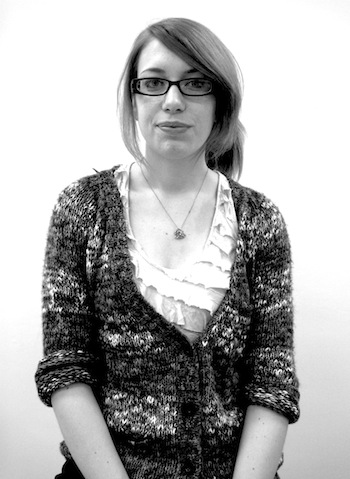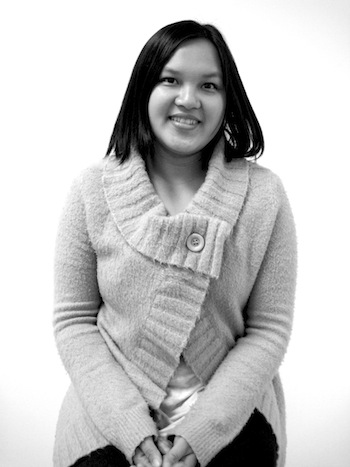 Describe the inspiration for your accessories in three sentences.

Brittany: The collection is inspired by dark children's stories, the colorful and abstract art of Yellena James, and vintage lingerie. Color and print are very important in this collection, as well as volume. It's very feminine, but with an edge.
Wendy: We took inspiration from a children's storybook call the Spider and the Fly, a poem by Mary Howitt and illustrated by Tony Diterlizzi. The story was about a spider trying to persuade a fly to go into his mason to rest and, at the end, the fly was persuaded and got eaten by the spider. Not everyone who flatters and acts friendly really is what they seem — sometimes, the worst things in life lurk beneath pretty and flowery words.
Follow the jump to read more.

Is there anything eco-responsible about your collection?
Wendy: We used water-based pigment to print onto the fabric.

How are you feeling with the show so close?

Brittany: I'm feeling stressed out, but excited. It hasn't really hit me that it's so close.
Wendy: I am very excited to see all my prints put together and being made into garments.
Are you sleeping much?

Brittany: If I get close to a full night's sleep, it feels like a luxury at this point.
Wendy: Yes. Even though my amount of sleep has shortened, I have enough sleep each night to function.
How do you stay focused?

Brittany: Coffee. So much coffee and making sure that I've had enough sleep to be competent at what I'm doing. If not, there are plenty of couches at 180 for napping.
Wendy: I always have a to-do list and prioritize what needs to be done first and a bag of chocolate.
What has been your favorite part of working on senior collection?

Brittany: The best part is seeing my sketches come to life and seeing my dresses go from muslin samples to real garments –- realizing what I'm capable of creating. I think my favorite part will be seeing it go down the runway.
Wendy: My favorite part of working on senior collection was the printing process. It's a different procedure with printing senior collection and working on my regular projects. For collection, we work with a much bigger printing area, we used a lot more pigment, and it's a longer time period to execute everything. And the best part would be bonding with my teachers and classmates.
If you could do this year over, what would you change to prepare yourself more for the show?

Brittany: I don't think it's really something you can prepare for. Things come up that you don't expect, or you have to change things quickly, or you have unexpected fabric problems. You kind of have to just roll with it. I guess I'd say practice not sleeping. Haha! Although, I think all fashion students do that already.
Wendy: Working on senior collection, it has been interesting because there were fabrics that were introduced to me that I wouldn't have thought of using. I would like to spend more time on experimenting.
What are your plans after graduation?

Brittany: I'm open to any opportunities to learn more.
Wendy: As of now, I am planning to move back to Los Angeles. Hopefully, I will start my career in fashion textile and learn how to drive.
For more information on our graduation fashion show and events, click here.