Inez Galvez, B.F.A. Fashion Design, and Rachele Barretto, B.F.A. Jewelry Design, collaborated on a women's wear collection for the upcoming Graduation Fashion Show.
Inez has interned with BCBG Max Azria working on Max Azria, Herve Leger and BCBG Runway. She has also interned for San Francisco Lyrical Opera and Gingerbread Clothing and Ri Couture.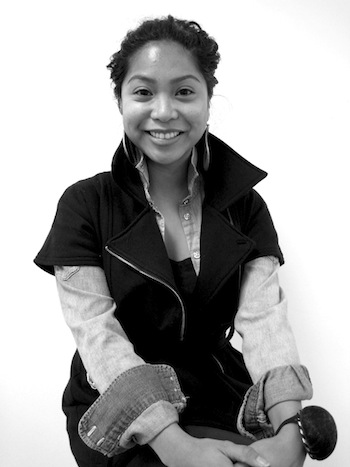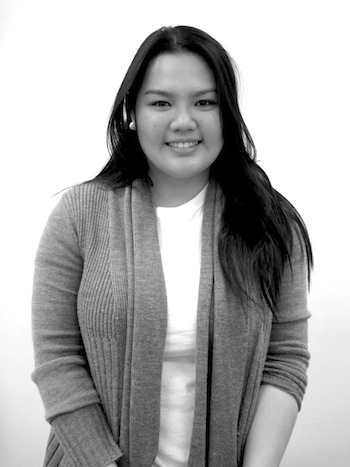 What is your inspiration?
Inez: My final collection was focused on the organic lines of Polynesian tattooing for shapes, silhouette and seam placement. I was influenced by Oceania, a region centered on the islands of the tropical Pacific Ocean, which was where the color story came from. Together they produced strong tribal elements that are very futuristic. Upon developing and exploring these elements, I was partnered with Rachele, an amazing jewelry collaborator, who designed strong, chunky pieces to go with the organic shapes and color story.
Rachele: Water is essential to every living thing on this earth and so I wanted to remind people of that. It has been a part of a lot of my work for the past year because it is an element that gives us life. I love the feeling and movement of water and so I wanted that to be seen in my work.  
Follow the jump to read more.

Is there anything eco-responsible about your collection?

Rachele: The fabric used in my resin pieces is recycled from Inez's old collection.
How are you feeling with the show so close?

Inez: Exciting and enjoying every moment.
Rachele: I feel really nervous and excited at the same time. I always wish to get everything over with already but deep inside I wish this week would never end. I guess I'll have to find another project to devote my time and skills in.

Are you sleeping much?

Inez: If you consider naps sleep, then yes I am.
Rachele: Not as much as I want to but thanks to some food, coffee, a lot of water and vitamins I still feel energized and happy all the time.

How do you stay focused?

Inez: I go over research and look at Rachele's progress. Then I get excited and ready to work for my goal.
Rachele: I listen to a lot of music while working. Sometimes I even listen to just one song and have it in repeat for like ten straight hours while working.
 
What has been your favorite part of working on the collaborations?

Inez: Learning about flocking and feeling like a real designer. Also becoming better at draping my designs with neoprene.
Rachele: I have gained more insights regarding my work especially from the fashion department instructors. They have encouraged me become a great artist. Plus I had so much fun working with my collaborator Inez that the collaboration didn't just give me a beautiful collection at the end but a good friend as well.
 

If you could do this year over, what would you do to prepare your self more for collection?
Inez: I would learn how to flock and experiment with what works.
What are your plans after graduation?

Inez: Move to NYC, work and try to start my line.
Rachele: I wanted to go to Italy to further my studies in jewelry design and I would definitely love to get the chance to work or intern for other people so that I can gain some more experience.
For more information on our graduation fashion show and events, click here.