SHOP657 is the School of Fashion's retail space created, curated and operated by Fashion Merchandising students. Formerly Marty's Liquor & Gourmet, the 1,500 square foot store is located at 657 Sutter Street near Union Square in downtown San Francisco. SHOP657 sells one-of-a-kind clothing, shoes, accessories and decorative lifestyle items designed by Academy students and alumni.
Chau Bui is a BFA Fashion Merchandising alumna who worked for Emporio Armani before becoming the manager of SHOP657. While an Academy student, she interned at SHOP657 for three semesters, took on the role of social media coordinator for almost two years, and even wrote for Fashion School Daily.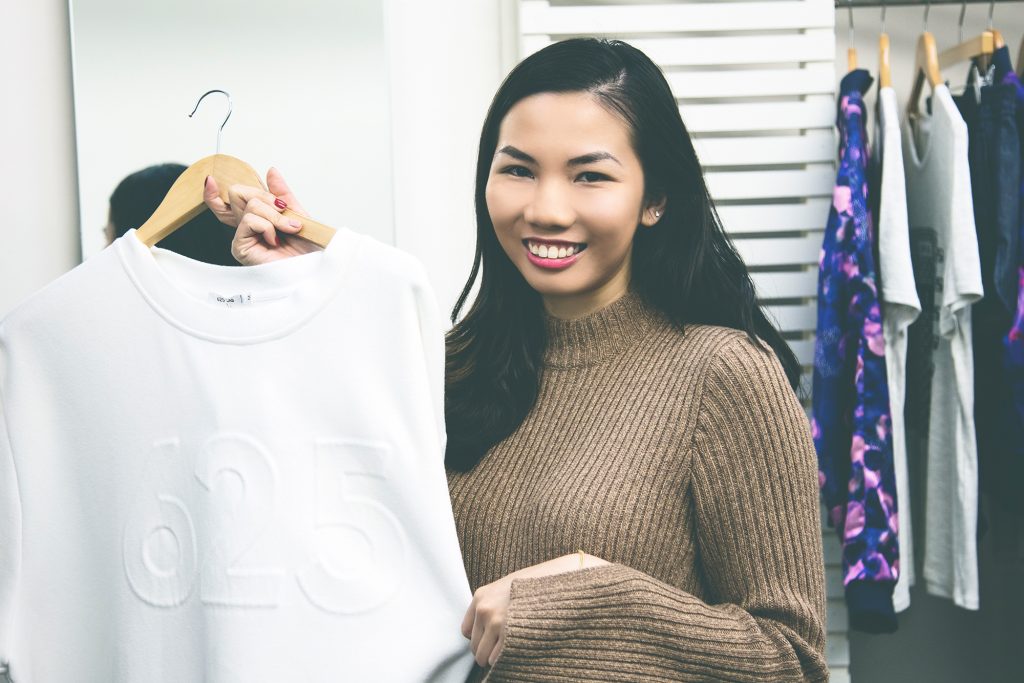 Fashion School Daily recently interviewed Ms. Bui to find out what plans she has for SHOP657.
FSD: Tell us about yourself.
A: I was born and raised in Vietnam where I attended an international school from when I was 9 years old which I believe made me very open minded as I was exposed to many different cultures. Before I moved to the United States in 2011, I took a semester of fashion design in Vietnam then a summer fashion design class in New York.
Q: What is the goal and mission of SHOP657 for the Academy and the City of San Francisco?
A: I want SHOP657 to be a destination point for the City of San Francisco. We have the potential to compete with all shops in the Bay Area as SHOP657 is not just a place to buy clothes but a place to discover new brands, and fall in love with the venue and the environment that we are offering.
Q: What brands does SHOP657 carry?
A: We still have many of the brands from when SHOP657 first opened such as 625 Lab by School of Fashion alumni Mingyu Du and Dan Dong who named their brand after the School of Fashion Polk Street building. We feature the brand Mute by JL by designer Joanne Lu whose focus is on cashmere, femininity, and great tailoring. We also have the brands Snacku, Whichkim by Dahae Kim, Ben Copperwheat, RagnHild by Jenny Johansson, Diana Garcia, Classiq by Ted Baird, and Archives.
Q: Besides SHOP657 what stores you like to visit around the city?
A: I am actually guilty of not shopping in stores too often. Online is my favorite shopping destination. What I love is just going online and looking for the best prices, the best deals, and free shipping. I also like being in my pajamas on my bed with my credit card by my side.
Q: You graduated with a BFA in Fashion Merchandising from the Academy of Art University. How has the time at the Academy helped you along with your career path?
A: Without the Academy I wouldn't have gotten my first job. When I was first working at the SHOP657 as an intern, my friend Sarah Wang an Academy alumna, helped me apply to Emporio Armani and I got hired. I was there for a year and learned so much while gaining retail experience.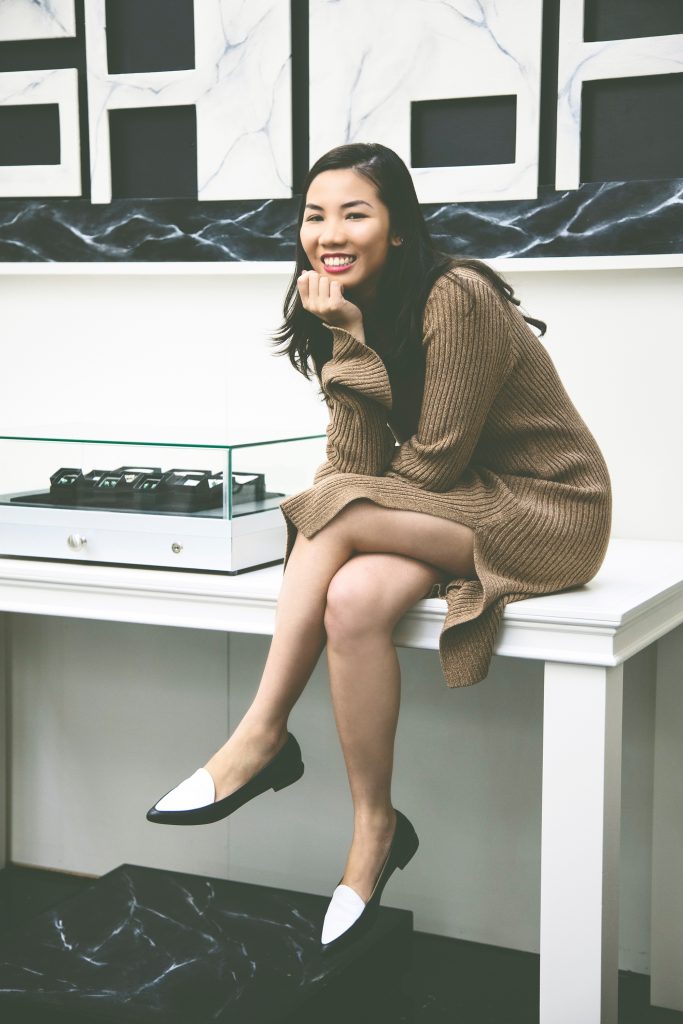 Q: Your work experience is very extensive with some big names such as Swarovski and Emporio Armani. How has that experience impacted your overall outlook on running SHOP657?
A: I am really grateful for my experience at Emporio Armani and Swarovski as I became familiar with all the work that has to be done with the up keep of a store such as sales, loss prevention, customer service, and even how to empathize with other stores operational side. I want to take a more friendly approach to running SHOP657. We just want a cool place where you can come hang out with us, try things on, and it just so happens that we also have all these great products for sale.
Q: What is your thought process when thinking of the layout and look for the store?
A: I'm looking to bring life and joy into the store. I put more of the colorful vibrant pieces out for spring when styling the layout. I want to create a place where you can come in and feel welcome to look, explore, feel, touch, and try on the clothes.
Q: What are some sources of inspiration when thinking of ways to enhance the look and feel of SHOP657?
A: A store that I get inspiration from is Saint Laurent. Their displays are very clean and nicely spaced with almost 3 inches between each item. I always walk by Union Square on my way to work and love seeing their displays.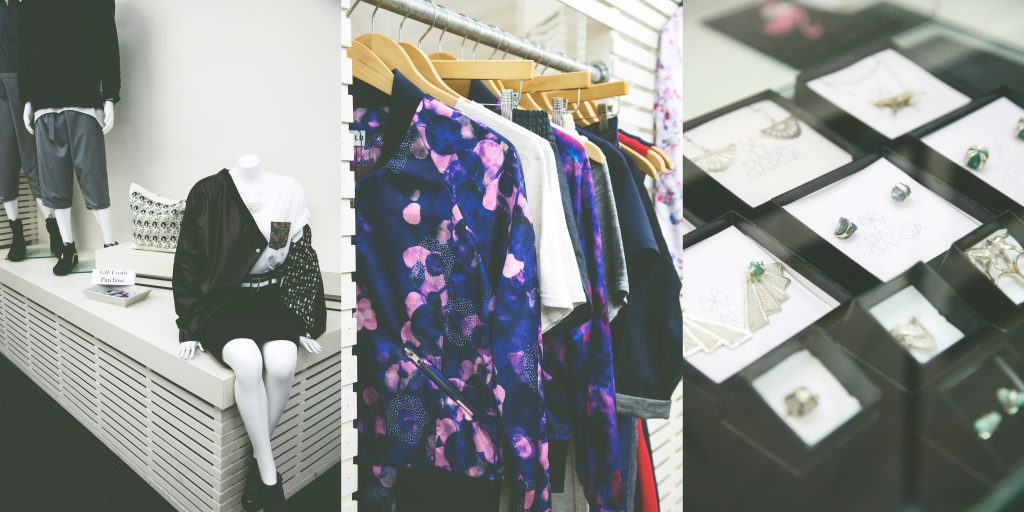 Q: Any cool events happening this semester that students and San Franciscans should be on the lookout for?
A: We are currently planning two events for this year. One is March 15th on the Ides of March, which is the first day of spring. We want to get designers to come in to mix and mingle as well as offer 15% off merchandise for the whole day. The other event is scheduled for April 20th, which will showcase more of the men's brands in the store.
Q: Is there any important information you we should know about SHOP657?
A: We want people to know that everyone is welcome to come in and just hang out with us. We are looking to do collaborations with students and alumni so please stop by and show us your work.
Q: What does the future of SHOP 657 look like?
A: This place should be a destination where people really want to have a great shopping experience. We would like to carry more brands and continue to gain more exposure and recognition. Also, I hope to eventually expand or even move to a different space.
---
Interview was conducted by Robert Bala, a BFA Fashion Styling student who is currently an intern in the School of Fashion's PR Office.