When the lights dimmed, hundreds of phones went up. Manhattan's Pier 59 was packed with the audience eagerly anticipating the School of Fashion's graduate students' debut at New York Fashion Week. As a diverse array of models began to walk, one element became excitingly clear: The designers have mastered the rules.
Academy of Art University's annual NYFW show, which began in 2005, is the ultimate moment in each fashion student's journey as international members of the press, celebrities, social media influencers, and buyers descend on the city that never sleeps. Even former political aide, Omarosa Manigault, was spotted at the Pier 59 chatting with other attendees – fashion touches everything and everyone.
This year, 17 chosen designers from the Master of Fine Arts programs presented a total of 11 womenswear and 2 menswear collections; 3 of the 13 collections were created through collaborations in textile, knitwear and fashion design.
"The collections reflect the designers' abilities to explore their individual spirit while mastering their craft", noted Simon Ungless, Executive Director of the School of Fashion. The students practiced conscientious textile design, three-dimensional design, tailoring and construction techniques while intelligently integrating technology and sustainability. Ungless further stated, "It has been a pleasure for all of us in the School of Fashion to mentor them through their fashion education, both onsite and online "We look forward to watching them forge their careers through the industry."
During the finale, the designers emerged from backstage one by one, waving to friends and family in the crowd. At a post-show celebration on Pier 59's outdoor deck, which overlooks the Hudson River, the designers were finally able to relax. They beamed with pride as they received notes of congratulations and took pictures with industry guests.
As people began to shuffle out onto the streets, either going home or in search of another party, these talented young designers knew that they were also free — having tackled the fundamentals of their craft, they were now free to break the rules with the promise of moving the industry forward.
Here is the order of collections as they appeared on the runway:
Nicholle Jones: M.F.A. Fashion Design, from Columbus, Ohio. Jones's inspiration for her graduate collection was "masks and the mystery of what is underneath" — whether that means a physical mask, an invisible mask or simply "an act or behavior" in an attempt to cover or distract, she explained. Jones incorporated her millinery knowledge by primarily using sinamay, a hat-making fabric, which she mixed with other lightweight fabrics to create sculptural garments. Jones entered the M.F.A. fashion design program at the Academy  in 2015 as an online student, demonstrating the ability to successfully complete a degree from a remote location. Her professional experiences include an early design internship with Donna Karan International, followed by work for Victoria's Secret and Express.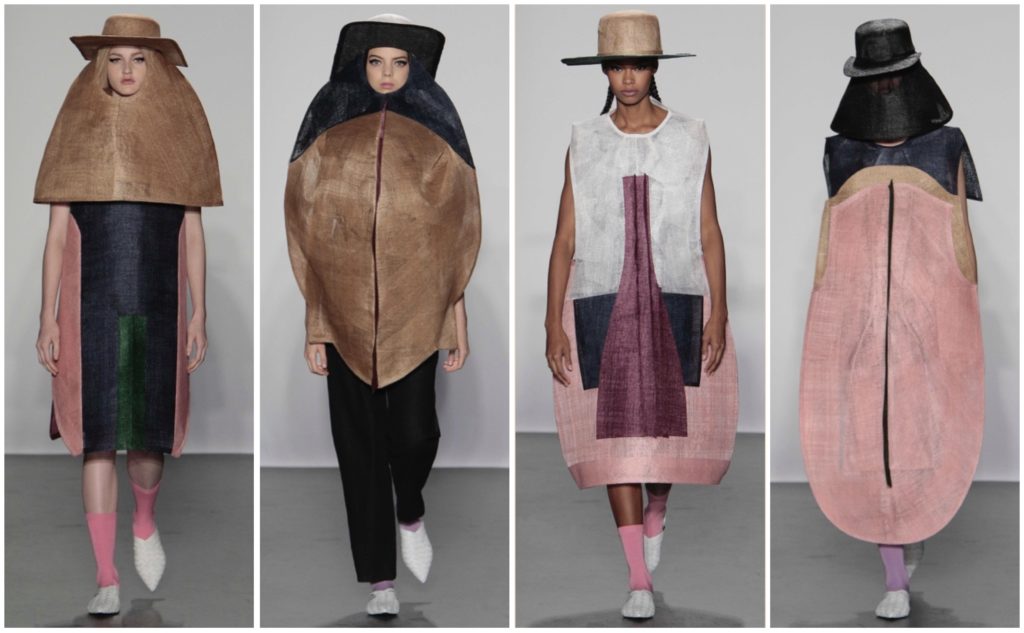 Justing Kong Jiang: M.F.A. Fashion Design, from Guangzhou, China. Initially inspired by kinetic art and an appreciation for mechanic structure, Jiang's ideas evolved to focus on the surrealist artworks of Oskar Schlemmer and Salvador Dali. By incorporating insulation paper, reflective materials and conductive fabric that all bend and refract light, his collection takes on a futuristic tone, while boning creates gathering and inventive shapes. All the fabric he used was sourced from Hautico, a fabric and material supply company Jiang co-founded. "Geometry combined with lighting effects create unusual forms and transmit a sense of heaviness," Justing says.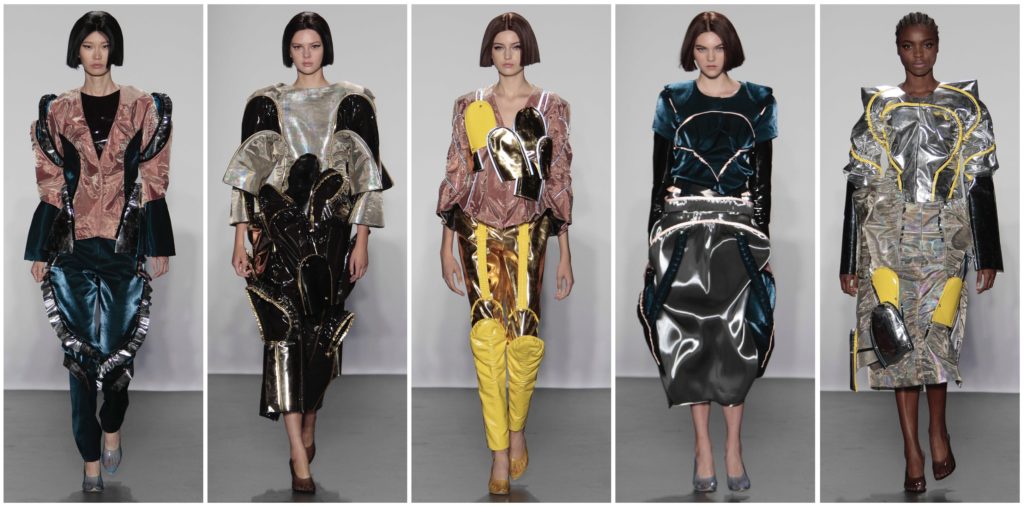 Collaboration Collection: Tingting Cai and Esther (Tian) Qi: (both) M.F.A. Fashion Design. The designers discovered shared inspiration in books and the connections people make with them. The layering of fabrics represented pages and points of connection, while asymmetrical silhouettes represented intimacy, the physical, the emotional and the intellectual.
Tingting Cai is from Shanghai, China and interned as a fashion design assistant for Danuo (Italy) Co. in Shanghai and Trendy Intl' Group in Guangzhou, where she was in charge of trend analysis and research, sourcing fabrics and making pattern cards with flats and construction information. In 2015, Cai participated in an exchange program in Milan, Italy, at the Nuova Accademia di Belle Arti.
Esther (Tian) Qi is from Xi'an, China. She served as the assistant to the interior design firm Trans + Mond Shin Jang Kyoung. There, Qi was responsible for research, illustration, design processes, flats and the coordination of fabrics and accessories for clients.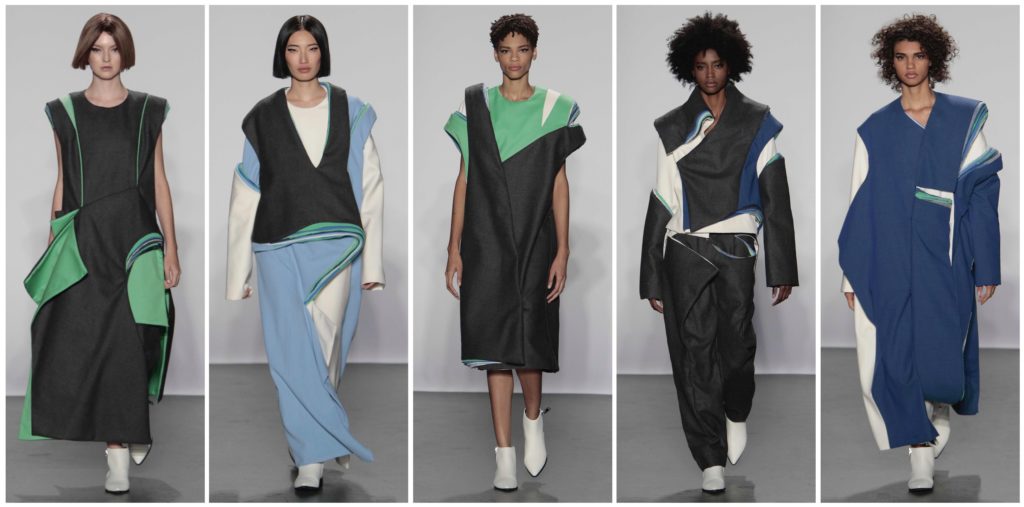 Yoonsuk Lee: M.F.A. Fashion Design, from Seoul, South Korea. Lee says his collection was inspired by "the walk of shame" and "the notion of how a woman might dress after a one-night-stand; how, in a rush, she wraps herself in a combination of men's garments." Lee paired this with references to his grandfather's tailored suits and the black and white photography of Vivian Maier and Irving Penn to create a shift in the deconstruction process of menswear. Lee sourced fabrics from vintage stores in San Francisco's Haight-Ashbury district and reconstructed vintage garments to show his idea of a relaxed silhouette. In 2017, Lee was a finalist for the Geoffrey Beene Design Scholarship Award annually bestowed by The Council of Fashion Designers of America, and he has worked for Korean fashion brands including General Idea, Obzee and Time Homme in Hyundai Handsome.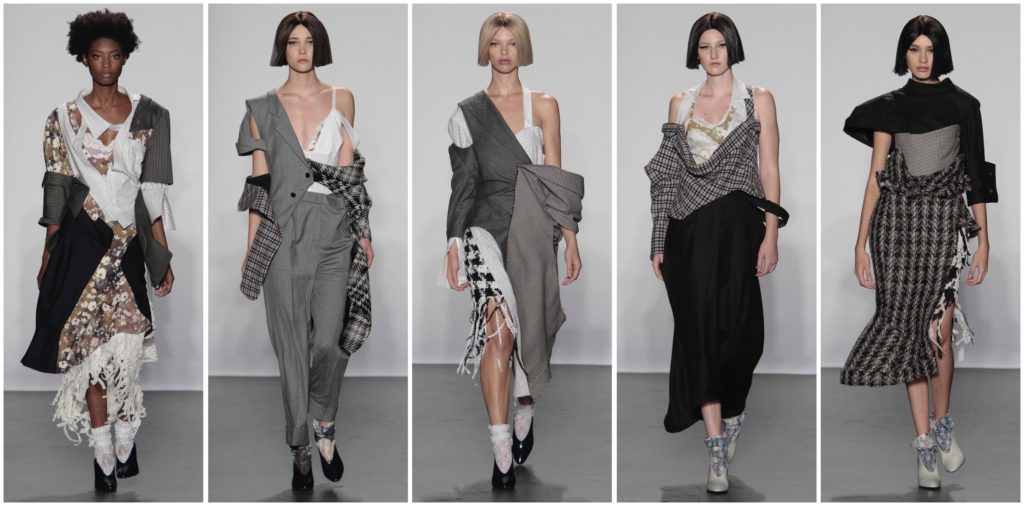 Snežana Aničić-Van Pelt: M.F.A. Fashion Design, from Belgrade, Serbia. Aničić-Van Pelt's background at Belgrade University's Center for Gender Research served as inspiration for her collection, which focused on the idea of multiple choices clashing together in harmony. She incorporated materials such as human hair, Mongolian yak and lambswool, and organdy, then juxtaposed soft draping with crisp, organic shapes and warm textures with cold. "My concept of multiple choices and identities is translated into textures and shapes that show they coexist in harmony as a whole," the designer says. In 2016, Aničić-Van Pelt interned with Eckhaus Latta Fashion Studios in New York, where she was in charge of design development, pattern-making, construction and finishing details for the runway.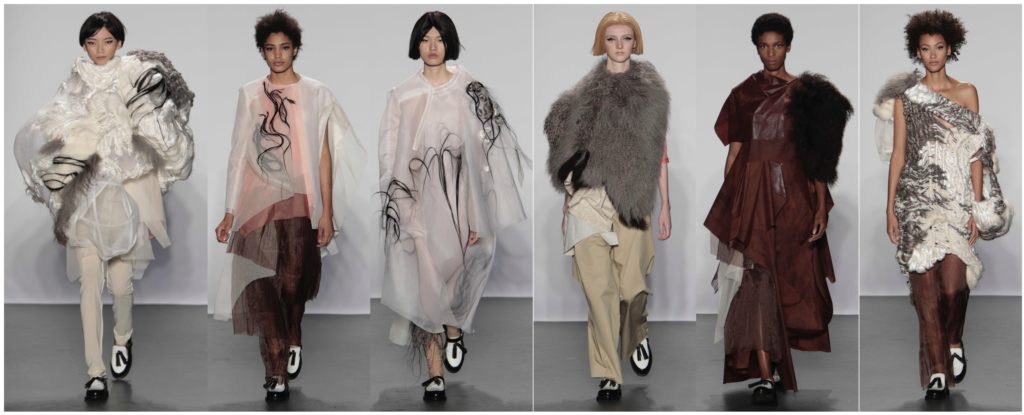 Collaborative Collection: Mark Kazu Mekaru, Katy Fang Liu and Amo (Yu Ling) Chou: M.F.A. Fashion Design, Textile Cesign and Knitwear Design, respectively. The collection is based upon Mekaru's inspiration from a Miyako Ishiuchi photograph of a disintegrated garment destroyed during WWII, along with traditional elements of Japanese origami. Liu worked to create multi-layered fabrics treated in burn-out, screen-printing and discharge methods, while Chou created knitwear that mimicked burn-out and discharge techniques. The collection incorporates several materials, including, denim, wool, cotton, twill, oilskin, polyester, waxed cotton canvas and linen; Lou's knitwear was made of wool, cotton and natural bristle yarns.
Mark Kazu Mekaru is a San Francisco native, where he earned his B.A. in architecture from University of California, Berkeley in 2005.
Katy Fang Liu was born in Shanghai, China, where in 2010, she received a B.F.A. in fine arts from the Shanghai Institute of Visual Arts. Liu has worked as a fashion and textile design intern for San Francisco-based clothier Amour Vert and as a textile designer for Shanghai Mecoxlane International. In 2017, she was selected by the Council of Fashion Designers of America to be one of 41 students included in the CFDA + 2017 "The Power of We" showcase.
Amo (Yu Ling) Chou is from Taiwan, where she received her undergraduate degree in commercial design in 2012 from Vanung University. Chou worked for Fashion Company LTD in visual merchandising, as well as being a representative agent for Lacoste, Vivienne Westwood and others.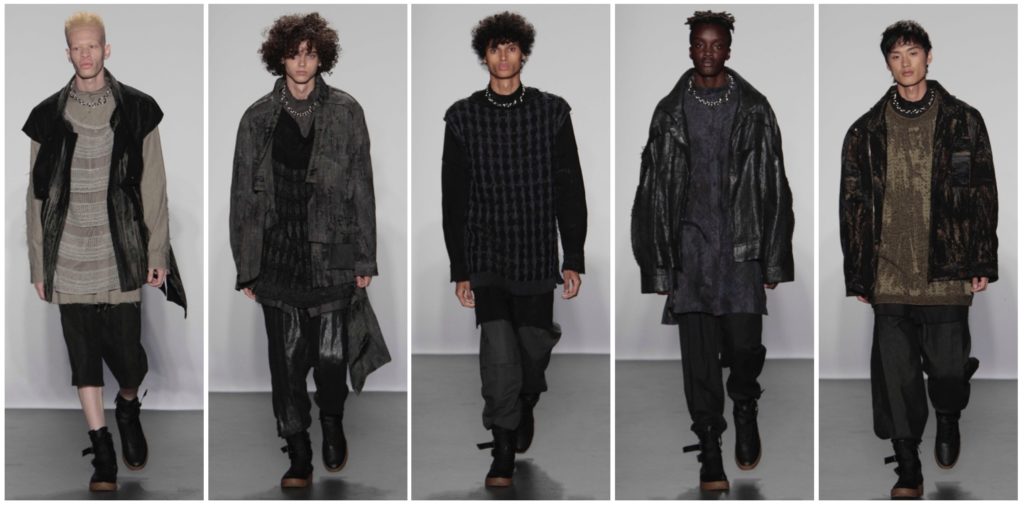 Collaborative Collection: Longwen Li and Kiwon Kang: M.F.A. Fashion Design and Textile Design, respectively. The collection is a collaborative effort celebrating potential stereotypes and capturing a 'modern, nerdy, and futuristic' style. Inspiration was drawn from the movie, "Revenge of the Nerds II: Nerds in Paradise", as well as 'glitch art' (the practice of using digital or analog errors for aesthetic purposes.) The collection includes the usage of wool suiting, rayon, corduroy, and repurposed vintage Hawaiian shirts. Li provided a structural silhouette with large geometric shapes representing 'functionality'. Kang focused on the motif of distorted imaged and white noise; using a variety of colors and overlays to re-create color and patterns on the vintage Hawaiian shirts.
Longwen Li is from Guangzhou, China where he received his undergraduate degree in footwear design at Guangdong Baiyun University in 2014.
Kiwon Kang is from Busan, South Korea. He graduated with two bachelor degrees from Ajou University, one in biotechnology and one in Japanese international studies.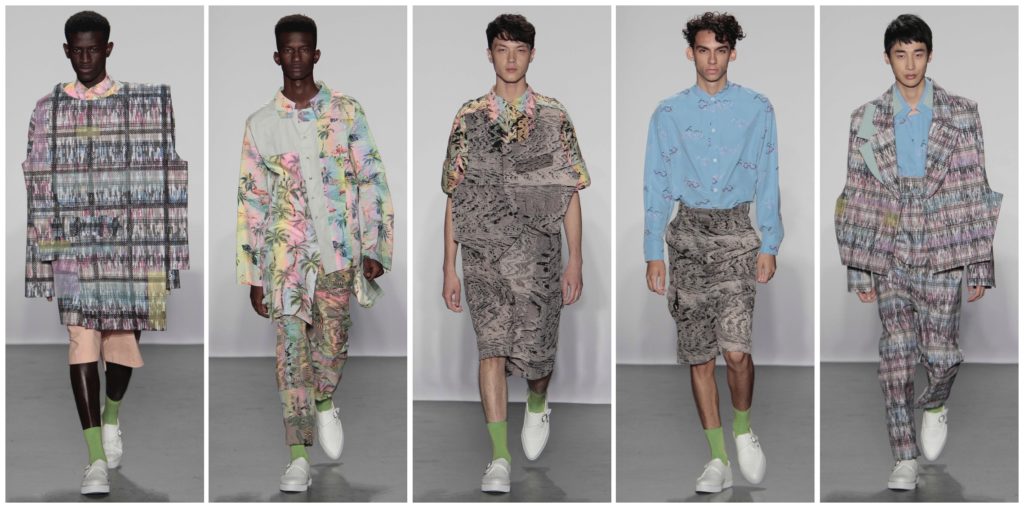 Zhihan Liu: M.F.A. Fashion Design, from Jilin, China. Liu's collection gleaned inspiration from the moment when a character in "Shutter Island" — a neo-noir psychological thriller — is burned to ashes. To achieve a faded, decomposed effect, she experimented with burning some of the fabrics. "I wanted to transfer the feelings of suffering and pain," Liu says. During her graduate coursework at the Academy of Art, Liu was one of eight finalists selected from more than 500 applicants in Levi's Made & Crafted contest, and the Council of Fashion Designers of America selected Liu to participate in this year's Fashion Future Graduate Showcase in New York. Liu advises future fashion design students to "find an inspiration that touches you deeply — that's very important."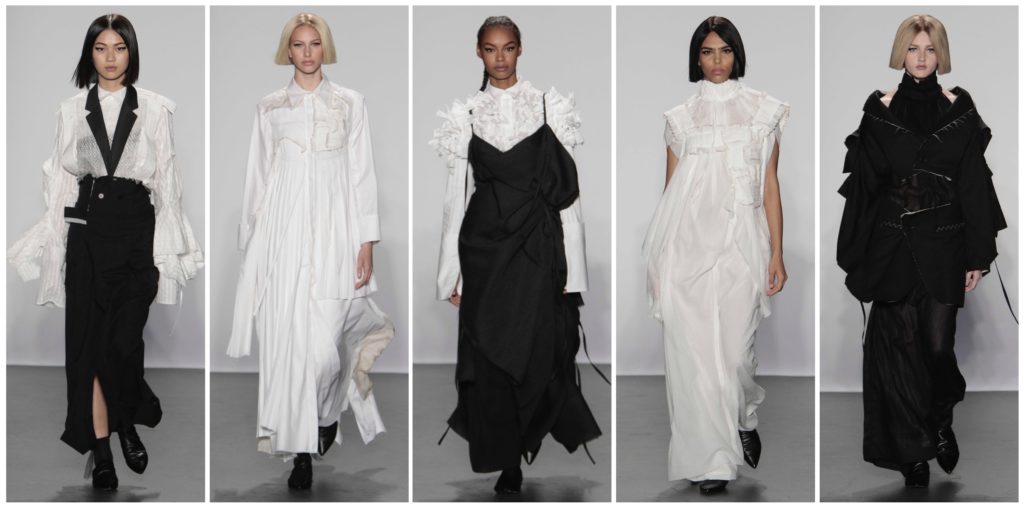 Vivid Yunan Ma: M.F.A. Knitwear Design, from Taiyuan, China. "I wanted to focus on the idea of love and passion combined with nostalgia and childhood memories," says Ma, who drew inspiration from her mother and grandmother, who have been knitting for most of there lives. She was also influenced by photographer Mark Nixon's series of portraits featuring teddy bears in the book, "Much Loved." The colors red and orange evoke ideas of love, while midnight blue represents "blurred memories." Ma's professional experience includes design, development and packaging for global leather handbag manufacturer The Well Leatherware, in addition to assisting in production, illustration, textile design and showcase preparations for New York-based brands such as Sang A Studio, Georgine and Danna Degnan.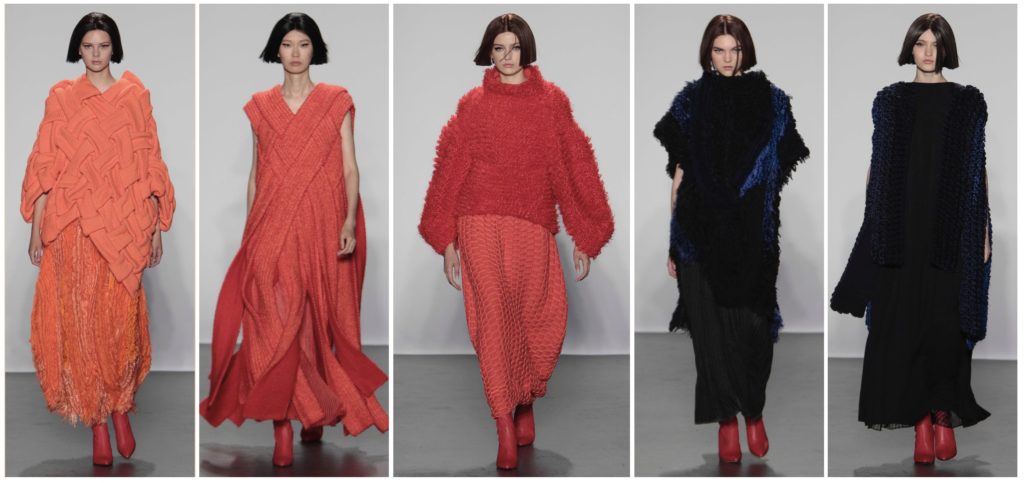 Changsheng Yu: M.F.A. Fashion Design, from Changsha, China. Yu looked to multiple sources of inspiration to produce his graduate collection, from his Chinese heritage (seen in the black and white color palette that represents calligraphy and ink paintings) to the photographic works of Andrés Cañal and Horst P. Horst, whose plays of light and shadow, sculptural shape and unexpected elements Yu also recognized in the light and shadows seen in San Francisco. Additionally, Yu honored his mother's longtime dream of becoming a dancer by examining long-exposure photographs that capture fluid movement, which is shown in his silhouettes. Yu has worked with Chinese fashion designers Masha Ma (he helped her prepare for her Paris Fashion Week show) and Yirantian Guo (whose studio he managed), nad he was selected to participate in The Council of Fashion Designers of America Fashion Future Graduate Showcase in New York.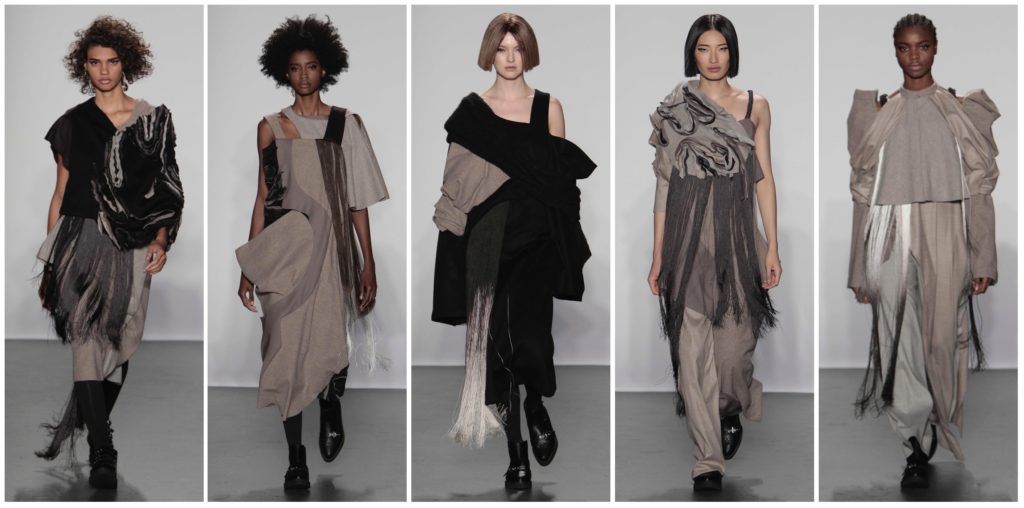 Zibo Wang: M.F.A. Fashion Design, from Beijing, China. Wang's debut collection, which incorporated traditional masculine and military details and machine embroideries, was inspired by a childhood growing up on a military compound. Wang also deconstructed Chinese letters into different shapes to drape in atypical forms. Before studying at the Academy of Art University, Wang earned her undergraduate degree in apparel and textiles at Kansas State University. Her professional experiences include trend research, creating technical flats and brand development.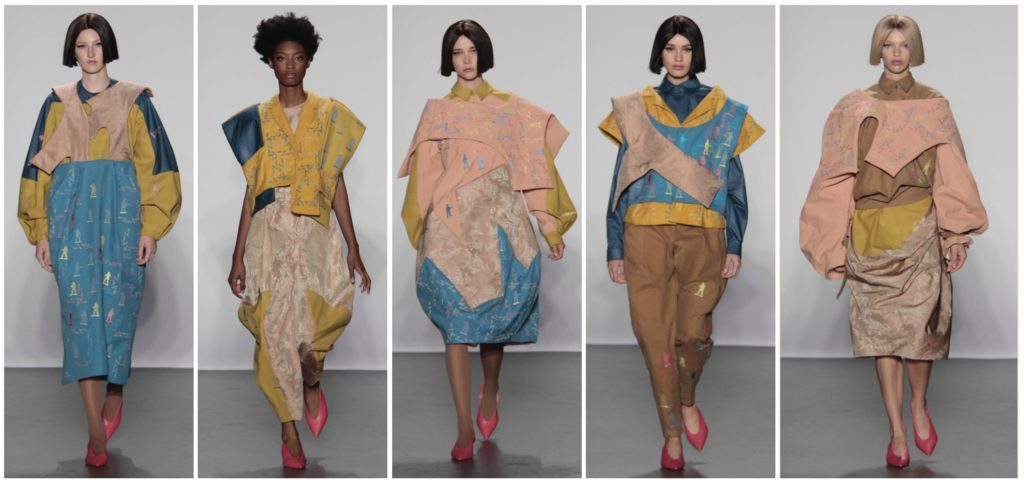 Lusha Wang: M.F.A. Fashion Design, raised in Qingdao, China. Wang's collection symbolized an independent and confident woman by employing a loose-fitting silhouette. With actor Tilda Swinton in "We Need To Talk About Kevin" as her muse, Wang used details including hand-woven yarns and strategic binding and stitching to constrain the fabric to emphasize the constraints placed on women. This year, Wang received the San Francisco – Paris Sister City Scholarship Exchange Award, which is allowing her to study fashion at Studio Berçot in Paris. The Council of Fashion Designers of America also selected her to participate in this year's Fashion Future Graduate Showcase in New York.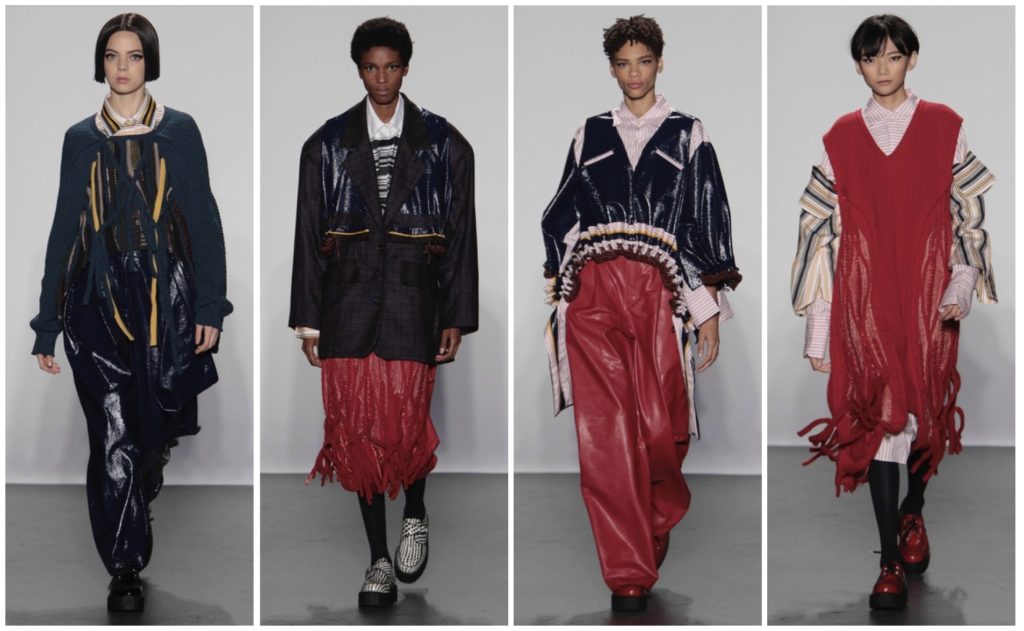 Jessica (Ching Chi) Lai: M.F.A. Fashion Design, from Taichung, Taiwan. Lai was inspired by the "pop-art" aesthetic of graphic illustrator Olimpia Zagnoli, with a primary focus on textile development and draping to make silhouettes inspired by packaging design and advanced 3-D techniques. The garments are imbued with Lai's hand-drawn images that are transferred in a multi-step process ending with silk-screening techniques. Her improvised, hand-drawn plaids mix with textured appliqué and irregular geometric shapes, primarily made from organic cotton and wool. Lai's past experience includes interning at Taiwan's Chia Hiu Uniform, where she helped with design illustrations, manufacturing processes and quality inspections. Most recently, Lai interned at Julia Jentzsch New York design studio and was selected to participate in The Council of Fashion Designers of America Fashion Future Graduate Showcase in New York.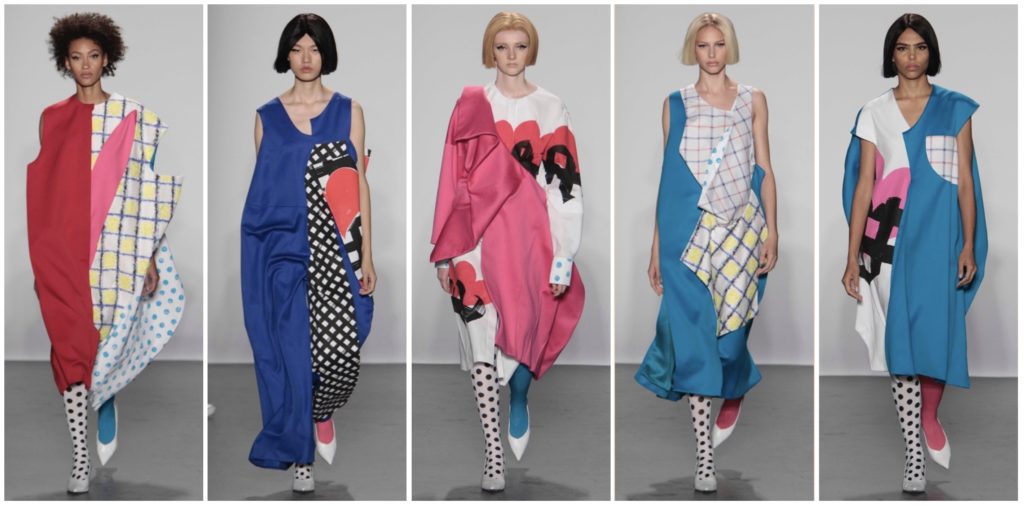 Text by  By Amy Burke (MA Fashion Journalism), Dwaine Hill (BA Fashion Journalism), and Camila Encomendero (BA Fashion Journalism)