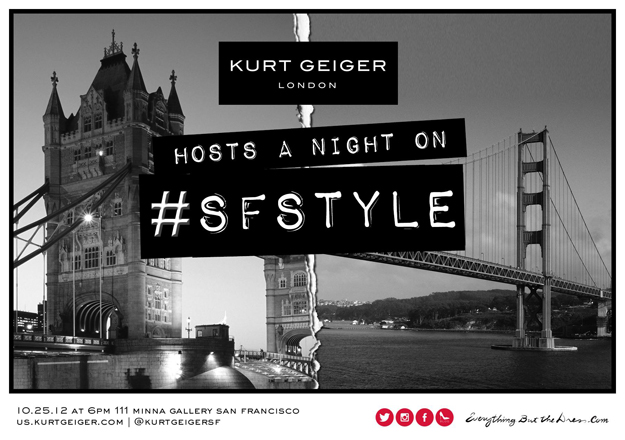 Kurt Geiger, the iconic London accessories emporium who recently set up shop in our city, is hosting a night on SF Style! Tomorrow evening, they're bringing together the top players from San Francisco's fashion, tech, culinary, music, and mixology scenes to discuss all things SF and what makes it so awesome.
The event, taking place at 111 Minna, will feature a panel of local influencers including John Akerman from Yelp, Aaron Smith of 15 Romolo, Jonathan Kauffman from Tasting Table, and Erica Chan-Coffman of Honestly…WTF. After the panel, you'll be able to enjoy special craft cocktails and British bites while listening to the sounds of local favorite Blackbird Blackbird. At the end of the night guests will leave with a $25 gift card that can be redeemed at their new Union Square store!
Follow the jump for more info – including a discount code!
The Kurt Geiger team has been nice to enough to offer a discount to School of Fashion students – all you have to do is head over to the Eventbrite page and apply the discount code "fashionstudent" when you check out and you'll receive 30% off the $25 ticket. We have no doubt this will be an awesome event, as it literally combines everything we love about this city – we hope to see you there! NOTE: You must be 21 or older to attend the event
WHEN: Thursday, October 25th from 6:00 to 9:30 PM – the panel begins promptly at 6:30 PM
WHERE: 111 Minna Gallery
Visit the Eventbrite page to grab tickets!