In the world of fashion, a designer needs to have a creative mind to succeed, while in knitwear design, you need to have both a creative and a technical mindset. Knitwear design student Mingyang Zhang discusses the technical side of knitwear and the importance of balancing creativity and technicality.
"You need tools to make art. When you make an oil painting, the brushes and the oil paint are the tools. For the art of knitwear, the yarn and the machines are the techniques and tools we use," he said.
The Academy of Art University's Knitwear Lab is home to various types of knitwear equipment available for students to use. These include domestic single and double bed machines, industrial overlock machines, Dubied industrial machines and JUKI sewing machines, which are industry standard. Each tool allows the user to produce different patterns, enabling designers to create a variety of textures for the garments. "I really like the industrial Dubied machine the best, because you can create beautiful fully fashioned rib, which is trending right now," said Zhang.
The machines also allow designers to create a variety of stitches, like tuck stitches or slip stitches, and they have multi-functions of Jacquard, which simplifies the process of creating intricate patterns such as brocade, damask, and matelassé.
"By utilizing these different techniques and stitches, I can combine them to create interesting textures, which allows me to develop my own aesthetic," said Zhang.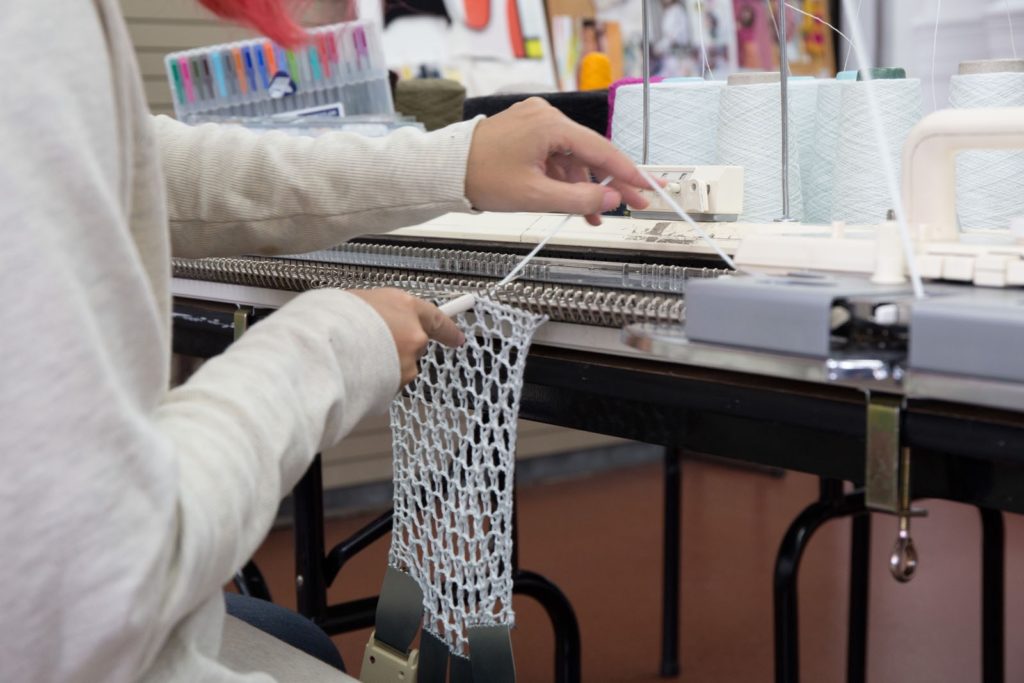 One of the most useful resources available to students is access to the Knitwear Lab's yarn library. Resourcing industrial quality yarn is reserved to apparel companies, while the yarn available in retail at local stores is usually expensive, low quality, limited in quantity and not up to date with the latest fashion trends. The School of Fashion's yarn library contains a continuously updated yarn book with samples of popular industrial yarn spinners from Italy and England, such as Lineapiu, Filclass, Igea, Zegna Baruffa, Botto Poala, Loloriana, Tod & Duncan, and Cariaggi. Students can select any yarn and purchase it at a wholesale price. "All the yarns are really soft and luxurious. What I order is merino wool, which is very fine and expensive fiber, it gives my garments a high-end feel," said Zhang. "The finer the yarn, the better quality the garment."
The yarn library is currently in the supply of the most recent yarn collection presented at Pitti Filati in Italy for AW2019-20. These are resources that Zhang believes are putting the Academy's knitwear students a step ahead.
According to Zhang, the program emphasizes the technical side of knitwear design. "If you give me a sweater, I could recognize what stitches were used and what issues could be resolved to make it better," he said. 
Knitwear students are at an advantage as the industry is lacking skilled designers who can both design and produce their garments. While the technical side is important, it needs to be balanced by creativity. "We have to have both qualities so that we can create something new," he said. According to Zhang, many knitwear designers pour all their creativity into designing interesting textures and not enough on innovative silhouettes. "Many designers do swatch design and develop cool textures, but they just put those textures onto simple silhouettes. We need designers who can create more knitwear pieces with elaborate silhouettes and complex structures," he said. Zhang believes the Academy's knitwear program is producing exactly the kind of designers the industry needs.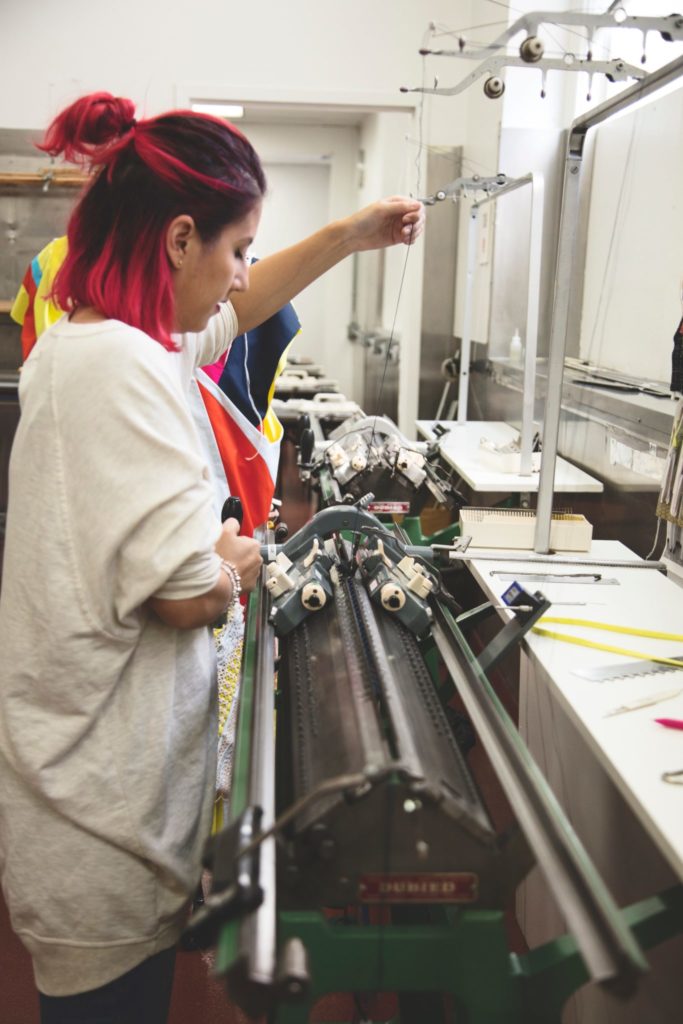 One main advantage of knitwear is its sustainability. Designers knit the fabric into the exact shape they need, instead of cutting it, allowing for a vast reduction in waste. This is important to Zhang, who hopes to one day have access to the cutting-edge Japanese technology called "Whole Garment" from Shima Seiki that doesn't require a seam allowance and thus produces zero waste.
As a junior student, Zhang is assisting a senior student and collaborating with a master's student on a collection that he hopes will make it to New York Fashion Week. "What our school does really inspire me," he said. "The previous knitwear shows, for example, Julie Eunju Kim's orange knitwear piece from last year, really inspired me, and work like that gives me more motivation to keep going."
Words by Adriana Georgiades, MA Fashion Journalism