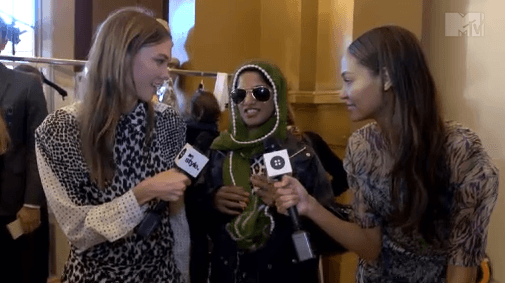 Karlie Kloss and Joan Smalls interview M.I.A. backstage at Stella McCartney. 
Many of you might not be old enough to remember the original House of Style – MTV's fashion focused show hosted by some of the biggest supermodels of the era including Cindy Crawford, Rebecca Romijn, and Molly Sims. Premiering in 1989, the show focused on the glamorous lives of fashion icons including models and designers, but also touched on important issues affecting the industry such as eating disorders and animal rights.
But now, after a twelve-year hiatus (except for one episode that totally flopped) MTV is looking to revive their former hit. They've tapped mega-models Karlie Kloss and Joan Smalls (who've both walked in our show BTW) to host the show, interviewing designers, attending fashion fêtes, and letting viewers in on all of the behind-the-scenes action. The first episode aired this week and followed the girls as they walked the shows during Paris Fashion Week. It features interviews with Stella McCartney, Jean Paul Gaultier, Alexander Wang and more.
Follow the jump to watch the video and let us know in the comments – will you be tuning into House of Style?