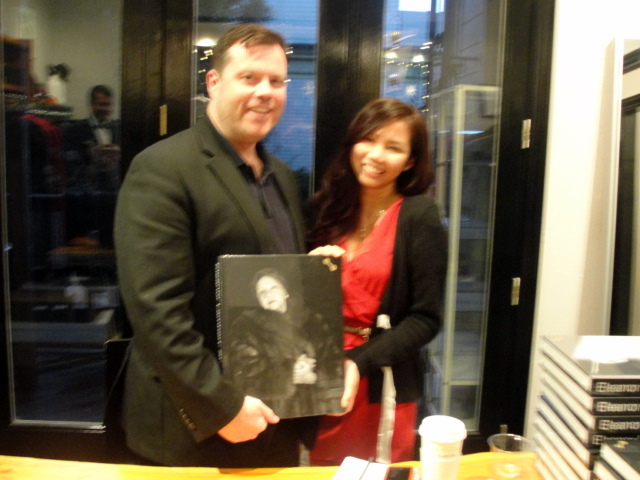 Author of Eleanor Lambert: Still Here, John Tiffany, with Chau Bui
A short chat with John Tiffany at his book-signing for "Eleanor Lambert: Still Here" this past weekend in San Francisco.
On a rainy Friday afternoon (November 18th) , fashion enthusiasts of San Francisco united at Luna, a cozy boutique named after an amiable onyx-colored dog that carries around a swishy tennis ball. In the midst of people wearing black, fall colored clothing racks, and soft watercolors on the walls sat a gentle looking man dressed in black next to a stack of gorgeous coffee table books.
These are books about the fashion PR legend Eleanor Lambert, who created New York Fashion Week among other important events in the fashion industry. The man: John Tiffany, who had the pleasure of working with Miss Lambert for a year, is the author of "Eleanor Lambert: Still Here."
During this event, I had the honor of interviewing John regarding the book, his fond memories of Miss Lambert, and his future plans.
My first impression of John Tiffany was a friendly man with a light, joyful laugh and a voice that puts anyone at ease. I started the conversation by asking about his book signing tour.
John Tiffany (JT): I was in Phoenix before, and now I'm doing San Francisco, and then I will be going to New York, Palm Beach, Paris, London (John answered as he took interest in my bunny-eared phone-case resting on the table), and Hong Kong.
For John Tiffany's book signing info, click here.
Chau Bui (CB): Oh! I love Hong Kong!
JT: Have you been?
CB: Yes, many times. It's great for shopping! Now, about the title of your book, I've heard you have an interesting story?
JT answered with a glowing smile: Oh, yes. When we were doing the book, we decided to leave the title for later and not worry about it. So then one day I was with my grandma, and she loves Lily Daché – a milliner, and we were talking about her and how when people pass away, they are not here anymore. But there is also an Irish saying that even if you're gone and one person talks about you, then… "you are still here." And so I thought that was a great title for the book because people still talk about Miss Lambert.
Follow the jump to read more!
CB: I've heard that you had the chance to work with Miss Lambert for a short period of time, less than a year, yet you were deeply inspired by her. I'd love to hear about one of the fondest memories you have of her.
JT: So I was working with her on a fashion show, and she was always encouraging people to work hard, and I did. But one day she told me that it's good to work so hard but you must also take some personal time.
At this point, a kind lady came up to the table to ask for an autograph for her friend's birthday. She took the opportunity to ask him how long it took him to work on the book.
JT: I started in September and ended in June. It didn't take me too long since I've had the idea of this book since 1995; I wanted to tell the story of her life.
After the lady walked away, I continued.
CB: I just heard that you said you've wanted wanting to write this book since 1995. What was the motivation for you to start this book?
JT: I was at a meeting and we were talking about the five events people look forward to in fashion which are the CFDA (Council of Fashion Designers of America) Awards, New York Fashion Week, Paris Fashion Week, the Costume Ball at the Metropolitan Museum and the Academy Awards. And I was like: "Eleanor Lambert started four of those!" And one guy was like, "Who is Eleanor Lambert?" Upon hearing that, I was so mad that I wanted more people to know about her. Hopefully people will now, after this book.
CB: How was the book writing process for you? Was it easy?
JT: I was actually very lucky to have a great editor, Suzy Slesin and a great team. As you know, a coffee table book is driven by its images, and you can't tell a story of Eleanor Lambert creating the CDFA if you don't have a picture of it. So I was really grateful to have a supportive team who also loved the project and it felt great creating something I was passionate about.
CB: One last question, what can be expected of you in the future?
JT: This was the first book I've ever published and the process was intense but I would love to write another book. Also I would love to do a TV show, interviewing fashion industry people… something of that type.
CB: Thank you so much for your time, best wishes on your book tour. Could I please have another handshake? *shook hands*
More information about the book can be found here.
Written By: Chau Bui