The THREAD Show comes to San Francisco twice a year, and when I went yesterday they amazed me once again. At 12:15, the top floor of the Metreon Theater was packed with merchandise, buyers, conversation, and mimosas. Everyone wanted a chance to see everything, and merchants were happy to oblige and talk about what they do best, create! Jewelry artists of all kinds, along with eco-friendly, and innovative designers were all there to promote and sell. People were in a frenzy to make sure they didn't miss a booth for potential shopping.
Fashion lovers, this is an event where you are sure to find something unique that no one else has, and mostly everything is on some sort of discount! This is the second time I've been to THREAD now and even though there were a lot of new vendors, it still had the friendly vibe that makes anyone feel welcome to shop at. THREAD had over 40 vendors, all of whom had unique style and a lot of refreshing spirit. Here are some vendors that really stood out to me:
Grammatique is an eco-friendly jewelry company that makes mostly everything out of used records. Krystina Grammatica, the designer, is either given broken records from her DJ friends or thrifts old records that she can use for her next unique masterpiece. "All Grammatique items are 'one of a kind' or limited run. Each garment or accessory is to be enjoyed as a piece of art. "-grammatique.com Krystina really has an eye for jewelry, and truly does create one-of-a-kind pieces that become special to the wearer. Krystina's rare style breathes through her designs, which make her jewelry even more unforgettable.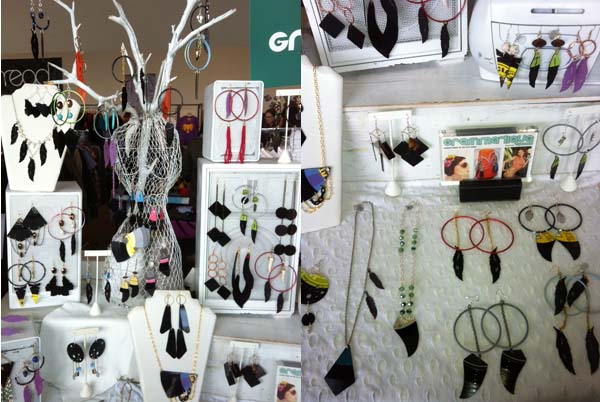 Follow the jump to read more!
Paola Loves to Shop is a brand that really shined above everyone else, not because they make friendship bracelets, but for the designs and appliqué they use to make them. The bracelets are made with brightly colored thread in patterns that seem inspired by popular music artist M.I.A, and are adorned differently with studs and rhinestones. Not only do they have bracelets, but also have matching jacquard socks and backpacks! I myself also took part in shopping :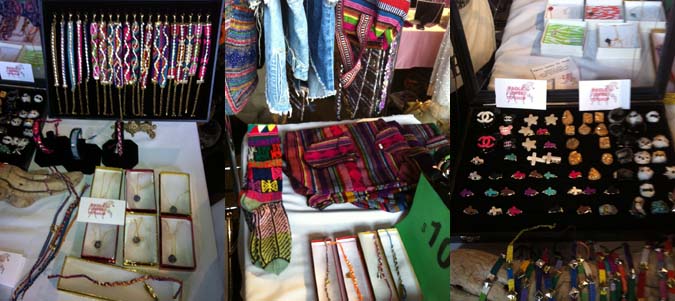 Linquist is a designer label created and designed by April Hansen. Her work is distinct and something that is a perfect add on to a simple outfit. She is a new designer that has already hand-made over 50 gold and silver pieces that are all unique and extremely stylish. She uses chains and simple gold cutouts to adorn the body in a way that is unique to the owner.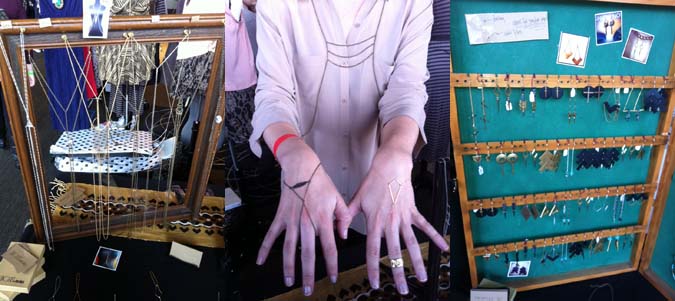 MishMash started off as an accessories line then expanded to a clothing line to better express their "it girl's" look. MishMash has a wide range of garments for women that are sophisticated yet trendy. Their classic style goes perfect with their jewelry, which is very bold and chic. The jewelry is either hand-made by the designer or sourced from other companies. This local brand really targets the San Francisco woman, and hits it spot-on!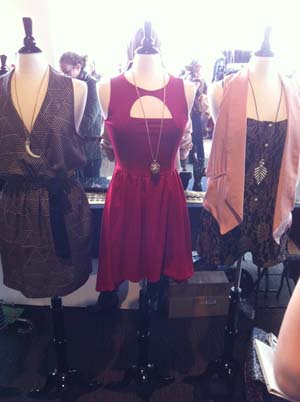 Mary Meg Vinspirationals stuck out like a sore-thumb at THREAD, I guess that's why I was so drawn to her garments. She makes everything from vintage fabric and found items that she re-makes into her own. She does not make two of a kind, because each has a unique story. Her clothing is a mix of costumes from the 15th century and wedding gowns with a modern twist. Mary really stays true to what she loves and knows she's good at, and for that reason she makes amazing garments that costume designers can be inspired by and brides can be wedded in.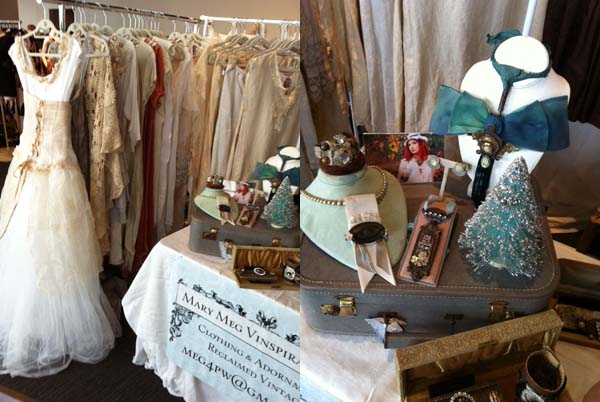 If you didn't catch THREAD this winter, check it out their website in March for details of the next event.