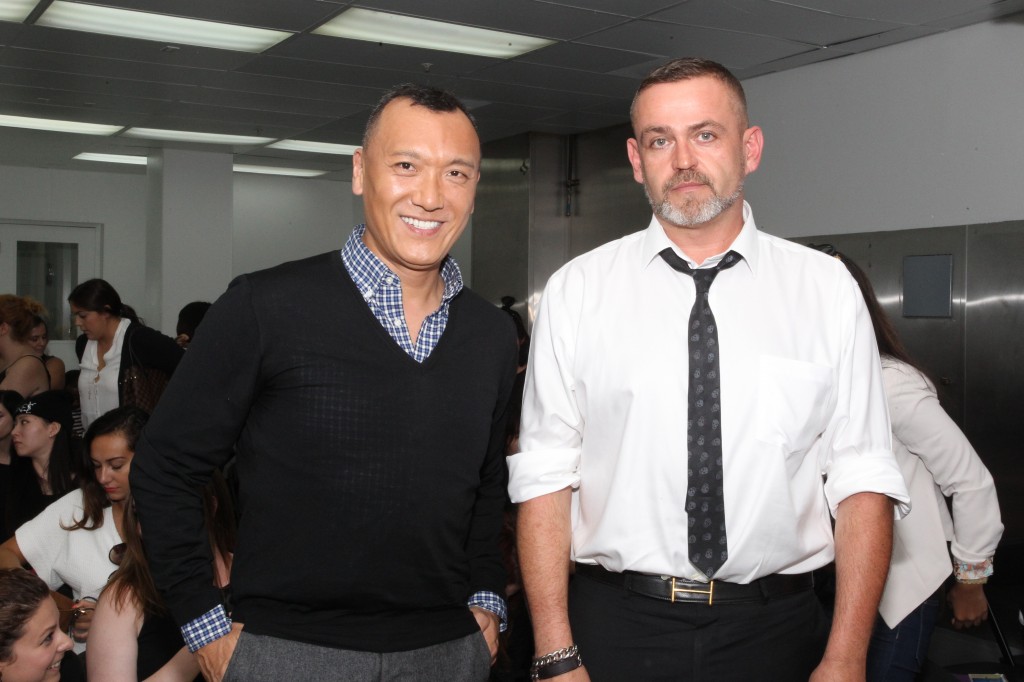 Joe Zee, newly appointed Editor-in-Chief of Yahoo! Style led a discussion at the Academy of Art University with Simon Ungless, Executive Director of the School of Fashion, members of the press and about 75 Fashion Journalism and Styling students. Zee vividly remembers talking about his ambitions to work in the world of magazines in a coffee shop and being told that he wouldn't make it because, "you're not a woman, you're not privileged and you're not white." Luckily, he didn't let those discouraging words get in his way and since then has gone on to become one the of the biggest names in the world of Fashion. His resume is filled with so many amazing accomplishments, it's almost hard to believe that it's real. Zee has worked for W magazine, Vanity Fair and then became the first Creative Director at Elle magazine. Among a rap sheet of other credits, Zee is now embarking on a new adventure by heading up Yahoo! Style.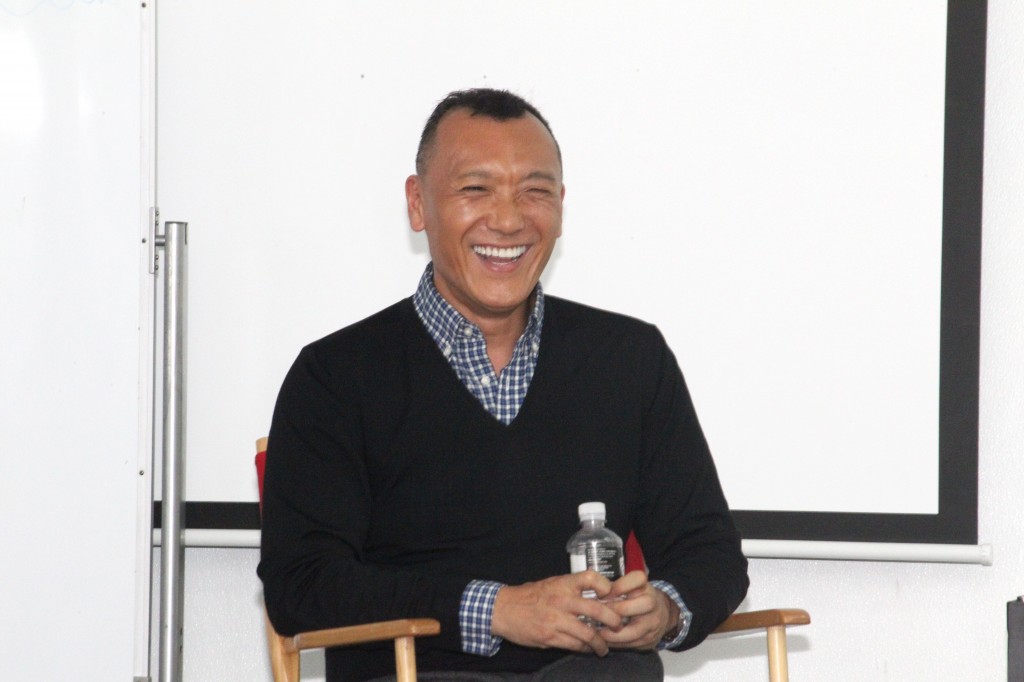 "I had a plan A, no plan B," a confident, yet, modest Zee stated when asked about how he got to this place in his career. He engaged the audience with the story of his boyhood love of Fashion Magazines, which led him to move to New York. After high school he went to New York to attend FIT to major in Advertising Communications. Why Advertising Communications? They had one class that focused on magazines, which made Zee laugh and say, "well then, I'll be an Ad Com Major!" accompanied by a smile that never seemed to leave his face. Throughout the hour-long discussion, he gave solid advice to students looking for their dream jobs. According to him, it's a balance between what is learned in the classroom and rolling up your sleeves and actually do it. From what it sounds, Zee has always had his sleeves rolled up.
When he was at FIT, he worked for their newspaper called "Revelation" and along with one of his friends, produced the entire paper. He wrote all of the articles, styled the photos and put everything he had into it. It was a lot of work, but he credits that hard work with getting him a lot of interviews. He advised students to take as many internships as they can. His first internship was at Sportswear International where he ran errands and returned clothes. Although it may seem like grunt work to most, Joe just says, "I think I loved it at the time! I got to go to showrooms and I got to meet people- although at the time I think it was just the receptionist!" The ability for Joe to see everything as an opportunity is what has lead him to where he is today. When he was just starting out, he didn't look at getting coffee as paying his dues, he looked at it as an opportunity to talk to people and to learn. A year before he graduated he went to a Career Fair, marched right up to someone that worked at CondeNast and said, "I want to work for Polly Mellen." Ambitious, determined, but not yet out of school- Zee was told to try again once he had graduated.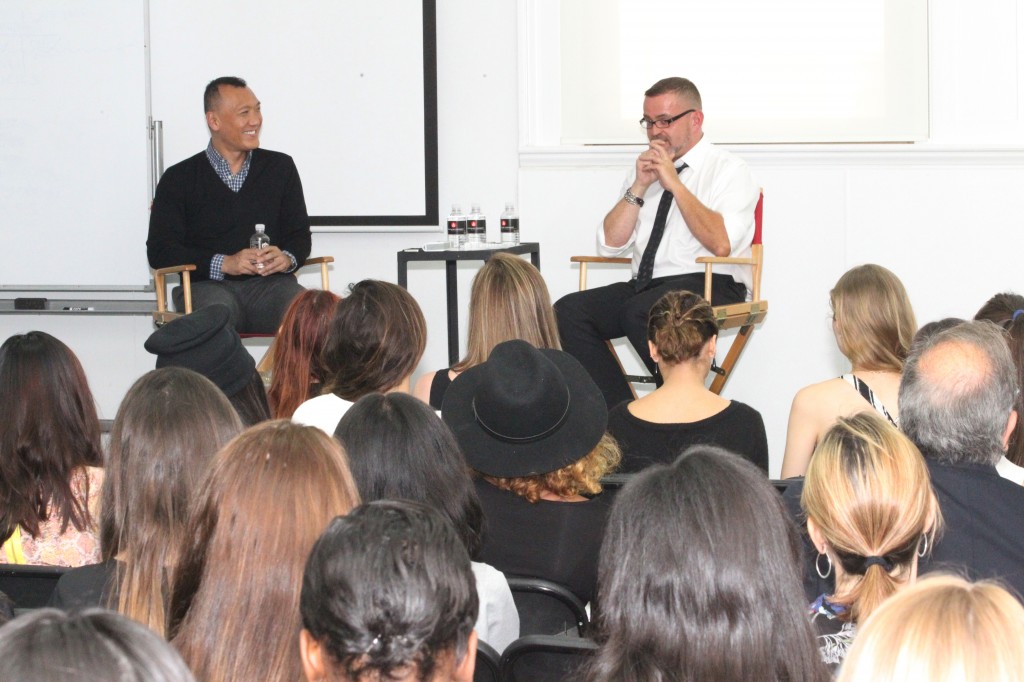 Graduation came and his dreams had not changed. He tried once again- and it paid off, but not after a horrific test shoot for WWD that had him questioning himself. When Zee recalls his experience at this test shoot, it humanizes him, up until this point in telling his story he has seemed superhuman, unwavering in his quest for greatness and seemingly never questioning himself. "The shoot was horrible!" Zee laughs, then he talks about his feelings of defeat and going back to Toronto after the shoot feeling like he was defeated. The fact that he can admit his downfalls shows that even the great ones have doubts, an important lesson for the students in the audience. Once he got back to Toronto, he got the call of a lifetime to interview with Polly Mellen. He jumped back on the train and landed his dream job. He called Polly Mellen an inspiration to him and he spoke of her work ethic stating that she was the first one in the office and the last to leave. He took that passion for the job to heart and has used that experience to mold his career today.
Working with Polly Mellen led to a number of different opportunities for Joe Zee. Looking at all of the things he has done in his career and how much he has on his plate everyday is exhausting just to listen to- How does he do it all? "I don't sleep!" He laughs again and  explains, "I love multitasking," which could be why he is the perfect person to head up Yahoo! Style. When Zee moved from Elle, a well-respected Fashion platform to an Internet search engine many questioned the move. To Zee it just seemed like a natural progression. "Digital is the way I've been consuming content for years", and he is not alone. The Internet has the ability to reach so many more people than a print publication, and he is taking full advantage. He tweets constantly, loves Instagram and unlike many people in Fashion, he is embracing social media and how fashion is becoming more and more for the masses.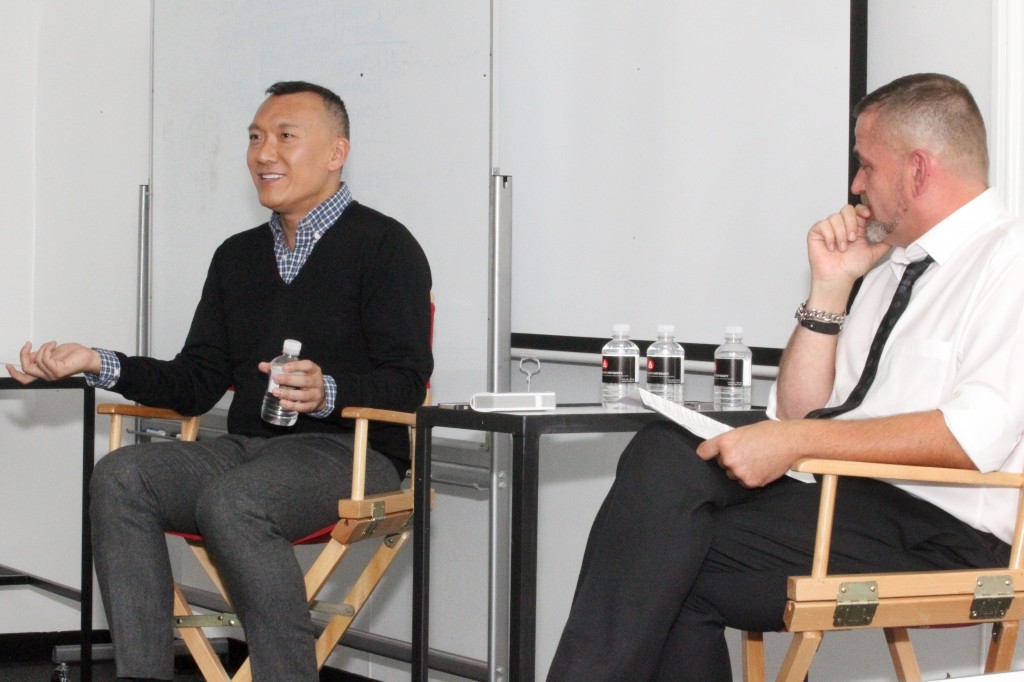 "In order be in the media industry today you have to be multi-pronged," his ability to reach people through various mediums is what has made him so successful. He has worked in television, print, digital- you name it, Zee has done it. Everything he has done has taught him something and he is not shy about showing his gratitude and embracing the value of the lessons that all of the various experiences gave him. Leaving Elle, he is leaving with a wealth of knowledge that he will bring to his next venture at Yahoo!. "Coming to Elle taught me that magazines were no longer just magazines,they were about building a brand".
With Zee making the move from print to digital, much of the discussion at the Academy of Art University School of Fashion focused on the differences between the two platforms. Although the impending death of print publications has been the topic of many heated discussions in journalism, Zee thinks that there is room for both print and digital. "People say print is dead. I don't necessarily think print is dead, it's just changing its hair color!" Not one to be stuck in his ways, he acknowledges the need for constant reinvention. His revamp of the Yahoo! Style looks fantastic and what he seems to enjoy most is getting topics out there in real time and starting global conversations. When working with print magazines, a story is written far ahead of it's publication date, however with Yahoo!, Zee can post topics almost as soon as they happen. "I walk fast, I talk fast. Being Editor in Chief of Yahoo! Style allows me to react to things in real time."
A self-confessed pop culture fanatic, Zee's Yahoo! site presents fashion in a way that appeals to the general population. "It's all about imagery. I tried to bring elements of a printed magazine to digital" because, as Zee points out, will readers be more likely to check out a beautiful picture or a massive amount of text? "Content is just getting people to connect with something. So an Instagram that gets 680,000 likes- that picture is a story." His vision for Yahoo! style was to combine aspiration and accessibility to create a harmonious platform where high and low can truly live side by side.  "I'm trying to make the digital magazine a part of everyone's life and have them be a part of it."
During his appearance, he was extremely gracious and complimentary of the School of Fashion. He gave props to 180 magazine and expressed his excitement at the programs that are available. His support of new talent was clear and he was very forthcoming with advice for students. "Say yes to everything," seemed to be his words to live by and he told the audience not to worry about other people, you can only worry about yourself. He joked that comparing yourself to Beyonce will get you nowhere, because according to Zee, "nobody is on her level." He makes everyone laugh, but it's clear that his words resonate. The audience left with the message to be true to themselves and their unique voice.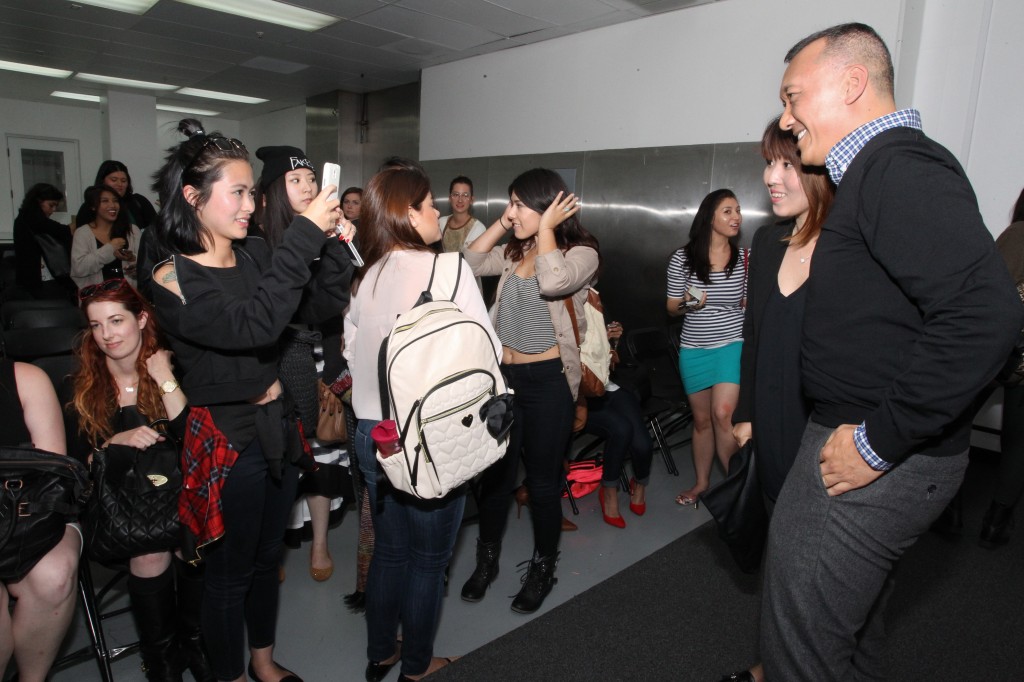 His ability to connect with people and make fashion a topic for everyone is what has made him so successful and widely admired. It's rare to find someone so accomplished to be so approachable and humble- but Zee was just that. After talking with the students and answering questions he was more than willing to take "selfies" with the long line of fans that lined up after the discussion. His down to earth demeanor and willingness to share made Zee's discussion incredibly valuable and enjoyable to everyone in the audience.
Joe Zee is the perfect example for the new age of media. He doesn't look down on anything, he embraces all of it.  A fashion show, he points out, looks the same to everyone who is in the audience, everyone sees the same clothes. He went on to talk about the importance of finding the best way of packaging the show as a your own story, finding out what makes that moment truly special to you. "To filter out the noise you have to make that noise sound like a song nobody has ever heard." When asked about the lack of credibility of online journalism and the topic of fashion bloggers in the front row at fashion shows- he quiets the critics by pointing out, "you can write the best story, design the best site, but if nobody sees it, who cares? If a blogger has thousands of more viewers than the average magazine, then that's all they need to deserve a front row spot at a fashion show." It's all about reach, and with Yahoo!- there's no telling how far Joe Zee's reach can go.
By Tess Collins