On July 13, 2010 the French National Assembly passed a draft law that 'no one can, in a public space, wear clothing intended to hide the face.'
A few days earlier, I covered the Haute Couture Collections in Paris, and later went to London – with my sketchbook.
In both cities Muslims are everywhere, modern, traditional, young, beautiful and old. They cover their heads, sometimes they cover everything even their eyes. But they can all see well enough to shop.
The burqa is a robe that covers the entire body and includes a mesh over the eyes; the abaya, leaves the face exposed; full-body Islamic swimwear dubbed the burqini after the Afghan burqa. The veil is obligatory and very pretty.
Saudi princesses sometimes buy 15 to 20 evening gowns for as much as $20,000 each. They want abayas by the same designers to match.
John Galliano was among 21 designers who participated in a Paris show in June 2009 at Hotel George V, owned by Saudi Prince Alwaleed Bin Talal.
The made-to-measure abayas displayed there, worth up to $10,000, were donated to buyers, including members of the Saudi royal family.
Paris-based Jean-Claude Jitrois, designed a silk black abaya with hand-woven leather embroidery and Swarovski Crystals.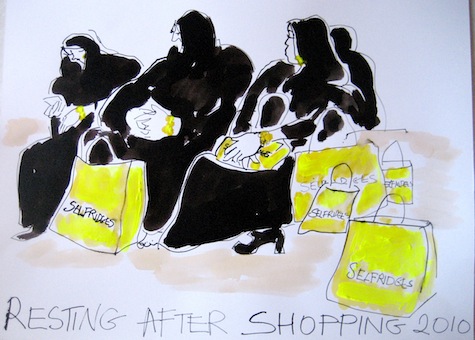 Resting after shopping at Selfridges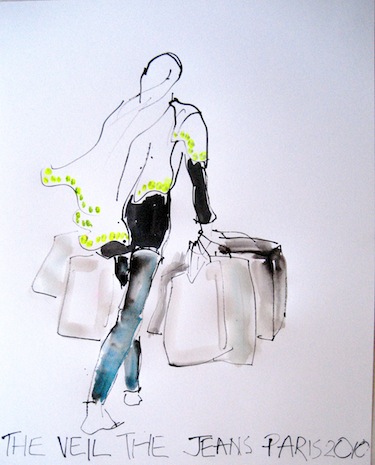 The veil, the jeans in Paris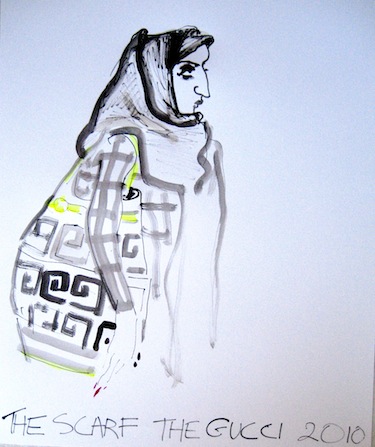 The scarf, the Gucci in London
Written by: Gladys Perint Palmer
Click here to read more of "Picture This" by GPP"