By Annet Katan, MA Art Direction
This past Thanksgiving weekend, the Christmas Tree decorated by School of Fashion students and faculty won the Academy of Art University Second Annual Christmas Tree Competition at Ghirardelli Square in San Francisco.
In this "most wonderful time of the year," the fashion school's concept was selected to be exhibited as one of fifteen Christmas Trees, each decorated by a different school within the university. The idea behind the fashion tree project was the creative re-use of donated, found raw objects, recycled fashion materials, and hardware to create decorations, ornaments, and garlands. The crafted decorations were painted gold, reminiscent of the accessories by French fashion house Schiaparelli and Italian brand Versace. Louise Nevelson's assemblage sculptures had inspired the creative process of combining unexpected elements together with a monochrome palette.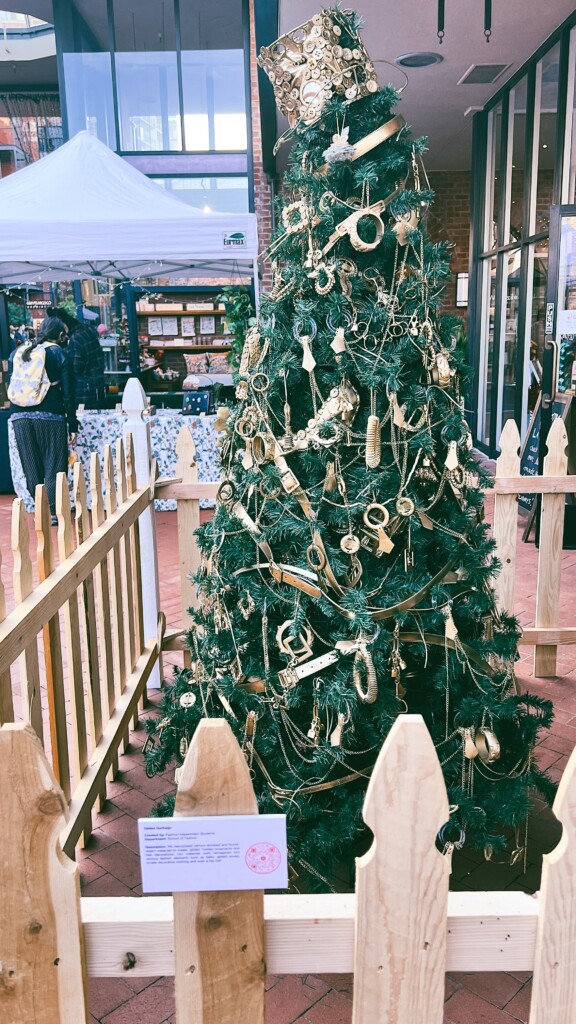 Simon Ungless, Executive Director of the School of Fashion, shared the inspiration behind the total gold tree decoration:
"Over the duration of the pandemic, we received multiple donations of materials from various local fashion businesses. In a normal year, the students would use all donated goods in the Sophomore Repurposed project. When the tree project came up, it seemed like the perfect opportunity to gather as a group and work on a making project using the donated materials. The Very Very Versace concept came up as a tongue-in-cheek nod to the endless collaborations and hacks the fashion industry is currently obsessed with, such as Fendace and The Gucci-Balenciaga Hacker collection. It was a great opportunity for students and faculty to work together on a project while having fun with the industry."
There are many unique pieces that students made. The top of the Christmas tree is adorned with a hat created of recycled materials (wire, buttons, and other recycled fashion elements also covered in gold paint) by BFA Costume Design student Patric Wang. "My idea of this hat was to build something festival and magical," explained Wang. "My first thought was to make a top hat for this tree because there is nothing more theatrical/dramatic. I often associate a top hat with the Mad Hatter or Mr. Mistoffelees in the musical Cats. Because our theme is centered around recycling, I decided not to use any new fabric. When I got the recycled material from School, I thought to create an illusion that these golden buttons are just floating around the top hat."
Wang described his creative process as building the top hat silhouette using aluminum wire from an old costume piece. "After I built the top hat base, I spray painted it gold. Then I started to play with the buttons; I used gold wire connecting the buttons to create a dynamic shape to cover up their wireframe base. I left the brim part hollow, so it looked like the wire was just floating in the air."
BFA Fashion Design student Brenda Stuntz, who made a tutu decoration for the tree also shared her inspiration stemming from her work prior to studying at the Academy: "Before I enrolled in the fashion design program at the Academy of Art University, I used to create performance tutus. My ornament was built much like a real tutu is, only with some extreme modifications since the materials are entirely different. The core of the ornament is made up of layered buttons to create the shape needed to support the skirt. Then I added layers of snowflake sequins to mimic the ruffling and layering of a real tutu. Once the tutu had been constructed it was still missing something, so I went back to my cabinet and pulled out my container of Swarovski crystals and added as much bling as necessary to complete a tutu fit for a little golden sugarplum fairy."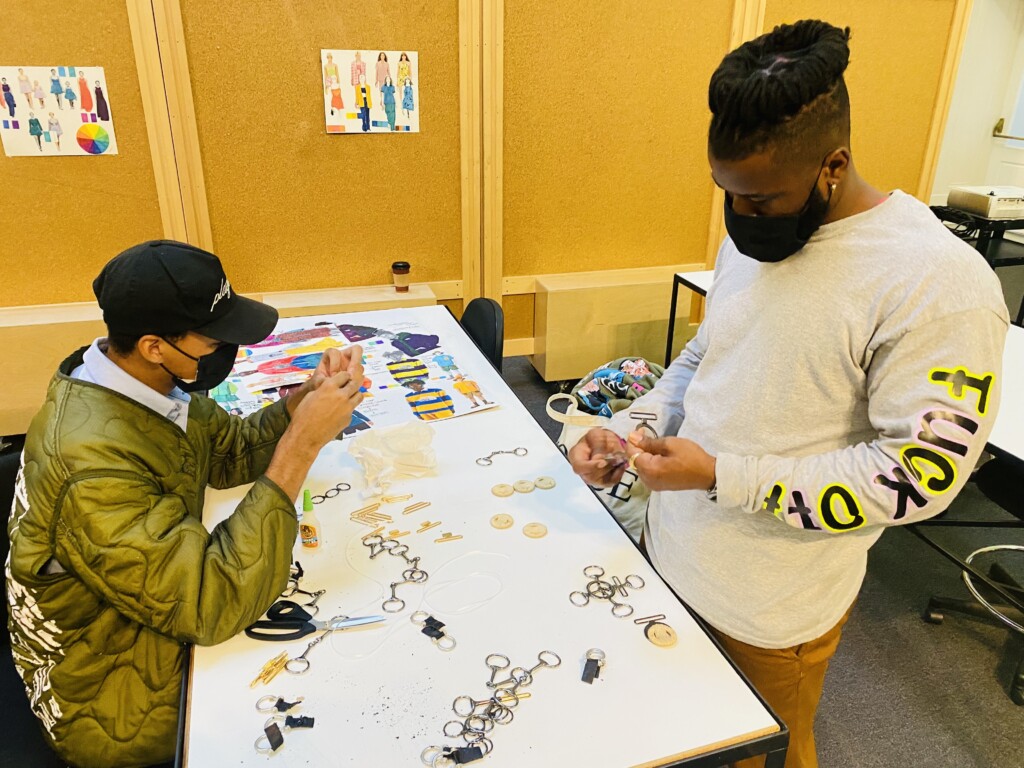 Krithika Sengo, BFA Textile Design student, created a trench coat out of buttons made of recycled materials. "My inspiration was winter, and my favorite part of winter is definitely layering," Sengo shares. "I wanted to incorporate that into the Christmas tree. When I learned about the theme, I wanted to hand sew buttons all over my Jacket and wrap it up like a little present. The process was definitely time-consuming, but worth it!"
The trees are exhibited throughout Ghirardelli Square until December 28. A jury uniting member of the San Francisco press had assessed the decorated trees at the inauguration of the exhibition last and selected the School of Fashion project as a winner of the competition. The winning team received a framed certificate, a $1000 donation to their choice's charitable organization, and a gift basket of items from Ghirardelli Square merchants (estimated value of $1000). The tree was adorned with a special placard that will be displayed for the rest of the month.
This year's exhibit also includes an interactive element in which visitors are welcome to vote for a People's Choice award winner. Voting is taking place through December 10, and a winner will be announced via social media for bragging rights and a special prize from one of the retailers.
******
A comment from the article's author Annet Katan, MA Art Direction:
It was an incredible experience for me as a student. My instructors Flore Morton and Elena Eberhard invited me to participate and write this story. I had a chance to create something special during this time, meet my teachers and other students, and get inspired from teamwork in a warm and welcoming atmosphere in the Atrium at 625 Polk St.
If you have a chance to stop by at Ghiradelli Square this holiday season, get your cameras ready and enjoy this festive celebration of joyful collaboration and creativity.