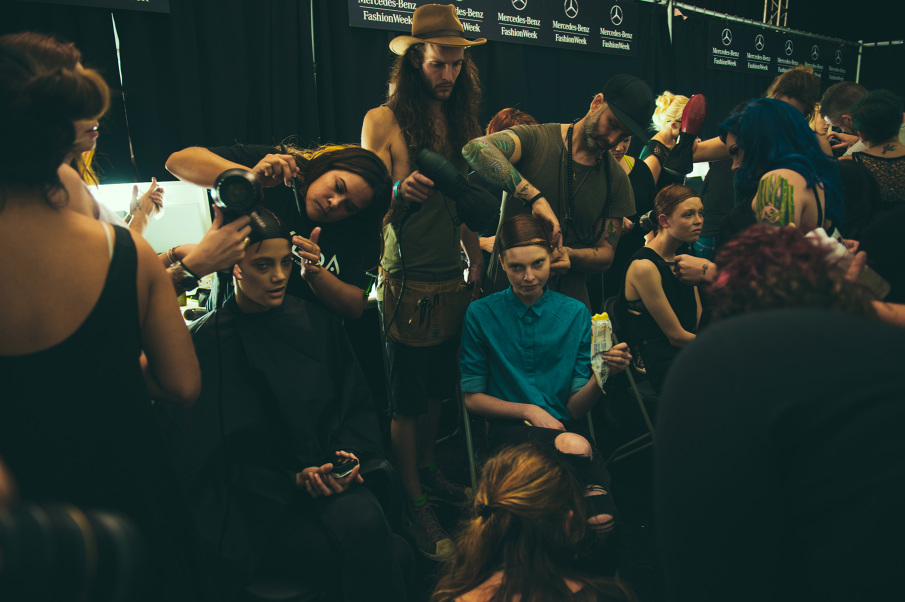 At fashion shows, there is a barrier between what the designer presents to the audience and the madness that goes into that final presentation. That barrier could be a number of things, it could be a wall, a curtain, maybe even a screen. Whatever the blockade is, its purpose is to keep onlookers from seeing what's going on behind it. However, behind the scenes is often where the most interesting and beautiful moments of a show happen. Backstage is where last minute changes to designs are made, where models transform from everyday people into high fashion works of art, and behind the scenes is where designers careers are made. What comes down the runway for the audience to see is a result of the actions that have taken place in the back of the house, a result of all of the madness that occurs before those few perfect minutes where it all flows together. Mark Elzey, a fashion photographer, has broken down that barrier to give us a look into what only a few are able to see backstage at the Academy of Art University Spring 2015 Mercedes-Benz Fashion Week show.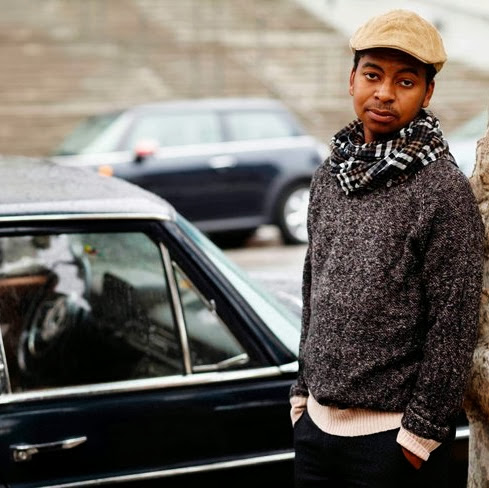 Mark Elzey, a photographer, was trusted with the exciting challenge of taking pictures backstage at a number of shows at New York Fashion Week, including The Academy of Art University's show. The results were truly beautiful. Even though Elzey's pictures speak for themselves, he was gracious enough to give an interview, allowing us to see more than what is represented just though his lens.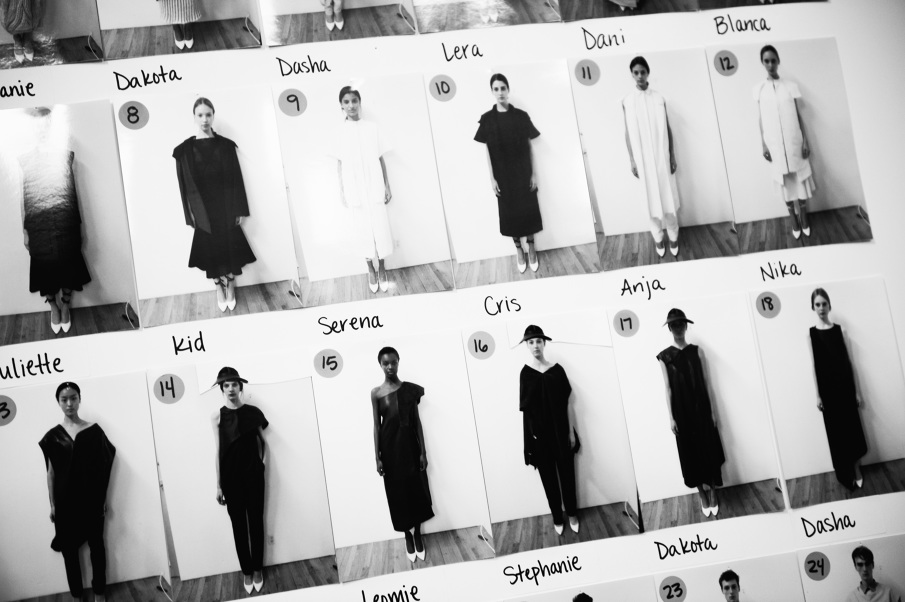 Tess Collins: How did you get your start in photography?
Mark Elzey: I got into photography at first by curiosity.  I've been an artist since I was 5 years old. Before photography, I was a graphic designer.  One of my friends had a camera at their party, it was a Canon Rebel DSLR. I had never seen such great pictures come from a camera, I wanted to try it and see what happened.  Once I picked up the camera, it was like everything started to make sense. I believe it was simply destiny. I first started out by taking pictures of everything. Some days I would stay out for a full 36 hours and turn off my phone. It was just me and the camera. After doing this non-stop for a couple years I started to become one with my environment. I was throwing all that I knew down the drain and starting fresh. Feeling the wind, hearing the birds, etc. Doing that really allows me to see exactly what I'm doing, almost like putting myself in the perspective of a Martian. It's like being on the Earth for the first time seeing and how beautiful it is.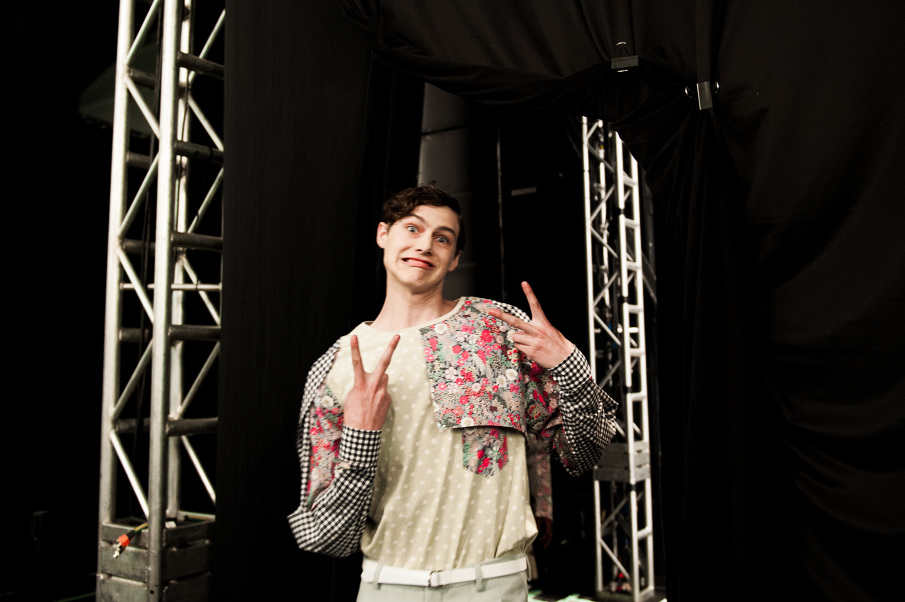 TC: Your role during Fashion Week was to take portraits and candids backstage, which do you prefer; candids or staged photography?
ME: I really like both, but if I had to choose between one or the other, I'd say candids. I believe if it's staged, everyone already has a sense of what they are going to see and get. Candids, you capture them in the moment of something. You don't know what to expect when this happens. The results vary from photographer to photographer, how much they get the models to open up or even share their energy with them. I love the unexpected and I love change, so I definitely would have to go with candids.
TC: How are you able to capture an emotion through your photographs? How do you get the shot at just the right moment?

ME: I believe emotion is the essence of being human. I love rawness, true emotion, and naturalness. I really don't like when models are posing. It takes away from everything that I embrace in human qualities. I try to get them to focus on their surroundings and spending time with themselves.This allows me to observe them in a different manner. I believe you have to be completely open to your models or subjects to really see and understand something more than what is being given or shown. Sometimes you just have a conversation with someone, and depending how open you are with them, they will show you the true side of who they are, and show what others haven't seen within them. We live in a negative world, but everyone loves positive energy and those who are willing to open up. I used to be shy, but I knew if I wanted to be great, I had to overcome my fears and focus on what mattered most, my dream. I don't believe its hard to achieve, I just believe to capture real emotion you have to 'want' to understand who or what you are shooting.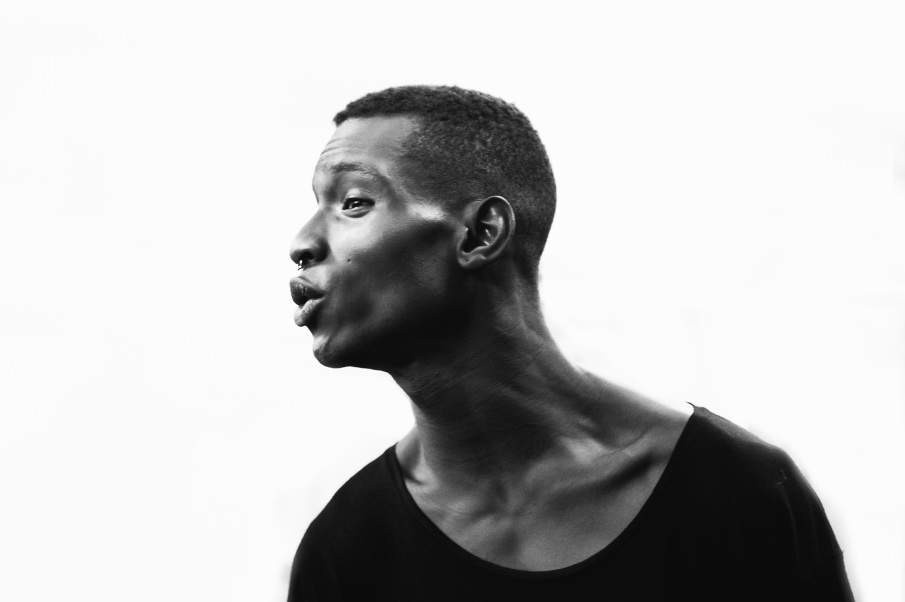 TC: Any tips on how to get the shot at just the right moment?
ME: Always being on alert, and not to look at the photo you've just taken. One of my greatest mentors, Jeff Turner, helped me overcome that. I used to always want to look at the back of my camera after a great shot to see it. But then he showed me all the things I missed while I was looking at the pictures I've already taken. So I've learned to wait until I'm completely done shooting to go over all of my images from the shoot. Human emotion happens at the speed of light, you never know when its going to happen.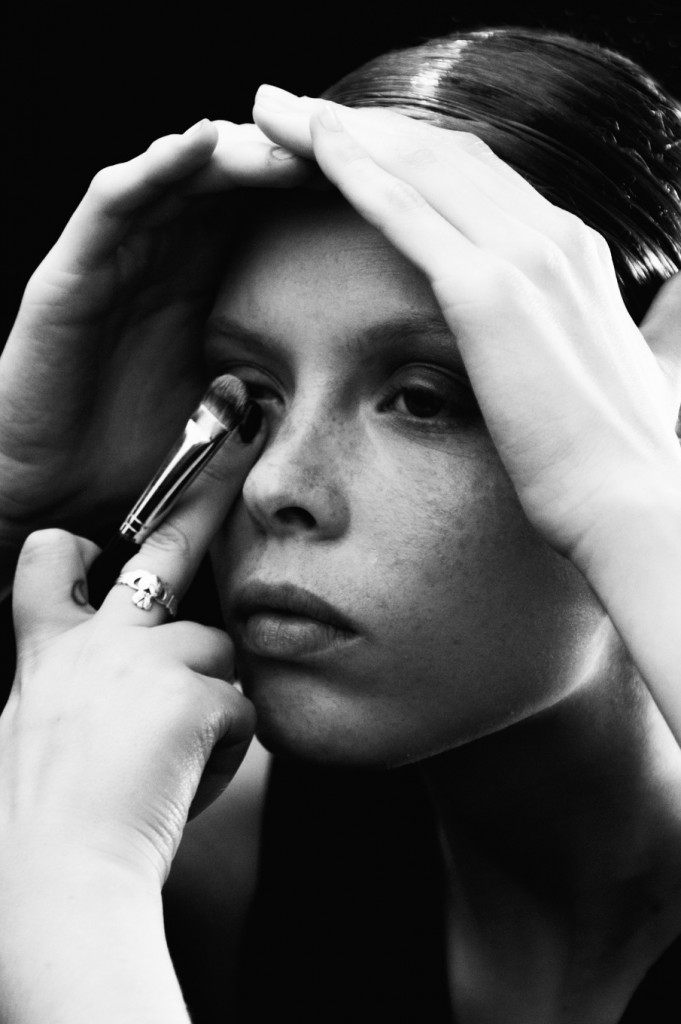 TC: Can you describe the vibe backstage right before the Academy of Art University's show? Would you have known it was a student showcase based on the backstage vibe?

ME: I think the vibe was awesome. I was a little surprised that the models were so open with each other, it made working with them a bit easier than at the other shows. The Academy of Art University designers in particular were very nice, open, and receptive. They may be students, but they presented themselves in a very professional manner. A lot of backstage stuff is very similar to other shows, all shows can be a rushed at times but I believe the Academy of Art University fashion show did really well as far as preparation backstage.
TC: What were your overall impressions of the Academy of Art University's show?
ME: I absolutely loved the show. The designers all had inspiring collections. It was exciting to see, especially to shoot. There was a lot of 'WOW' factor. The energy was amazing- I felt I could shoot there 10 hours, no problem. It was almost as if the energy in New York city came backstage with us. It was incredible.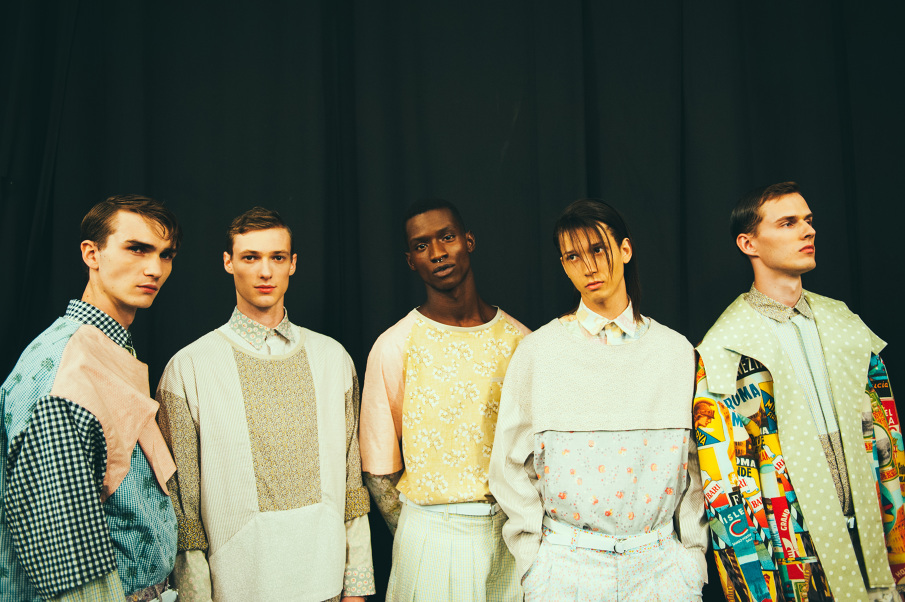 To see more of Photographer Mark Elzey's work, visit his website.
Written by Tess Collins