Rinat Brodach, 2010 BFA Fashion Design alumna, has been very busy since she was awarded with a year long internship in Paris after her senior year. Since then she attended The Chambre Syndicale de la Couture Parisienne, has been published in Emerging Fashion Designers 2 (by Sally Congdon-Martin), and started her own brand in New York City. She took time out of her busy schedule to talk about her debut fashion show at Nolcha Fashion Week. She spoke with FSD about her feelings and inspirations surrounding the collection.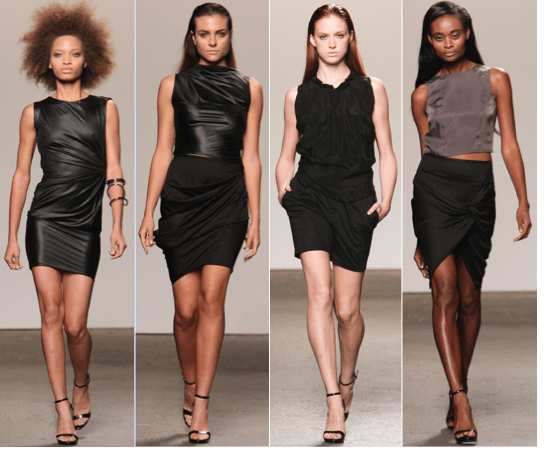 FSD: Is this your first collection?
Rinat Brodach: Yes this is my debut collection.
FSD: What fabrics do you primarily use?
RB: I used a few different kinds of Jerseys with some amazing textures on them (many thought I used leather), Cotton Satin, and Cupero.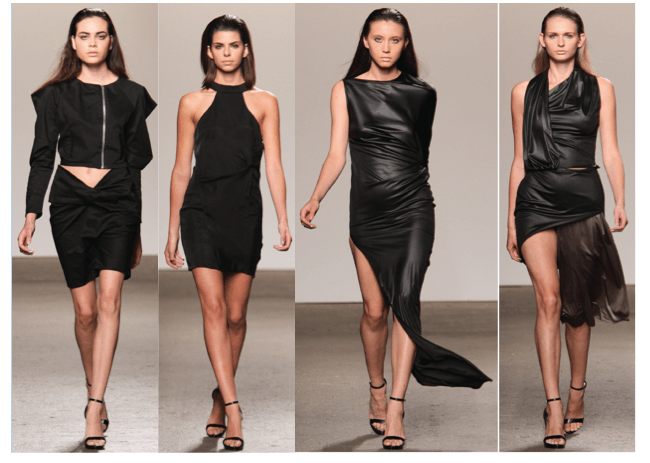 FSD: What there a general theme or inspiration that you used?
RB: Yes. The collection is called "How to expose the Heart".  It was inspired by the dilemma of exposing and protecting the heart. I wear my heart on my sleeve and so the inspiration was taken from everyday life where the heart is exposed, passionate, happy, sad, scared and vulnerable. Using boning to enhance the heart areas as a metaphor for the rib cage which creates a natural shield for the heart. The draping around the areas of the heart show us different situations and feelings from exposing the heart to protecting the heart. Sometimes art doesn't make sense, 'cause it comes from the heart.
 FSD: Do you have a signature look that will be used in collections to come or do you plan on totally reinventing yourself?
RB: I think draping is a big part of me and my work. This is something to look out for in the future; my twist on draping with classic garments.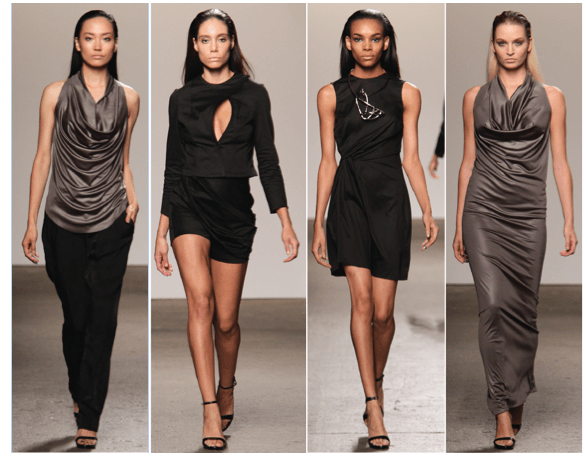 FSD: How do you feel a couple of weeks after your show?
RB: I feel great and bizarre at the same time. The joy of working so hard for months, and then seeing something being brought to life. I think its a similar feeling to giving birth. I feel like I gave birth.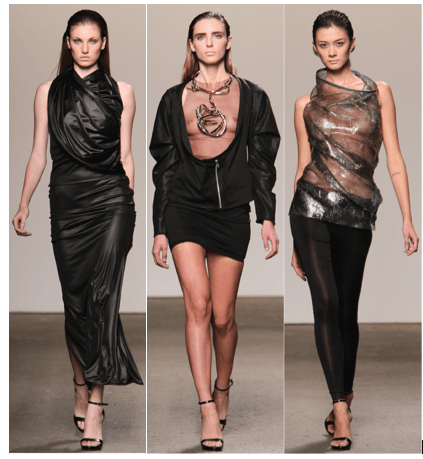 FSD: Where can the public purchase your collection?
RB: At the moment The public can make orders directly from me, and soon it will be available elsewhere.
FSD: What advice would you give to aspiring fashion designers?
RB: The advice I would give to aspiring designers is to never give up and always go with your gut feeling. No matter what or who tells you something, always listen to yourself first.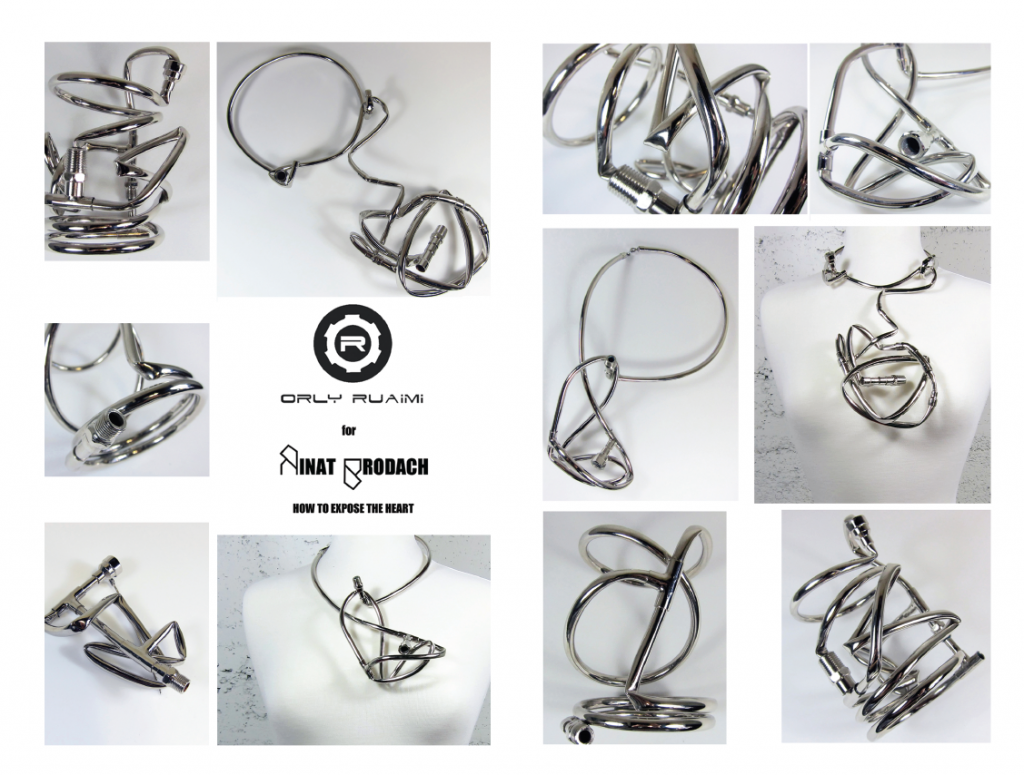 PRESS RELEASE: Rinat Brodach debuts at Nolcha Fashion Week Spring-Summer 2015
NEW YORK, NEW YORK (September 16, 2014) On Monday, September 8th, 2014, New York-based designer, Rinat Brodach, debuted her first runway collection as an independent designer during Nolcha Fashion Week for the Spring-Summer 2015 showcase. Designer, Rinat Brodach, is an Israeli-born, New York-based designer holding a BFA in Fashion Design from the Academy of Art University and has been a student at The Chambre Syndicale de la Couture Parisienne. The Rinat Brodach brand is purposed to enhance a woman's figure with designs that capture a gentle interplay between androgyny and sensuality.
The Rinat Brodach SS15 Collection, "How to Expose the Heart," echoed the signature, high-fashion construction and drape as a mode of expression inspiring women to lead from the heart and to bring out the inner sensuality, with the feeling of confidence and security. In complement, Brodach collaborated with jewelry designer, Orly Ruaimi, to deconstruct Rinat's concept of "How to Expose the Heart" (SS/2015) to its literal foundation, the arteries and veins of the human body. Copper pipes, with their stunning visual presence and metaphorical connection to the body's blood flow, became the building blocks for the collection. Additional sterling silver finger shields were incorporated by jewelry designer, Schentell Dominique Nunn. Music for "How to Expose the Heart" was composed by Ann Streichman of WEAREMUNCH.
"I express who I am and how I feel through my clothes. We are all individuals and I tell my personal story in each garment, which makes it unique from anything else. I use draping to tell a story," says Rinat Brodach.
The runway showcase attracted a host of celebrities, press & media, and industry renowned personalities including:  
Kat Graham
(Vampire Diaries),
Bella Thorne
(actress),
Johnny Wujek
(celebrity stylist),
Nastia Liukin
(Olympic Champion),
Russel Westbrook
(NBA),
Constantine Maroulis
(American Idol), (actress),
Kristen Ruhlin
(actress),
Skeery Jones
(Z100),
Shaun
Ross
(model & actor),
Soledad O'Brien
(news anchor),
Madeline Brewer
(
Orange is the New Black
), 
Jessica Pimentel
(
Orange is The New Black
),
Mila J
(singer/rapper),
Mayer Hawthorne
(recording artist) and
Kristen Taekman
(Real Housewives of New York); to name a few.
Orange is The New Black
actress,
Jessica Pimental
, made a special red carpet appearance wearing an evening dress by Rinat Brodach.