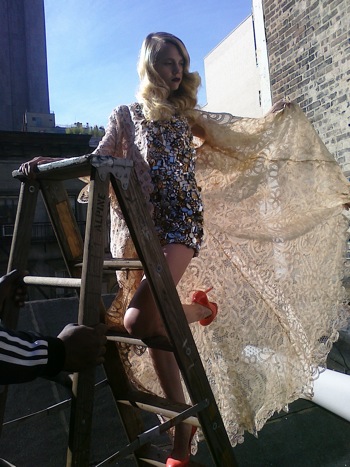 It seems like everything associated with the name "Coco" is synonymous with chic style: Coco Chanel, Coco Rocha, Coco Eco Magazine
The latter is the chicest green lifestyle magazine on the World Wide Web. Showcasing the latest in sustainable fashion, beauty, celebrity, and culture, Coco Eco can make anyone turn into an ecologically aware rock star.
Lucky for me, Coco Eco's famed fashion director, Michele Llanos came to town (NYC that is) last weekend to direct a photo shoot for their holiday issue — and I got to take part. Needless to say, the looks were impeccably chic and styled creatively; using reused military parachutes, vegan shoes, and recycled strips of leather. Robin Brouillette, Norma Kamali, Stella McCartney, and talented Academy of Art University alums Camilla Olson and Maria Korovilas — were just a few of the designers we used. Leah Couture Headpieces and Mara Carrizo Scalise Jewelry added some extra bling to the looks.
The issue will be out November 15th — right in time for the holidays. I'm sure after reading it, Coco will be "Eco'ing" through everyone's mind.
Here are some behind-the-scenes pics from the shoot:
Click here for more of Claudia's intern updates