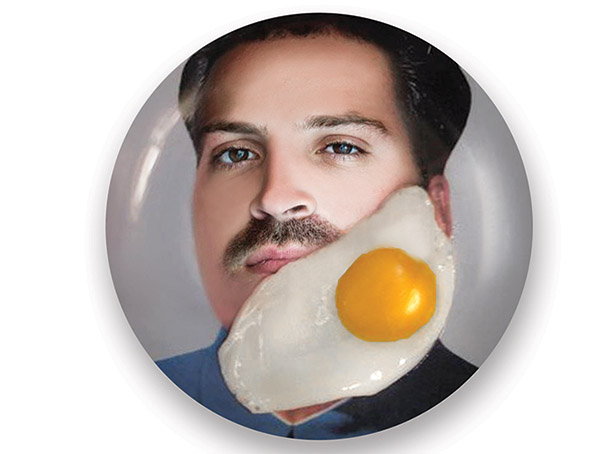 Photo Courtesy of Andrea Cammarosano.
For our latest edition of Instruct/Influence, we spoke with Andrea Cammarosano, one of our fashion design instructors. The Italian-born designer has studied with some of the most brilliant minds in Antwerp, and has cultivated a unique perspective on fashion that informs his experimental and intriguing designs, which have been showcased around the world including Paris, the MoMA PS 1 in New York, and Selfridges in London. Read on to learn more about Andrea's start in the industry and his philosophy on fashion!
When and how did you first become interested in fashion?
At the age of 16. More than fashion, I became aware that I was interested in art and in communication, and I realized fashion was the most multidisciplinary thing there was – it uses volume, texture, photography, and video – and is able to reach all sorts of people, being maybe the most powerful method of direct and indirect interpersonal communication.
Where did you study and what were the most valuable things you learned?
I studied briefly in Italy before becoming fascinated with Antwerp, in Belgium, and that's where I eventually moved at the age 19 and completed my studies. Antwerp was an incredible discovery for me – with students coming from all over the world, extremely talented and ambitious; it was the place where all the people that wanted to be in fashion but also wanted to be artists would go. The energy was incredible and I learned so many things from my schoolmates.
Follow the jump to read more!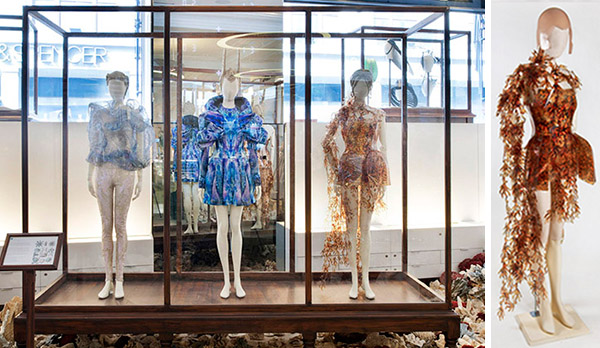 A dress from Andrea's 2008 collection was included in the Selfridge's exhibition, Washed Up. Photo by Andrew Meredith.
After graduating from university, what did you do?
When I finished studying I knew there was so much I still wanted to explore about my own vision and skills, and being offered a job at Walter Van Beirendonck, in Antwerp, allowed me to do that. I had the opportunity to work in a small, creative fashion house, with one of my favorite mentors and designers, and at the same time, in the evenings and weekends, I would work on my own capsule collections, some very artistic projects which I wasn't producing yet but were meant to explore the boundaries of clothing and my own boundaries. I learned a lot from that experiences, and had a great time.
What brought you to San Francisco? Has it changed the way you design at all?
I came to San Francisco in 2010, when Walter Van Beirendonck (whom I worked for as design assistant) was invited to be on the Academy of Art University jury. On the same occasion, we were also invited to re-stage the fashion show of the Summer 2010 collection. At that time I was looking for new adventures and new places, and the idea of moving to California inspired me a lot. It put more color and a different energy into my clothing, also more pragmatism, and that's when I started working on commercial collections under my own name.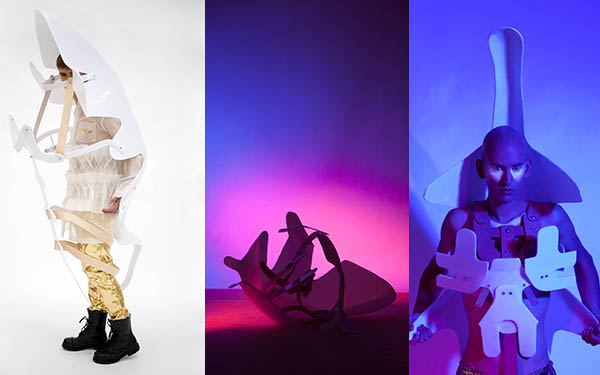 Wearable sculpture. Photo Courtesy of Andrea Cammarosano.
You talk about exploring the idea of the position of the body being a synonym for identity in your work – can you expand on that?
The idea is that clothing changes our perception of ourselves not only through cultural references (say, conveying our belonging to a cultural scene or, through branding, our aspiration for a luxury lifestyle) but also in the way it constructs our posture, and that influence is much more intimate – for instance about the construction of men's suit, or high heels, or in other times corsets. In my work, I explored this intimate relationship by building different kinds of sculptures, in different materials (wood, plaster, polycarbonate) and often also trying them on myself, to understand the powerful feeling of restraint and of body modification that I conceptually associate to clothing.
You recently presented your Spring/Summer '13 collection during Paris Mens Fashion Week. What inspired the collection?
The collection was rather simple in shapes, because I was trying to establish a versatile wardrobe for men. The title, "Invisible Bestfriend", was an allusion to the prints, which are handmade and composed of distorted patterns. It also referred to the idea that we need more in our life than material things, or than what is immediately visible to our eyes.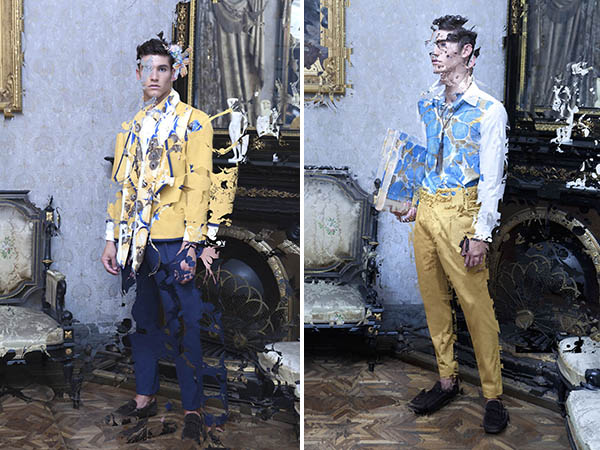 Andrea's Spring '13 Menswear Collection. Photos Courtesy of Andrea Cammarosano.
You also often incorporate art and performances into your presentations – have you always felt these forms of expression go hand in hand?
Yes, I believe a beautiful show is a work of art, like theatre.
What advice would you give to current students?
If you work hard and you enjoy it, there's no way you won't make it in your life.
Where are some of your favorite places in San Francisco?
I love eating pork shoulder sandwiches at the Ferry Building, going to MAC (Modern Appealing Clothing) in Hayes Valley or at their Yellow Building location, going to see the drag shows at SOME THING on Fridays, taking a car ride out of town in Napa or in the South Bay, working in my atelier in the Mission, sunbathing in Dolores Park with a mozzarella and tapenade sandwich from Tartine, and eating Italian food at Flour + Water!
What are you currently listening to?
Right now it's Morcheeba – but it's pretty much a random playlist. I love cool ladies like PJ Harvey, Patti Smith, Tracy Chapman, Sinead O'Connor, Bjork and also cool chicks like Robyn, Sia, Rye Rye, MIA and Santigold…I guess I design menswear but only listen to women!
And, for even more on Andrea, watch this awesome video he made earlier this year!
For more editions of Instruct/Influence, click here.