Check Fashion School Daily all week long for updates on our students' trip to Saudi Arabia for the Harvey Nichols Design Project! Below is the first installment: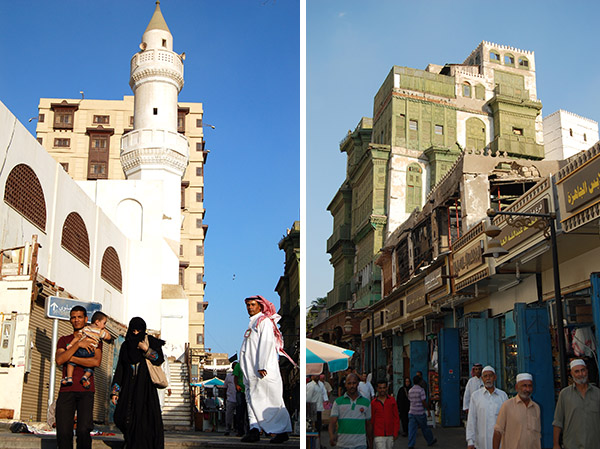 A mosque in Old Town One of the most famous buildings in the area, with amazing green wood work.
After arriving in Jeddah late Saturday night, we were all eager to see the city by daylight. We had a quick breakfast at Teayana, which Princess Reema described as the Starbucks of tea in Saudi, after which our first stop was the Tashkeil showroom.
Tashkeil is an organization dedicated to promoting emerging Middle Eastern desginers, by not only creating a space to display their work, but also by providing guidance and mentorship as they grow their businesses. Founder Sofana Dahlan shared the story of how she started Tashkeil (which means the act of creating), representing only one designer.
Follow the jump to read more!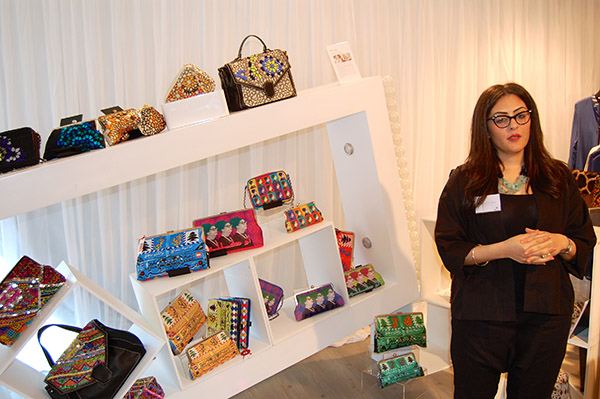 Tashkeil founder Sofana Dahlan shares the story behind Sarah's Bags, which are made by former prison inmates as a way to generate income.
They now represent 19 designers and have an extensive waiting list of newcomers looking to join the collective. Tashkeil's various programs aim to guide designers and artists as they grow their businesses, providing training and tips along the way. "I love the spiritual aspect," noted Lorenette Haynes. "The idea that, 'If I lift you up, we all grow together as a community,' is so great."
Following the showroom visit, it was off to the Jeddah Chamber of Commerce for a presentation giving an overview of the roles of Saudi Arabian women in the realm of politics and business by the Khadijah Bint Khowailid Center. The center is a branch of the Chamber of Commerce dedicated to supporting and enabling women throughout Saudi Arabia, and working to eliminate obstacles they face in economic and political matters. It was extremely interesting to see how far the country had come on women's issues in just a few short years. Thanks in large part to the Center, women in Saudi are now allowed to hold office, hold the title of Chief Executive Officer of a company, and are experiencing fairer practices in the workplace. It was extremely inspiring to see how these women have worked for what they believe in.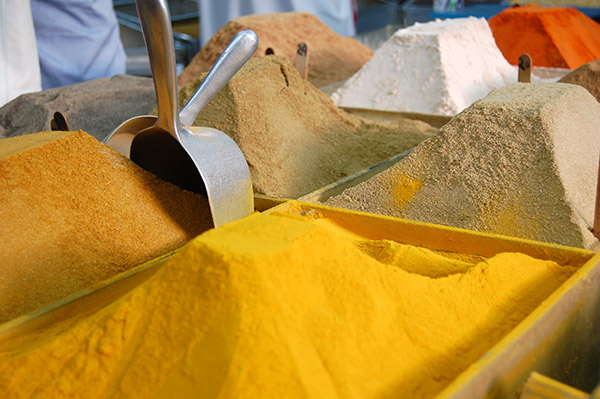 Mounds of spices at the Old Town market.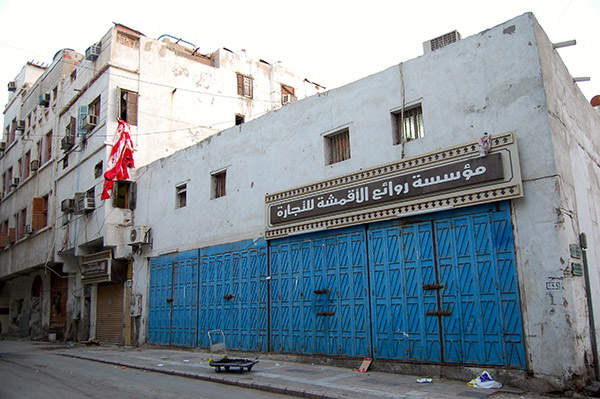 A red and white flag hangs out the window of an apartment.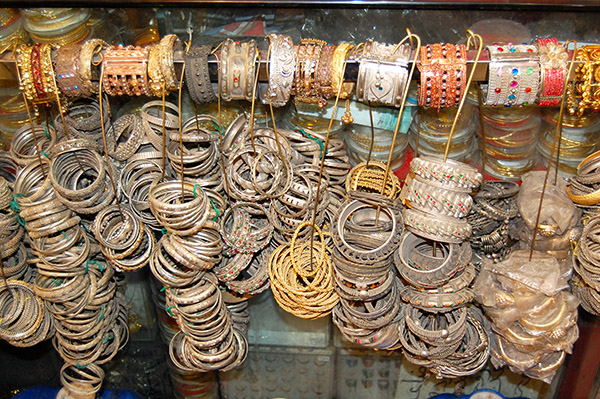 Stacks of bangles at every turn.
After the presentation, it was time to head to Old Town Jeddah for a tour of the traditional markets. Stands and stalls teeming with spices, scarves, fabrics and more lined the streets. Though many of the buildings were in various states of disrepair, they provided inspiration at every turn – from intricate window shutters and vibrant colors to beautifully embellished doors.
Dinner that evening was served outdoors, on the patio at Al-Nakheel. The traditional Arabic meal included several varieties of hummus, baba ganoush, and tabouleh served with pita, flatbread, and grilled meats. Dessert came in the form of a Saudi pancake-like treat, some filled with banana and others with a sweet cheese. After such an elaborate meal, the unavoidable food coma began to set in.
The trip began on an amazingly high note – can't wait to see what the rest of the week will bring!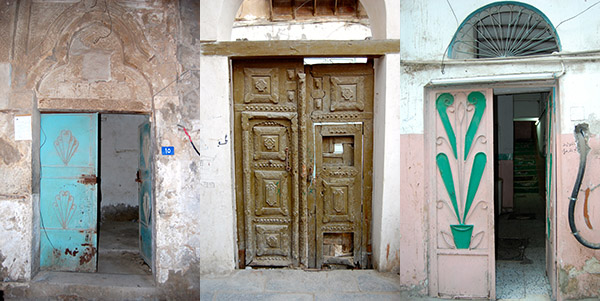 A few of our favorite doors.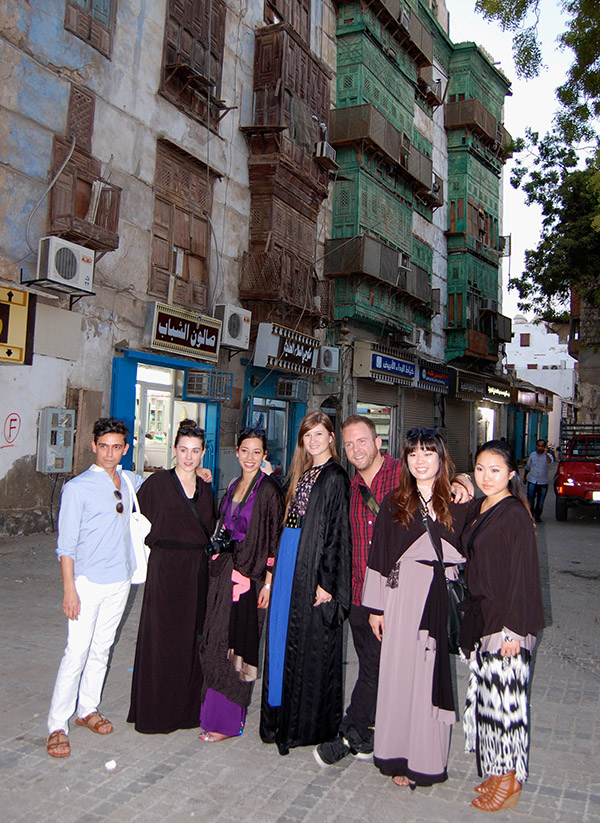 Wandering through Old Town Jeddah.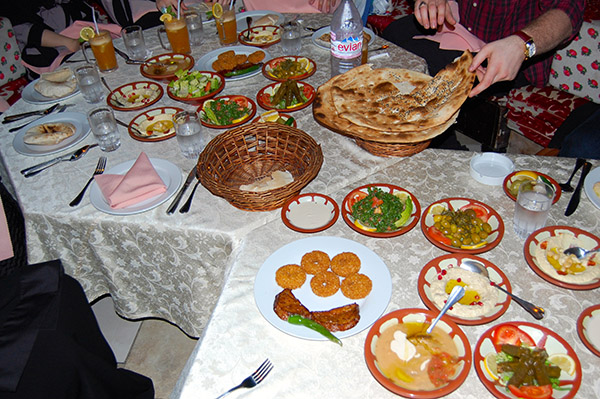 The full spread at dinner.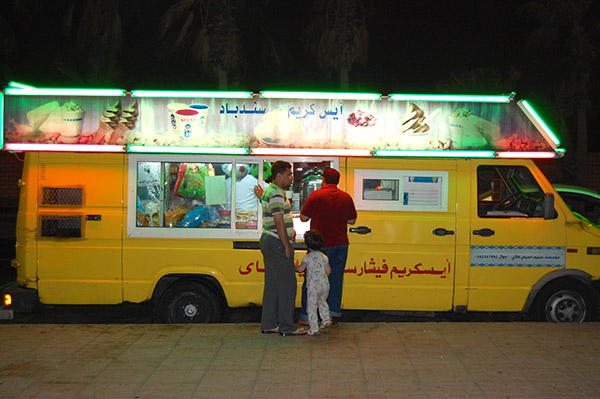 Did we mention there were two desserts? The second was a soft-serve ice cream cone from one of the trucks littering the boardwalk.