By Hailee Cerva, MA Fashion Journalism
As the plane took off from her hometown, MFA fashion designer Yaoyao Wu watched carefully out the window as Shanghai got smaller and smaller in the distance before vanishing right before her eyes. At that moment, Wu felt as though she was moving further and further away from her past and closer towards her future, a future where Wu would pursue her childhood dream of becoming a fashion designer.
From a young age, Wu had her heart set on designing. What started as a love for painting and reading fashion magazines quickly turned into the goal of becoming a fashion designer, a dream that never changed as she got older. To Wu, fashion is all about combining the intricacy of handmade products with art. She believes in her ability to blend artistic feeling with good craftsmanship and sees the beauty in things that are easily overlooked, like the birds-eye view of a city or the towering skyscrapers of San Francisco.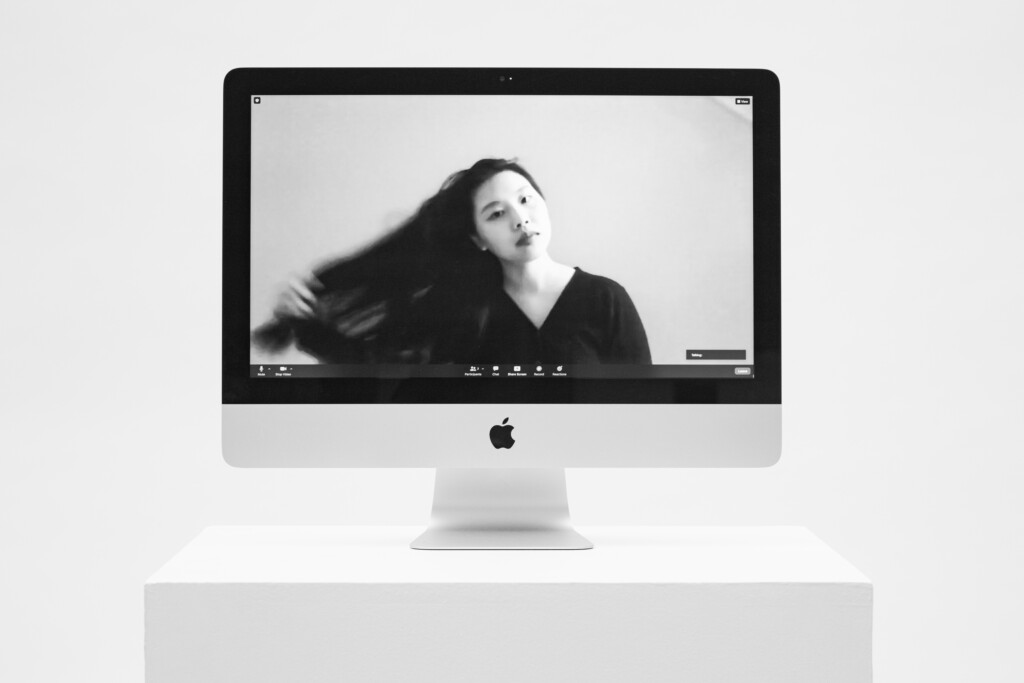 As a designer who pulls from the environment around her for inspiration, perspective lines, and earthy colors are just two of the distinctive qualities seen in Wu's thesis collection. Finding inspiration from the fashion of the 19th century, Wu used crinoline to create voluminous silhouettes and oversized looks. With big blousy silhouettes and detailed tailoring, this collection feels very high-end chic, with trousers and overcoats designed to make a statement.
Squares are omnipresent throughout Wu's collection. Wu noticed that in the photos she had taken from the airplane that the land below her seemed like a grid of squares as the city blocks grew smaller. This inspired Wu to get creative with construction and discover a new design technique where she cut out various sized squares and glued them onto the fabric in a puzzle-like pattern. While this was not her preferred construction method, due to the sewing labs closing, Wu had to quickly learn to adapt to designing without access to a sewing machine. This was just one of the many challenges Wu faced that came along with designing a final collection during the pandemic. Other elements of the collection had to be hand-sewn while Wu waited for the sewing labs to reopen. Relying on her hand sewing and gluing techniques pushed Wu to create her vision when resources were limited.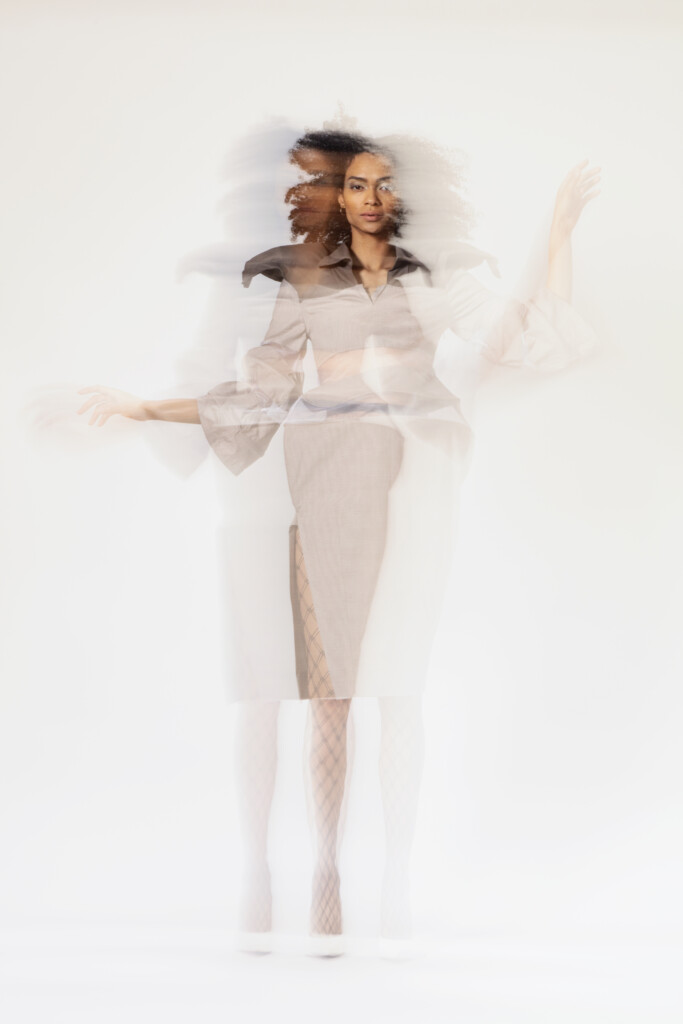 The different patterns in each garment correlate to an image from Wu's travels. The pleating of the sleeves shows direct inspiration from rolling green hills, and the placement of cut-out squares corresponds to the blocks of a city. Sheer fabric is a powerful tool found in Wu's collection which embraces the airiness and fullness of clouds in a way that compliments the city that rests below. The collection is full of abstract shapes and styles from paneled trousers to billowy blouses that mirror a silhouette similar to Iris Van Herpen's creations. Fabric manipulation and silhouette diversity played a hand in portraying Wu's vision for the collection. While embracing the avant-garde shapes, the collection manages to feel light and inventive despite the darker shades of fabric, heavy textiles, and unique designs meant to make a statement.
With such a powerful message behind her collection, Wu hoped her designs would provoke the same feelings of growth she felt as she left her past behind and moved closer to her future.