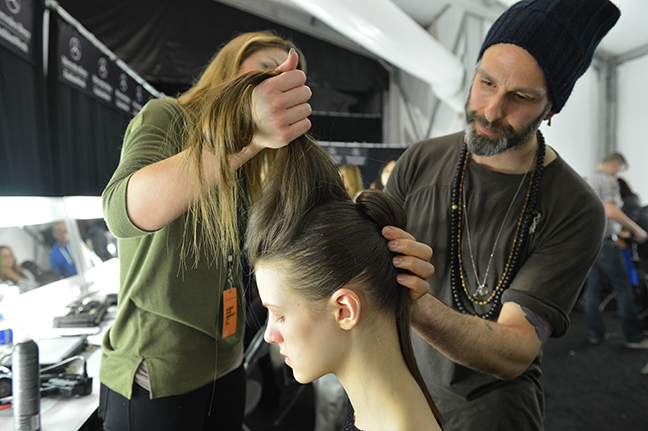 Photo of Jon Reyman, courtesy of Getty Images.
It's difficult to describe the chaos that is hair and makeup during Mercedes-Benz Fashion Week. Teams of stylists some times have minutes to transform each model about to walk the runway into the designer's vision for that season. Guest Artist for Aveda, Jon Reyman, has built his career creating the backstage beauties who embody each designer's dream during Fashion Week. We got behind the chair with the lead hair stylist for the Academy of Art University's shows to learn more about his experiences working with our student designers, and how a former girlfriend accidentally introduced the then aspiring attorney to the world of fashion.
When did you first become interested in fashion?
Even as a young kid, I always enjoyed fashion. I used to wear my older brother's hand me down clothes, and it was always frustrating because they weren't the clothes that I wanted. They didn't represent me. Things changed once I starting getting my own clothes as I got older. I realized the ways I could express myself as an individual. I became attached to the clothes that were finally mine. I remember the first sweatshirt I got when I was in sixth grade. It was Chams de Baron, very Duran Duran. It was the first time I purchased anything I felt cool in. The other stuff had always been my brother's and it just didn't fit right.
How did you begin your career in beauty? 
I originally wanted to become a lawyer. At the time, I had a girlfriend who was a hairdresser. I walked into the salon where she worked one day, and she was with a client who had color in her hair. She asked me if I could help wash and dry the client's hair for her, and I had an epiphany. I really wanted to help people. For me, it was more about providing a service not just fashion.
What brought you to Aveda?
I always appreciated Aveda's mission. I went to their school as it seemed to be the best around, but I started working for them because I believed in the products. They're rooted in fashion, but also the general wellness of the world and the individual. That's really resonated with me.
How did you get involved with the Academy of Art University? What has it been like working on the Fashion Students' shows?
The University was a client of one of the production houses I worked with. I was thrilled to be asked to do the show. The Fashion School is so exceptional, forward thinking, and appreciative of the creative process. They're always pushing the envelope of what fashion and hair is. The student designers' work is such an inspiration. They are truly the future of fashion, and I love participating in that.
[justified_image_grid row_height=400 height_deviation=75 ids="22766,22769″]
Do you have a favorite show you've worked on? What was the look you created for it?
I do about 16 shows a season, and honestly the Academy of Art University is one of the highlights. Truly one of my top three shows. Again, their process is so creative and the clothes are so dynamic. It seems whatever the students send down the runway from the Fashion School, other designers are starting to explore. Invariably there is a theme that has been set with the Fashion School that designers are paying attention to. It's that we're ahead of the trends.
What trend in beauty are you currently obsessed with right now?
Right now, it's all about shape in hair: beautiful, strong shape. Along with the Academy of Art University, this season had tons of shows where the hair was super dynamic, large, shiny and set. Huge French twists, ponytails, a lot of statement updo's. Everything was about hair up which I was loving. Hair down can be so boring, I like a challenge.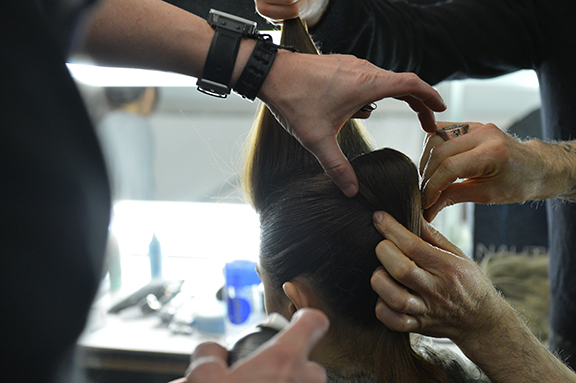 Photo courtesy of Getty Images.
What do you love most about your job?
I love the art of it, and the intelligence that goes into a lot of the work. Really thinking about how to do the hair that I want to do. How do I make it look beautiful? How does it translate to my team so they can also create the look as well? It's the details that make things subtle and different. I'm not pretending that I invented the ponytail, but how do you do it so that you arrive there in a different way?
What advice would you give to aspiring stylists?
I spent the first eight years of my career just learning. Making money wasn't the goal. I was there to be of service to my clients and my educators. I wanted to know everything there is to know so I could learn, be excellent, and give back.
To see more backstage beauty from the Fall 2013 show, click here. For more Industry Interviews, click here.