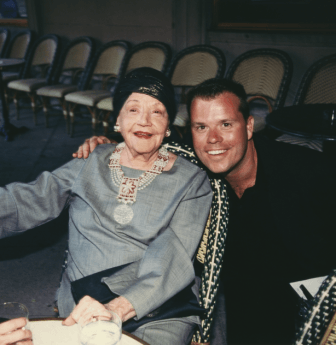 John Tiffany with Miss Eleanor Lambert
John Tiffany, author of Eleanor Lambert: Still Here, was kind enough to take a moment out of his busy schedule to chat with Fashion School Daily. He is a fashion historian, author, and lecturer with years of experience in the business of fashion. One of his first jobs was working with Fashion PR Fairy Godmother, Eleanor Lambert – she literally invented public relations in the fashion industry and put American fashion on the map. She clearly inspired John Tiffany, and we hope this interview (and his amazing book) inspire you too!
Even though you worked for Miss Lambert for less than a year, she obviously made a lasting impression on you. What was it about her that made such an impact?
I remember thinking how important Miss Lambert was — creating so many things to promote artists and fashion designers. But ultimately what made the biggest impact on me was how she just did her work everyday! She was so important, her work was so important, and one could certainly feel in awe of her, every single day. But I was taken by how hard she worked, she didn't chit chat, read or waste time. If she was trying to pitch a story and an editor said no, she just tried something else. Miss Lambert was never disrespectful or rude or pushy, she had an abundance of manners. She just kept trying a different approach until she got what she wanted — until she the idea she imagined became reality. She wasn't neurotic, she just was completely focused on the task at hand, and of course, with an eye to the future!
I would have to say – even to this day, the Versailles Exhibition of 1973 – the fashion show that pitted American designers versus the French in the Palace of Versailles, has made a HUGE IMPRESSION on me! It was the moment that American fashion came to be accepted on the same level as the Europeans. So much so, that we take it for granted! We forget that there was a time when American design was considered inferior. Miss Lambert believed that American designers deserved credit for their work and it took her decades to prove she was right — when no one else dared believe it!
You first became acquainted with Eleanor Lambert while researching a presentation in High School, when someone at the New York Times suggested you contact her. Was she always so accessible and willing to help?
Yes, people would call Miss Lambert all the time and she would make time at her apartment on Fifth Avenue across from Central Park, she had an office at 58th Street & Third Avenue, but she would invite people up for tea to her apartment. She was always interested in helping people, connecting people — that is people she saw as worthy.
Follow the jump to read more!
What was the most important lesson you learned from Miss Lambert?
I learned to never give up on your idea, if you think it is a good idea, stick with it and keep trying! I wanted to tell her story for 15 years and no one was really interested to hear it, now people see the value! I also learned that manners are very important!
Which (of her numerous) accomplishments do you think she was most proud of?
She once said: "I am proud that I helped bring American style to the world's attention and now it is considered an independent entity in the history of fashion"
I think that she was being humble actually…
The field of Fashion Public Relations has changed so much in recent years – how do you think she would have felt about the PR industry today?
Well Miss Lambert only worked with people and projects that she liked and believed in. She didn't worry about what other people were doing, although I think she found it impossible to work on something she didn't have a passion for. I think she would like the fact that there are more ways for people to see new things, and I think she would be dismissive of things that are not "good" but get a lot of press.
What inspired you to write this book?
Miss Lambert. Her 75 years of work, her 100 years of living. I saw that people needed to hear her story! I realized we had to tell the story of our incredible pioneer!
What is your favorite image from the book and why?
I love the image of Miss Lambert at her desk. It is just so her, like she paused for the picture and then was ready to pick up one of her two phones and get back to writing or pitching a story. I love how chic she looks, ready for a lunch or ready to go out on the town!
How did you feel after the book – clearly a labor of love – was published?
I think the day the book got sent to the printer in Italy… That is when it felt done. It was kind of sad, I was such a tough deadline — we wanted to have it ready to launch during New York Fashion Week. It was sad and it was also such an amazing feeling to know that people were know going to have a way to know the whole story about Miss Lambert.
What projects are you working on now?
I am doing a lot of lectures around the country on the book and Miss Lambert, also I am developing an idea that I hope to be able to speak about soon!!!
(but it is not a book!)
John Tiffany will be holding a book signing this Friday, November 18th at Luna Boutique, 3615 Sacramento Street in San Francisco, from 4 to 7 PM. RSVP to Christina@LunaBoutiqueSF.com
For more Industry Interviews, click here.