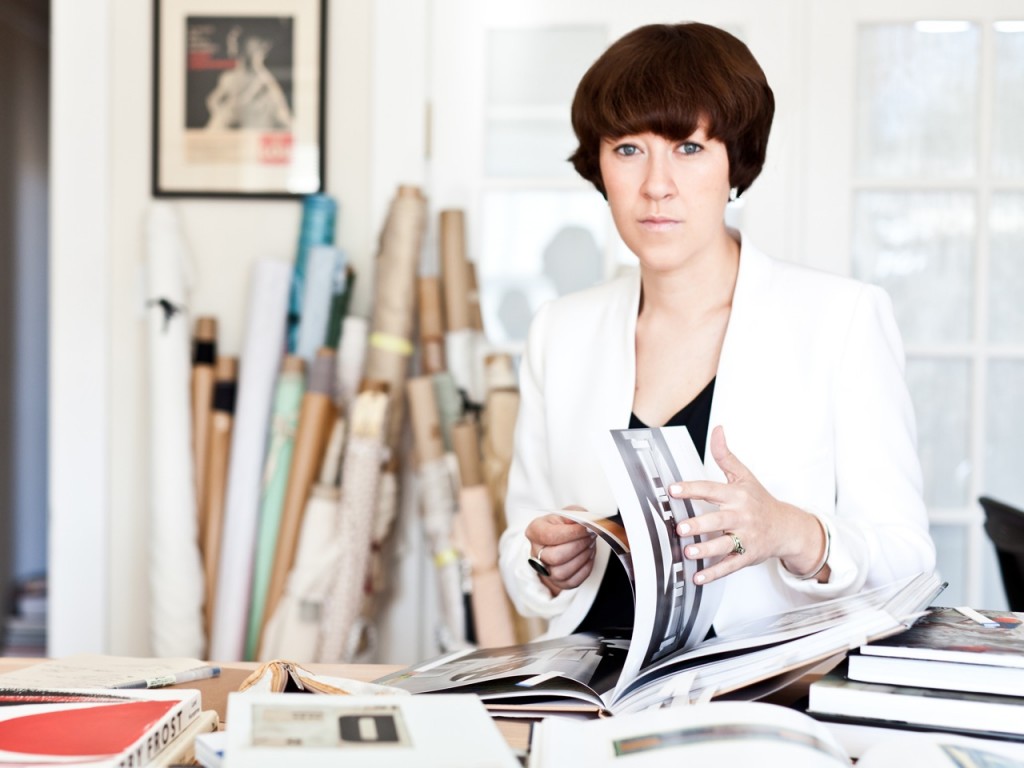 Louisa Parris is a locally based fashion designer who splits her time between San Francisco and London. If you don't know her, please, go look her up now. She agreed to meet in the Noe Valley neighborhood where her studio is also located. Why didn't we meet at the studio? Well, for starters, she also lives there and has a few guests; and she just finished designing her Spring 2012 collection so the studio is in a tizzy. All you fashion design students know what I'm talking about – fabric on the floor, on the tables, heck even on the walls.
So. We sat down for tea at Martha's Cafe in Noe Valley- foggy and chilly, but the sun was out by the end of our conversation… a bit of a metaphor that you'll soon figure out.
Here's an in-depth Q&A with Louisa- her thoughts about the business side of fashion, living in San Francisco, and yes, her opinion on Alexander McQueen and John Galliano. At the end, you'll feel like you know her, which is an honor.
Tell me about yourself- where were you born?
"I was born in London. Born and raised. I feel quite shaken because everything that is going on in London right now is very near where I live, so it's very scary. My parents are very creative, and due to my dad's job, we spent some time in Dubai – he was designing out there, and then we spent a few years in Bath."
What brought you to San Francisco?
"The back story is my husband got a job with Apple – he's a graphic designer. I had just graduated from Central Saint Martins, and I thought, life's too short – I'll come out here and see what it's like. We thought, we'll just try it for a year… in September it will be six years!"
How has it been leaving London?
"It was quite scary leaving everyone at home but very exciting. The first two years were really tough because I couldn't work in the U.S. I was working at a couple of design houses in London so I had to travel back and forth. "
More with Louisa Parris after the jump!
Tell me about your positions at DKNY and Mulberry?
"Those were both long-term internships. Mulberry was amazing because it wasn't as high fashion as it is at the moment. They were very good to me. It was still very much a family business. When I was studying at Central Saint Martins I did fashion design with marketing, rather than just straight womenswear. I did it because with that course I got a whole year out in industry. It was absolutely brilliant, and vital for making contacts. I went out to New York, and got an internship at DKNY Pure. That was amazing, and probably one of the best times of my life. I did everything from arranging the showroom to clearing out the stock cupboards. Then I was asked to do some design work, and the designs got used. I made some of the pieces into prototypes, and they ended up in the showroom and in stores. Internships are so vital because you never know where they are going to lead."
Tell me about your time as a tutor here at Academy of Art University?
"AAU was a great experience and I got to teach some very inspiring students during my time there. It's pretty intimidating the first time you stand-up in front of a class, but I came to really enjoy it and ultimately the whole experience actually increased my confidence in what I am doing. Teaching really makes you figure-out how you feel about the work you do. In order to teach, you first have to know what your own ethos is as a designer."
How different is it in the industry vs. school?
"Very different. Saint Martins was amazing for letting you do what you wanted – just total creativity. On the business side, there was absolutely nothing. I've had to teach myself a lot. I'm literally learning as I go. I did do a business course last year, I just thought – if I don't learn this business I'm going to falter very quickly. You do one season and once you're showing the buyers, you're designing the next collection and that collection needs funding – so they're always overlapping."
What are your thoughts on the rising costs of fashion shows?
"There are no shows for me for the next few years- it's too expensive. I'm a real perfectionist, so even for a decent photo shoot you're looking at a lot of money. And you're doing that twice a year – it's a lot of investment. And that's before you add in all of the travel and the costs of developing and producing the collection. It's also hard to bring in investors when they can't yet see a return on their money. You've got to listen to your gut feeling, and not jump in just to get the press. It doesn't feel right to spend four grand on a trunk show until you know that the right people are going to be around, and it's the right season for them to be shopping. They'll come and drink your champagne, but they won't buy."
You designed a gown for Rebecca Jameson for the Cannes Film Festival – how did that come about?
"She contacted me, and it was quite a panic because I couldn't do a fitting. So, I sent two or three gowns to Los Angeles to the film producers she was attending the festival with. She's in-between London and Paris, so the gowns then went to London, and finally she picked them up in Paris. Then, they went to Cannes where she tried on several in her hotel room, and picked the "Jacquie" gown. She even wore it on the second night out because she loved it so much, so that was really sweet."
You're included in the book "The Poetry of Fashion Design." How does it feel to be one of the world's most interesting fashion designers?
"I was really touched. These things take a while to happen. They contacted me last year, and if I had known about it more I would have worked harder on my photos because some are professional and some just snapshots of my studio! But I guess there is also something nice in that – an unfiltered view of the creative process. There are moments in this business when I think – why am I doing this? And then you get moments of recognition that remind you, like your work in a book, or today I'm on Vogue.com. It's a very important lesson I've been learning quite recently – I do it because I really love it and you have to embrace these moments."
So, you've finished designing your Spring 2012 collection. What's next?
"I'm still promoting the fall 2011 collection – what you see on the website. What I've really learned in the last 2-3 weeks is creating content. The press is very busy, and they want us to provide them with exclusives and content. In the last two weeks I've made a video, and we've had illustrations developed. It's been quite overwhelming being such a small brand – you want everyone's attention but if you make a decision on one magazine, you often can't talk with any other magazine for a few months."
Where do you source your materials- do you make all of your designs yourself- what's your design process?
"I do about fifty percent. When it comes to the gowns, I draw everything myself – I'm a massive research person. My library is very important to me, so much of my money goes towards books. For me, building a research book is like building a history behind each collection. Then I sketch and drape. By the time I'm draping I'm also making the first sample on the form, and the first paper pattern. I love draping, I will spend hours at it. But getting the sewing machine out is a bit like taking out a splinter!
In the past year, I've been working with a local dressmaker who helps me get my patterns correct. She'll then make a finished gown for me in the final fabrics. Then I do a massive technical sheet, and send it with the paper pattern, fabric pattern, cut fabric, and trims to the factory in L.A. For the scarves, it's been a whole new process because it's prints. There, I design them and turn them into digital files, and then they go to Holland. I did a lot of print tests with vendors in other places, but in the end Holland had the best quality."

Have you always been inspired by color and geometrics?
"My family home was very eclectic- my sister and I would wake up on a Saturday morning and my Mum would have re-painted the kitchen a new, bright color. Also, meeting my husband who's a graphic designer – I'm now surrounded by lots of modernist graphic design books. I've always been someone that doesn't want a lot of fuss. I think about my wardrobe as I was growing up – it was probably all black, and now there's massive pops of color. I also have a big love for the art deco period. The really refined elements – it can be quite whimsical but so simple as well. That's really interesting to me."
Did you attend the "Savage Beauty" exhibit? How do you feel about Alexander McQueen as a designer?
"Work came up in London, so I couldn't go. But I got the book- there's a great interview in the back – it's really worth it. He's been a huge source of inspiration to a lot of us, and so has Galliano. Both of them are quite theatrical designers because they don't hold anything back. I really appreciate Galliano and McQueen's theatricalism- taking it to the extreme, and the showmanship and the craftsmanship.
They are incredible inspirations for taking everything one step further. It's the reason I go to sleep and I'm dreaming of my show – they showed that anything is possible. They didn't have truckloads of money behind them at the start, and they didn't come from privileged backgrounds. They had tough times, and dark times. It's a terrible loss – they're my two biggest inspirations. I don't know if fashion has eaten them up, but maybe their creativity and their genius has. I really hope we haven't seen the last of Galliano, but he clearly needs support and help."
What are your thoughts on social media?
"It's been kind of crazy – I remember getting my first mobile in college, and now with my husband being involved with Apple 24/7, I'm right in the thick of Silicon Valley. It's been amazing to watch. It has to impact how I present my work, and how I want people to interact with it. It can be a help and a hindrance because you only have so much control over where your work ends-up."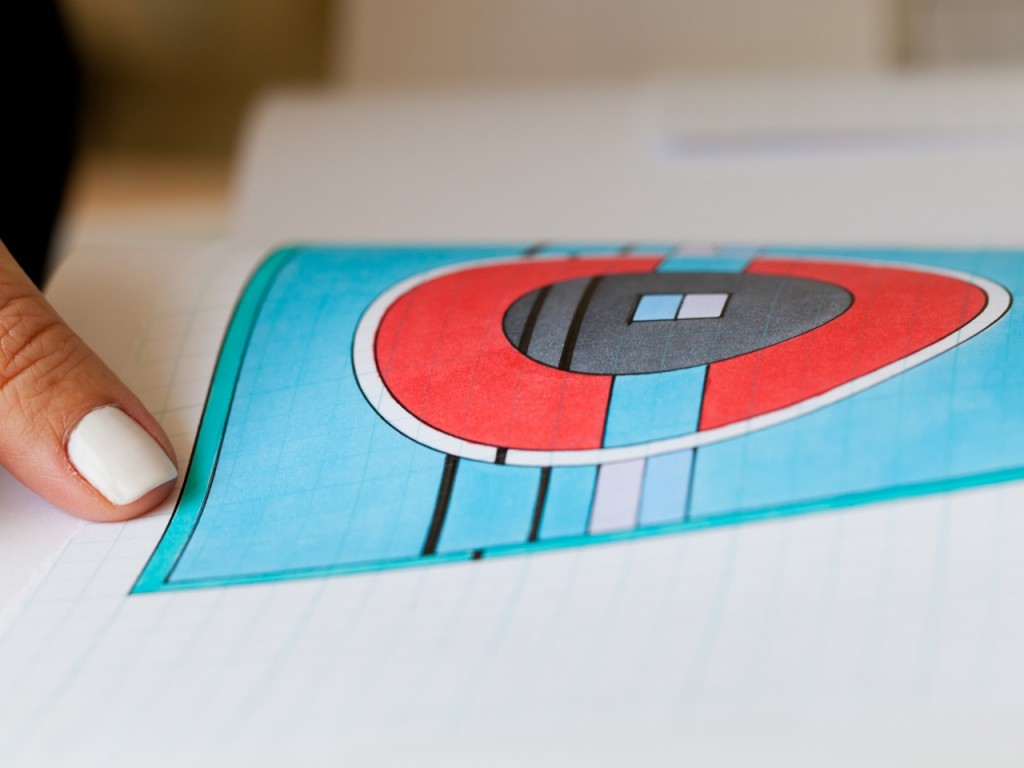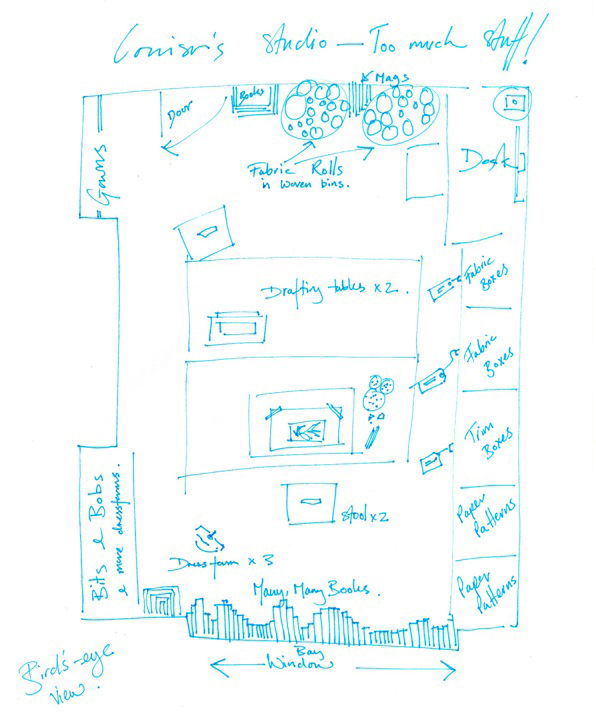 Please visit Louisa's website for more!
Written By: Katarina Farley