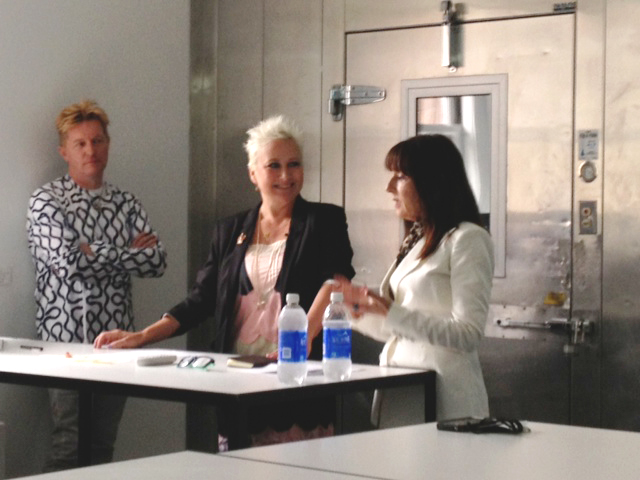 Senior Director of Fashion Merchandising, Keanan Duffty (left), with makeup artist Charlie Green and Hersha Steinbock, Fashion Merchandising Instructor
Fashion didn't have all the fun last week. Friday afternoon, it was all about beauty at 625 Polk as Merchandising students were treated to a special presentation by legendary makeup artist and beauty maven, Charlie Green. From the pages of Vogue, Vanity Fair and Harper's Bazaar to creating the looks for high profile runways like Betsey Johnson, Monique Lhuillier and Victoria's Secret, Charlie's brushes have beautified countless pages and personalities in the fashion industry. On Friday, Charlie stopped by the School of Fashion to share with students the key tips and tricks outside of her makeup bag that helped launch her career.
When did you first become interested in fashion?
As a tiny kid in England. I recall my family getting its first color tv, ending the world of black and white for me. I may not have understood what I was seeing, but the infinite variety of new psychedelia enchanted me! Add in the glam rock soundtrack of my youth: Marc Bolan with his top hats, feather boas and glittered cheeks, the band Wizzard decked out in circus themed plaids, and the King of image reincarnation Mr. David Bowie. These flamboyant superstars riffs and outfits awakened my world to self expression through fashion.
How did you begin your career in beauty?
My beauty career began by accident, as I had intended to become an architect. I had always been interested in form, shape, and structure, and was working in a dress shop on the Kings Road in Chelsea when I was asked to help out on a fashion shoot. I was most interested in the makeup artist that day, and his extensive makeup kit. He was touring with with Boy George and Culture Club at the time, and it seemed a wonderfully colorful way to make a living!

Charlie Green from Bryan Bantry Agency on Vimeo.
You've been called the "Betsey Johnson" of the makeup world. Do you feel you approach beauty with this kind of whimsy and creativity?
Betsey and I go back years, and have collaborated on many exciting projects from runway shows to campaigns. She sought me out as I was in line to attend a club in New York as she liked my outfit! (I remember I was wearing an Elsa Schiaparelli-pink, mohair, Rebecca Taylor bejeweled coat that I was given in lieu of payment for keying the makeup for Rebecca's runway show, and pink Debbie Harry pin up heels (from Patricia Field) and my hair was pink (left over from Halloween). To be compared to Betsey is a great honor, I respect her creativity and zest for life so much. She is always creative, upbeat, positive and we share a passion for vintage clothing and textile design. In many ways she has been my mentor and "WWBD" (What Would Betsey Do) is a great way to approach a challenge.
What do you love most about your job?
I am really lucky to work with teams of highly skilled artists. On a regular shoot, the crew is comprised of a great melting pot of talents: photographers, fashion designers, art directors, hair stylists, models, fashion editors and makeup artists. We all pitch in to create a final result of the most beautiful image possible. Team work is so important, as everyone brings something unique and different. Learning how to balance and combine everyone's opinion takes practice and diplomacy. Working with so many creative types is not always easy, but it is ultimately very rewarding.
Your star studded client list includes everyone from Gwen Stefani to Angelina Jolie to Gisele Bundchen. What are your go-to techniques to get A-listers looking their best?
Whether they are supermodels or celebrities, I always tailor my makeup to suit not only their unique features, but to take into account the personality and lifestyle involved. For example, most people with a busy lifestyle would be happier with an effective, speedy-to-apply look that doesn't require constant touch-ups and maintenance. I always explain why I am using certain products, or why I have chosen that method of application, when I am applying someone's makeup. I emphasize good lighting for application, and diligent skincare helps to create better skin that will make it easier to apply seamless makeup.
[justified_image_grid row_height=350 height_deviation=25 ids="23950,23952,23951″]
Victoria's Secret Angels rely on you to get them runway ready for the annual Fashion Show. What's it like backstage? Any favorite memories?
I have been in charge of the makeup for several of the Victoria's Secret runway shows, and they were always the most high energy, chaotic backstage conditions to work in! You have to understand, we aren't focusing on the clothing as you would a regular designer's runway show. The VS shows are a celebration of the sexy VS Angels and every inch of skin that has been honed to perfection. I used to mix vats of shimmery tan body lotion at home (before you could buy shimmer lotions!) and, with a team of assistants, we would create my signature look of sensual skin, flirty smoldering eyes and full body detail. I worked with the Angels throughout the year on various shoots, so we were always finding ways to try new looks and new ideas just right for the big annual show. It's a rush to work backstage! You have all the most beautiful models in the world in one tiny space along with every reporter, journalist, photographer, cameraman, agent, boyfriend, mum and dad and tiny dog crammed back there which, frankly, makes it hard to do your best work. It's my job to make sure everyone gets seen to with pretty makeup, and I also provide a place for them to unload their nerves and worries. (Yes, even supermodels have worries about walking the runway in a thong!)
What beauty trend for spring are you absolutely loving?
I am just loving that bold color is finally important in makeup again! It means there is so much more to play with! I love the old throwback to vintage YSL glamor, and the trend for androgyny in beauty and clothing.
Beauty artist or not, what three items should everyone have in their makeup bag?
A waterproof, electric shade of smudge proof eyeliner, a dewy cream blush for cheeks or lips, and black mascara that can be used on eyelashes or brushed thru eyebrows for stern emphasis.
[justified_image_grid row_height=325 height_deviation=25 ids="23956,23957,23958″]
Thank you Charlie for taking the time to chat with Fashion School Daily! 
Fashion students, be sure to follow Charlie on Twitter @CharlieGreen999