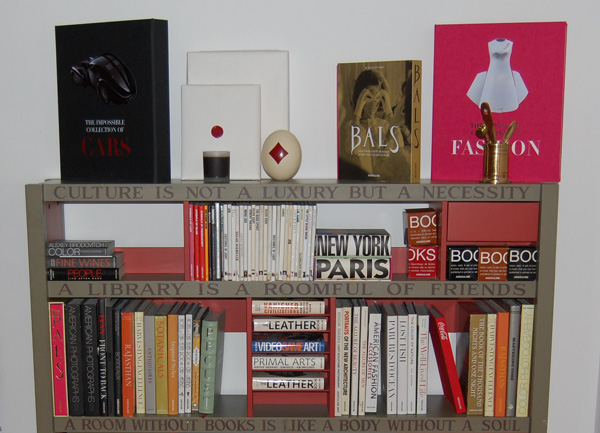 Words of literary wisdom greet you at Assouline.
During our time in New York for Mercedes-Benz Fashion Week, Fashion School Daily had a chance to stop by the Assouline offices for our latest Industry Interview! We're sure you all know Assouline by now – remember our Impossible Collection of Fashion Contest? But in case you don't, Assouline is a leading publisher of luxury books on subjects including art, fashion, design, photography, travel, and so much more. They have a unique way of capturing beauty and bringing it to life in the pages of their books. If you've ever seen their books in person – you know exactly what we're talking about. And if you know how beautiful their books are, just imagine how gorgeous an office full of them would be. Lucky for you – you don't have to imagine because we're going to show you!
The first thing we noticed when entering the Assouline office in Chelsea was the gorgeous view. The entire office is covered in windows, showcasing the beautiful New York City skyline. Filled with items brought back from travels to exotic locations, a trip to Assouline is like a quick trip around the world – there is inspiration at every turn. The Assoulines have created a world of the things they love, and have been kind enough to share it with us. Seated at a gorgeous table – glass cut in an outline of Paris, complete with the Seine (etched glass) separating the Left and Right Banks – we chatted with the Assouline team about creative inspiration, publishing, and everything in between.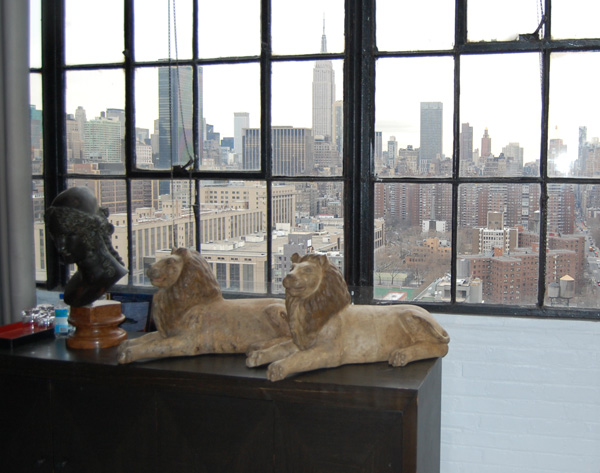 The beautiful view from the Assouline office.
Where does the inspiration for all of the amazing Assouline books come from?
The majority of our books come from the ideas and experiences of founders Prosper & Martine Assouline. For example, our new book The Grand Bazaar of Istanbul, was published after they went to Istanbul for the first time and visited the Grand Bazaar. They were so inspired by the colors, the flavors, smells and the textures at the Grand Bazaar, that they came back and said, "This is our next book – we want this in our library."
And once you have an idea, what are the steps to publishing?
First, it's a process of either sending someone to shoot the images, or sourcing images and obtaining rights. For The Grand Bazaar, our in house photographer went to Istanbul and shot everything, which was amazing.
As we gather the images together, our editors work on finding an author – someone who is well versed and somewhat of an authority on the subject. For our book on the Hudson's Bay Company, we reached out to Graydon Carter, the Editor in Chief of Vanity Fair, because he is filled with Canadian born pride, knows the brand well, and clearly has an eye for fashion and culture.
And from there, the editorial team works on all of the text and our creative team designs the layout. Each book is unique, customized down to the last detail, from the texture of the paper to the font. And covers are always a huge process because they are what sell the book and draw people in. They are the first impression.
Prosper and Martine are very involved in the process – Prosper is the Creative Director and Martine the Chief Editor, so she takes charge of the text and images and he concentrates on the overall package presentation.
Each element is created in house – the only aspect Assouline doesn't physically do is the printing.
Once the books are printed, our sales & retail teams focus on getting the books to not only all of our Assouline boutiques, but specialty book stores, gift shops, museum exhibitions, and private properties all over the world. The public relations team works on promoting the book through press, Social Media, events, partnerships, and contests, like we did with The Impossible Collection of Fashion.
A very successful event was 2011's Fashion's Night Out. We celebrated Brazilian Style at our Plaza Hotel Boutique with caipirinhas, festive colorful apparel, and Brazilian Samba Dancers! The pages were truly brought to life in the boutique, and author Armand Limnander was there signing books through the night.
Follow the jump to read more!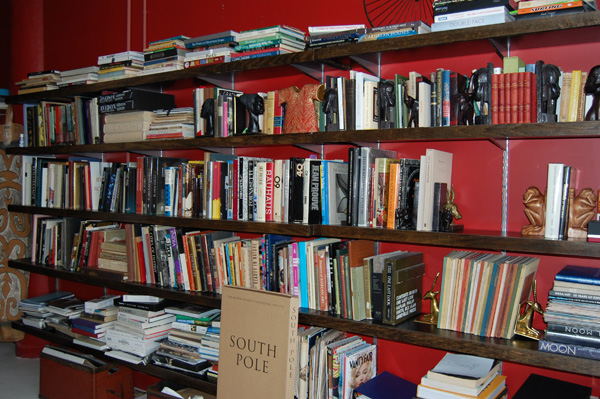 A wall of books in Martine Assouline's office.
At a time when print is on the decline, Assouline has really been able to stay strong. Why do you think that is?
Assouline isn't affected by the e-book because our books are cultural objects of art. People buy them for décor and for their intrinsic artistic value. There is also a resurgence of the desire to hold a physical book – so we've actually benefited from this sort of movement back to print.
Assouline has cultivated a niche, a group of culture-minded people that will continue buying these books because they are collectible, limited edition, and vivid reflections of the beauty around us.
Assouline has an amazing social media presence – how have you grown that and why do you think it has gained such a following?
Assouline has developed a whole social strategy – planning out the best ways to bring our books to life on the social sphere and feature them in a different light. It is all about a unique experience on our social media channels and learning about the behind-the-scenes things that go on – ideas and inspiration that you can't find anywhere else. It is not just a repetition of the press release, which was really important to us.
Assouline's social channels are mood boards more than promotional tools. They are a place for us to share what we as a company like to see and do. And because people are interested in that content, we have been able to grow very quickly.
Which channels have been the most useful for you?
Each is so different. Twitter is great for interacting with people and having the chance to reach people and companies we wouldn't normally speak to on a daily basis. Sometimes we'll Tweet with people at fashion magazines or even other book publishers, and there is no other platform that you can just have a casual conversation like that. And it is also important for interacting with our customers – and live Tweeting events!
Tumblr is visual inspiration from the world of Assouline, the pages of our books, the places we visit. Facebook is a broader mix of the conversation and the visual – it has everything. And of course YouTube is video content, and Pinterest is another digital mood board which we're starting now to curate. We try to differentiate the content on each of the channels and put a different spin on it.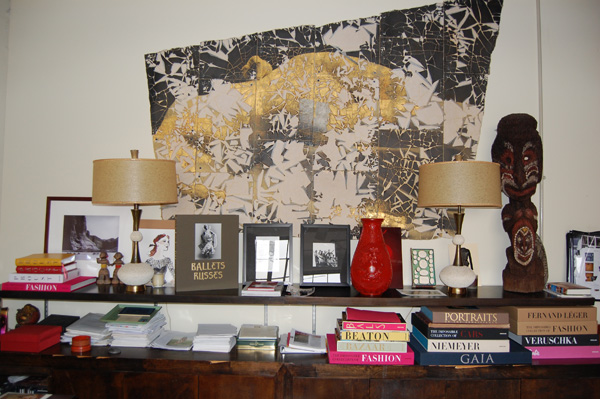 Art at every turn in the Assouline office – including a drawing of Martine by Gladys Perint Palmer.
We love that Assouline, which is a print publishing company, has really embraced social media and the digital world. Do you think that it has benefited the brand?
Absolutely – in sales but primarily in awareness. People recognize our Social Media Klout, and it is now part of the bigger package with our brand partners, authors, vendors, and fans. Our Social Channels bring not only the books but the people behind them to life, and this is something people cherish since our world is all about culture and inspiration. And more than exposure for other people, it also provides awareness to us with what our fans want to see, hear, and read. Aside from all else, simply seeing someone like a photo in Instagram is very flattering. It's truly beneficial for all parties involved.
What is the best part of working at Assouline?
Everyday is an education. You become so well versed in art, fashion, design, architecture, travel – working here, you end up with such a great wealth of knowledge. Every title for us is a new project, and we have to get to know the book and the pages and the content. From the South Pole to Cecil Beaton, Dior, Chanel, and Elsa Schiaparelli. We learn so much about all of these different subjects and it goes far beyond the pages – it's real life, it's culture. And being able to share that education and spread that through our books and our social media is amazing.
What is Assouline working on next?!
This spring brings additions to some of our current series (The Light of Venice, Escape Hotel Stories), as well as brand new and quite different content. We have a lot of second time authors who really become part of the Assouline family.
We're really excited about Pioneers of the Possible, American Beauty, and The Ivy League – which is a little out of the ordinary for Assouline, but such an influential part of American culture. We like to keep our readers guessing, never knowing what's coming next! Assouline strives to bring new and inspiring subject matter to our clientele, all in the name of culture.
Thank you so much to Assouline for such an insightful and interesting interview! Be sure to check out Assouline.com to peruse their stunning collection and follow their social media channels for a daily dose of inspiration!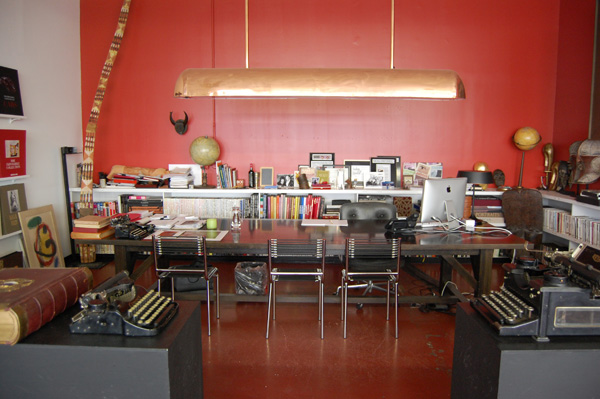 A veritable treasure trove in Prosper's office.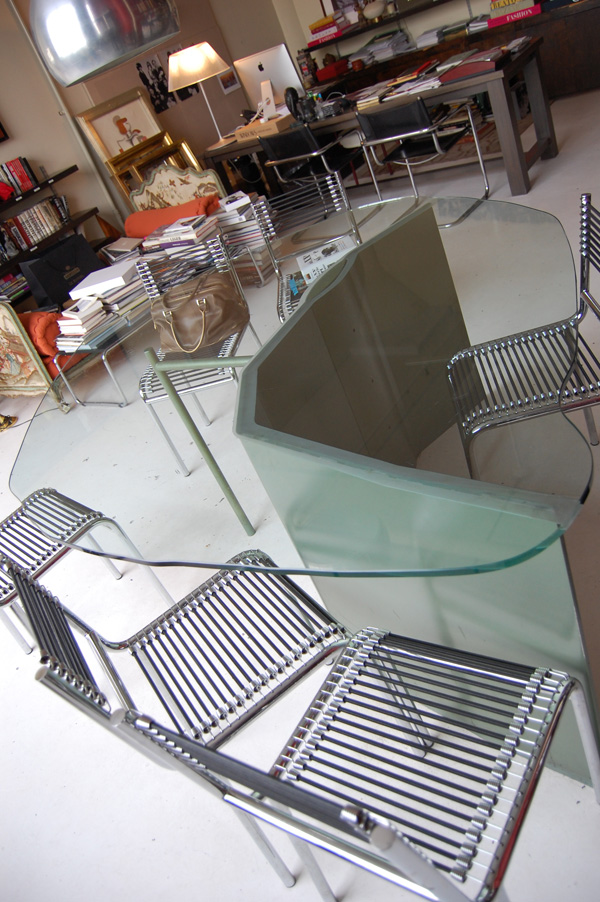 Would you prefer to sit on the Right Bank, or the Left?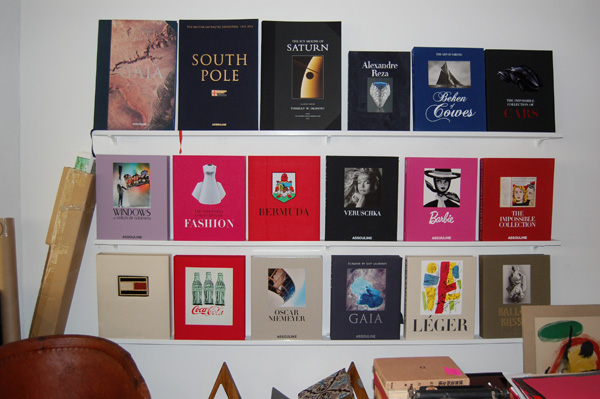 THE Impossible Collection.
For more Industry Interviews, click here.