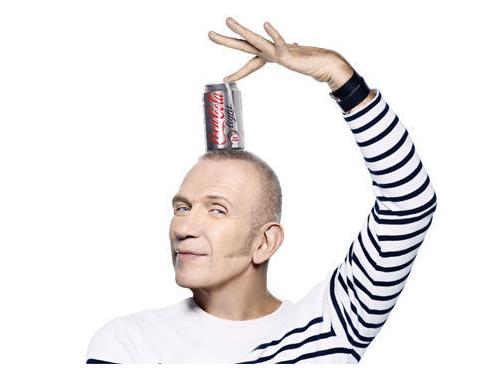 Diet Coke! Yes, you heard right – Jean Paul Gaultier has been tapped to lend his creative touch to the European division of Diet Coke (or Coke Light, as it is called there). He will design limited edition bottles and cans for the beverage, as Karl Lagerfeld had done previously. "The bottles have the shape of a woman's body, so it was great fun to dress them," Gaultier told Women's Wear Daily. To kick off the collaboration, the designer starred in a series of three short films for the brand – as a therapist, journalist, and a private detective solving the wardrobe dilemmas of a puppet. The first limited edition bevvies will hit European shelves next month – and this is probably the first and only time we'll say this about a soft drink – but we can't wait to see what their wearing!
Follow the jump to watch the first two videos!
The Serial Designer Rocks Out
The Serial Designer Stars in a Romance
Source: WWD.