Don't let the holiday blues get you down. This week, you can dance your troubles away at the Romper Room in Maiden Lane, head up to Union Square for festivities at the Westin St. Francis and the annual tree lighting ceremony (with music by the Oakland Interfaith Gospel Choir), support fellow students at a special SHOP657 event this Saturday and check out innovative new media art at the Minnesota Street Project. And don't forget to volunteer!
Monday
'90s Trivia Night & Macarena Dance Off
Time: 7:00pm – 9:00pm
Cost: Free
Be transported back to the decade where Tamagotchi's were the best necklaces, Lisa Frank was the hottest designer, and frosted tips were trending at the Romper Room's '90s Trivia Night. Trivia genres range from Fresh Prince to One Hit Wonders, so bring your A-Game. Enjoy "Pop Rock Margaritas and Capri Sun Cocktails" as you show off your knowledge. Winners will receive the most '90s awards we can think of: slinkies and slap bracelets.
Tuesday

Bitforms Gallery: Fifteen Year Anniversary Exhibition
Time: 11:00am – 6:00pm
Cost: Free
New-York based bitforms gallery, which represents artists engaging in "new media art," celebrates its 15-year anniversary at the Minnesota Street Project. To showcase the extent of the bitforms gallery, the Minnesota Street Project will have three rooms dedicated to the artists. You can see anything from LED sculptures by Daniel Canogar and a WiFi intercepting sculpture by Addie Wagenknecht to algorithmically created digital paintings by Siebren Versteed and one of the first Internet artworks commissioned by a major institution, by Mark Napier.
Wednesday

Westin St. Francis Holiday Décor
Time: All day
Cost: Free
Pop into the iconic Westin St. Francis Hotel to enjoy the much anticipated holiday transformation. Enjoy the anything but subtle transformation of the hotel lobby to a festive oasis with grandeur décor, dazzling lights, and tempting gift boxes. Drool over the new and improved 12-foot sugar cakes by Executive Pastry Chef Jean-Francois Houdre and his team displayed in the hotel lobby. And make sure you treat yourself to a cheat day treat from the St. Francis Sweet Boutique.
Thursday

Volunteer
Time: Varied
Cost: Varied
Staying in town for Thanksgiving? Spend some time spreading a little joy in the city we call home (at least for now) before diving into your turkey and dressing.  Help deliver that heavenly Thanksgiving dinner to over 6,000 local seniors by signing up for a shift at Meals on Wheels or Salvation Army Meal Delivery. Sort, package or distribute healthy snacks for families to enjoy Thanksgiving Day with the San Francisco Food Bank. Or spend the day at the Thanksgiving Day Block Party serving over 300 sit-down dinners or delivering over 5,000 grocery bags and 7,000 hot meals.
Friday
Tree Lighting Ceremony
Time: 6:00pm – 7:00pm
Cost: Free
'Tis officially the season to be jolly! Celebrate the start of the Holiday Season with the 27th Annual Tree Lighting ceremony at Macy's. Enjoy a free performance from singer-songwriter Aloe Blacc, the San Francisco Boys Chorus, San Francisco Playhouse's cast of She Loves Me, and the Oakland Interfaith Gospel Choir. And after being serenaded, watch as the 83-foot holiday tree with over 33,000 lights and 1,100 ornaments illuminates Union Square!
Saturday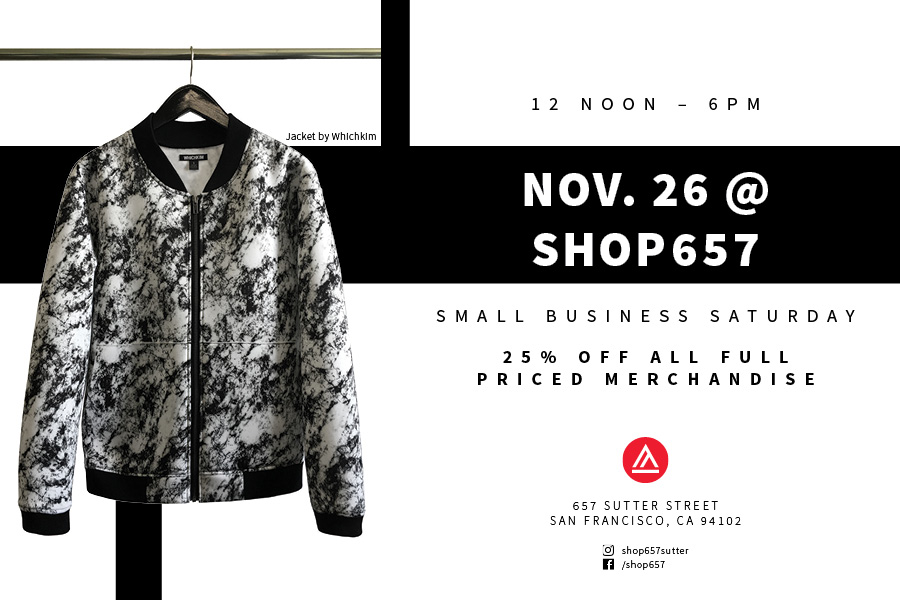 SHOP657 Event
Time: 12:00pm – 6:00pm
Cost: Free
Shop local and support Academy of Art University alumni and student vendors at the Shop657 Small Business Saturday event. Enjoy 25% off (and an extra 5% if you RSVP here!) See designs from 625 Lab, Ben Copperwheat, Chelsea Snyder and more! P.S. Make sure to check out the newly decorated holiday window display as seen on WindowsWear.com!
Sunday

Etsy
Time: Saturday & Sunday 11:00am – 5:00pm
Cost: Free
We all love holiday presents- especially when they are locally made and one of a kind! Shop for just that at the 4th Annual SF Etsy Holiday Emporium. For your listening pleasure, enjoy some tunes from the Bay Area Surf Rock Band, the Hiwatters and to keep your shopping spree going, refuel with local food vendors around Pier 70.  You'll need both music and food to keep you going as you explore over 200 local artisans and their work to fill up your own reusable shopping bag!
Text by Emily Higginbotham