High Style: The Brooklyn Museum Costume Collection, is now showing at the Legion of Honor in San Francisco.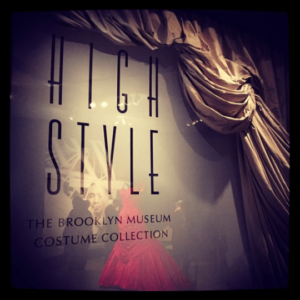 Only two-hundred women in the world today buy couture fashion, according to Kathryn Zupsic, a guide from the Fine Arts Museums of San Francisco. But we can certainly appreciate looking at the made-to-measure masterpieces. Innovations including the first wrap-dresses, bias-cutting, and understructures that allowed for strapless gowns, are after all what has inspired and evolved fashion into what it is today.
High Style is an uncomplicated, lucid display of European and American couturiers from 1910 -1980 including Christian Dior, Jeanne Lanvin, and Yves Saint Laurent amongst others. The unfussy, thematic exhibit presents a special focus on Gabrielle "Coco" Chanels' Italian rival, Elsa Schiaparelli, and 'America's first couturier', Charles James.
The highly structured styles from James, also known as the master of cutting, take shape from his engineering and architectural interests; His gowns were almost sculpted using these design principles. We are able to take a look at his sketches and see how he engineered his gowns through a digital design display; It isn't that dissimiilar to how such a dress would be constructed today.
James' iconic 'Clover-Leaf' gown, which moves like a bell, was first worn by Austine Hearst, wife of publishing successor, William Randolph Hearst Jr. in 1953; The aesthetic design was the first of its kind. James also "championed strapless in the Thirties; invented the figure-eight skirt, the puffer jacket and the Pavlovian waistband" says Rosemary Feitelberg, Women's Wear Daily correspondent.
Christian Dior, also shown at the exhibit, had credited James with inspiring the New Look of 1947, using his structured full skirt, strapless silhouette technique. James has since said of himself, "I'm the most copied person in the world."
It is interesting to understand how geometry has been used in the past, as well as thinking about how it can be used in the future of fashion design. Jan Glier Reeder who curated the original costume display in Brooklyn says, "The importance of looking at historic forms is that if you don't understand what came before, you can't really understand where you are today."
James' geometric techniques exist outside of couture fashion design today, but are a great insight into the innovation of design technology and how it has since shaped fashion. I would recommend that anyone interested in the history or construction of fashion visit High Style, and be sure to attend with a tour guide to gain a fundamental understanding of the background behind each garment.
Exhibit: March 14th – July 19th 2015
By: Faye Harris