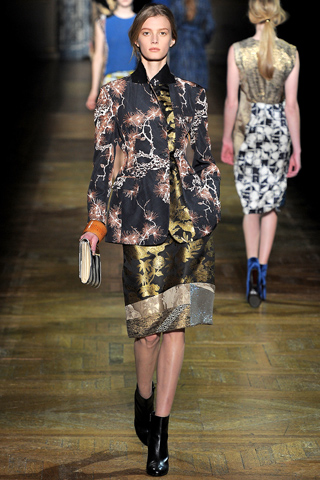 Harry: Dries Van Noten is one of my fashion heroes ever since he sent Indonesian ethnic prints down his Spring 2010 runway show. This season, his inspirations were David Bowie and the Ballets Russes. While I did not get the Ballets Russes inspiration, it was still a great show. Dries is the man when it comes to clashing prints. The black and white prints were giving me an optical illusion. That, paired with the prints, added an element of quirkiness to the collection that's very Bowie. The socks with heels were pretty spectacular — and yes, there was also snakeskin. It's crystal clear that snakeskin is going to be in for fall 2011.
Danielle: I can't stop looking at the shoes from this collection — which means there might be a "department store situation" when I view them in real life for the first time. Overall, I love how balanced these looks are: some overpower with complex textiles, while others dominate in undeniable color blocking (and small details of pattern). The color scheme that flows through the textile mixing is aspirational, and held my attention and interest throughout the entire show. The finale looks made me want to cut up a variety of my own dresses and sew them up (in a blocking style).
Follow the jump to read more.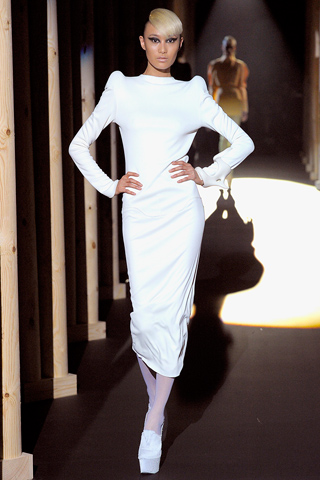 Harry: I have to give props to Lady Gaga for being able to walk fast in those shoes. Even a top model like Frida Gustavsson almost took a tumble on the runway. There were so many epic moments that I couldn't focus on the clothes. First Lady Gaga, then Frida with her model-pretzel that she made to 'distract' people from her accident. After that was the zombie guy with his unconventional hotness. And lastly, Coco Rocha and her over-the-top strut. I almost couldn't handle that much greatness in one show.
Danielle: This show kept my heart racing for about an hour after it ended. I was watching the live stream on Mugler's Facebook page, and my relaxed lounging position quickly turned into me jumping on my bed and dancing in my room. A runway show hasn't made me this inspired or energetic in a long time — and there are a few reasons why. Yes, I am a serious fan of Mugler, Formichetti, Gaga, and a ferocious Coco Rocha runway walk. I appreciated how a lot of the show felt like old Mugler (thank you, Formichetti!) — and, I was excited by the show as a whole. The environment was simple, yet epic and interesting. With Formichetti's recent tweets about searching for an Architect, I have a feeling that these monumental shows aren't leaving anytime soon.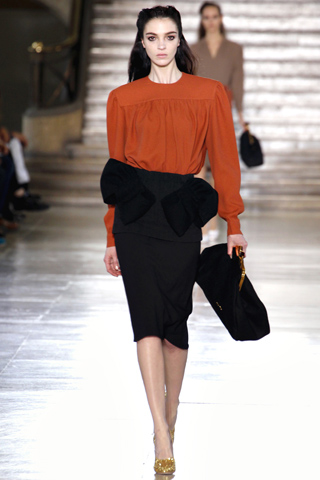 Harry: Shoes of the season usually have one or more pairs of shoes from Miu Miu's runway shows. This time, the Miu Miu shoes were glittery, sparkly and some had wings on the side. The shoes were arguably the most interesting part of the Fall 2011 show. Don't get me wrong —- I love the clothes but they were a little bit mature (slash sporty) for Miu Miu's customers. Even though the great Mariacarla Boscono opened the show, I feel like she's more Prada and less Miu Miu.
Danielle: I'm not sure about the winged heels (maybe I need to try them on), but I am in love with those show-opening glittery heels — the color is so vibrant against the looks! It is fabulous and exciting. (And by the way, tsk tsk to Style.com for not having detail photos of them!) Anyway, I am usually not a fan of Miu Miu (it's too simple and boxy for me). But, I enjoyed a few of the 90's style power-suits near the beginning of the show. Beyond those first suit dresses, the show kind of felt like it had the same two looks repeated over and over, with different colored collars and sashes. Meh.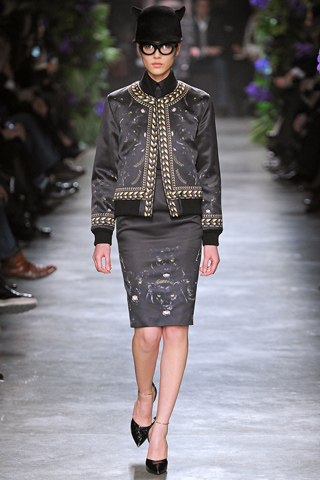 Harry: Ricardo Tisci sent panthers down the runway for Givenchy's men's collection. He did the same thing for the ladies. There's something sexual about the collection in how the panthers are covering parts of the models' bodies. The models were like sexy librarians, with inner panthers. One piece that really caught my eyes (other than the cat cap) was on Liu Wek (look number 7.) It was a 'Chanel' jacket with printed gold chain and panther faces all over. It's like a dark Chanel.
Danielle: Besides the fact that you could find any of the pansy or panther sweaters at your neighborhood thrift store, I've really enjoyed this sexy and sheer path that Givenchy has been going down for a while now. This season seems to pay homage to the badass school girl, with athletic-style jackets paired with pleated mini skirts. Either way, the shocking yellow and purple looks are driving me crazy (a GOOD crazy), and I'm down for a high waisted pansy-printed skirt. That flower hasn't gotten much attention since Alice in Wonderland, am I right?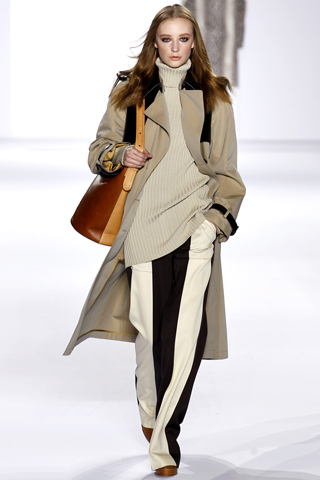 Harry: Hannah MacGibbon received decent reviews for her Fall 2011 collection (compared from what she got before). However, I must say I was disappointed with the collection. It felt like a trend overload. Snakeskin, snakeskin print, leather, color blocking, stripes, blue jeans, sheer, bow, nightgowns, fringes — and out of nowhere, Caroline Brasch Nielsen walked down the runway with some paisleys. It felt random, but that's maybe how the '70s were.
Danielle: Oh Chloé. What has happened, Hannah MacGibbon? I think she has let go a bit. I mean, even her personal look during the show's finale deserved a "What?!" When viewing this collection, I had to squint and figure out what's going on but nothing seems to help. I'm actually really into the wide-legged, striped pants in look #5, and the deep green snakeskin pencil dress in look #8, but otherwise the collection looks like some (low waist sitting) separates and a giant patchwork poncho.