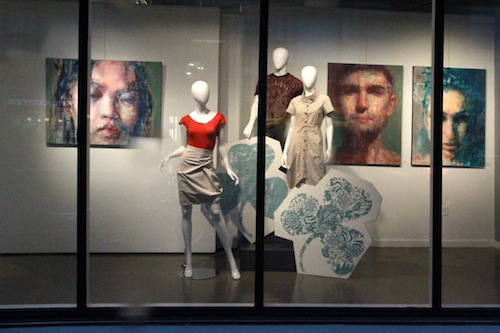 With a special collaborative project by students from textile design and visual merchandising classes, the windows at the Atelier at 79 New Montgomery have been appropriately adorned with shamrocks in honor of St. Patrick's Day.
Under the tutelage of instructors Rhona Mackenzie, Russell Clower and Martin Zanfardino, the shamrock prints were designed by Amanda Agnott,
Sunny Cho, Kelsey Faber, Tai-Lin Hsieh, Dongwook Kim, Sam Lee, Annalise Lundeen, Yun Kyung wee, and Min Young Yun. Visual merchandising students Jef Jones, Sophia Kim, Danielle Wallis, and Zhao Wu help display the shamrocks in the windows.
Building the shamrock textile display with my fellow classmates and instructors Russell Clower and Martin Zanfardino was not only a successful creative experience, it pushed the in-class experience by working on a real project outside of the classroom with inspiring industry professionals," says Danielle. "Last weekend, our small team got to utilize the new visual merchandising workshop to brainstorm, build, and improve our craftsmen skills to create these quick spring window updates. Although the project wasn't extensive, it was realistic and gave me time to chat about even more spring concepts with Russell – which I always love doing!"
"The shamrock project used a holiday symbol in variety of textures and colors; working together we created unusual window displays," adds Zhao. "We received the textile printed shamrocks, and came up with a uniform shape (on which) to mount them. It seemed easy, but was more difficult to achieve than it looks! I really love the experience of working directly in the windows, and having the opportunity to make on-the-spot choices about composition and placement."
Click on an image in the gallery to enlarge.