Art, Fashion and Music are powerful means of self-expression for individuals and communities in general, and in particular in times of political upheaval and social unrest. This year the Fine Arts Museums of San Francisco celebrate the 50th anniversary of the birth of a vibrant American counterculture that has emerged in the summer of 1967. De Young Museum brings you The Summer of Love Experience: Art, Fashion and Rock & Roll, an exhilarating retrospective of over 300 artifacts, including posters, photographs, interactive installations, clothes and memorabilia, as well as documentary and avant-garde films. On display through August 20th, it gives you a chance to come back a couple times to soak up the good vibes!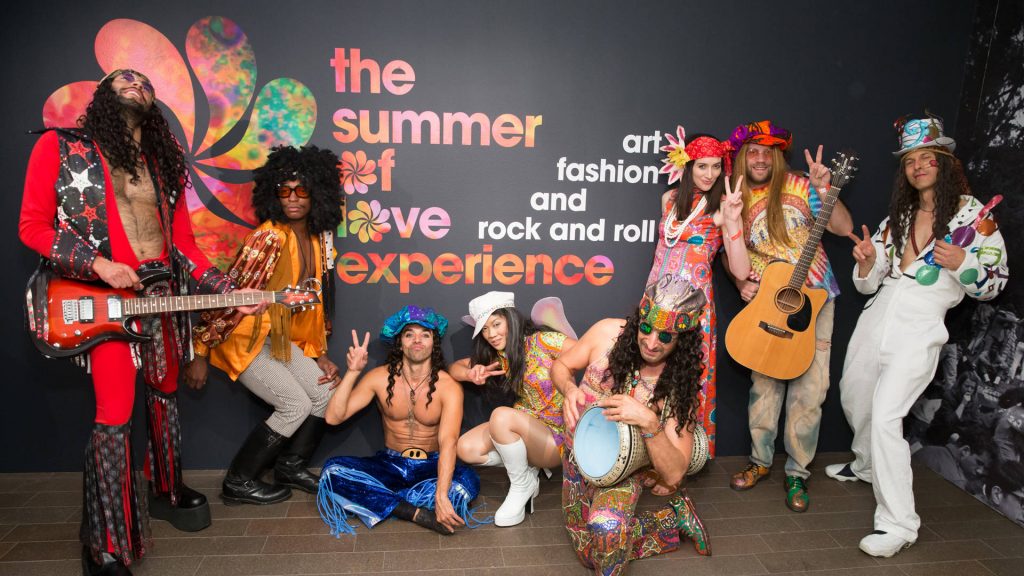 There is a lot to take in here. The experience opens with a flashback to the Trips Festival which took place in January 1966. This multimedia extravaganza focuses on the role and impact of recreational drug use. The rooms change and you're transported into the heart of the Haight-Ashbury neighborhood and the Golden Gate Park which hosted pivotal social gatherings that sparked historic events throughout the country. Then you encounter a collection of hand-drawn posters that reveal the going-ons of the yesteryear rock 'n roll and protest scene. "The Fine Arts Museums have long held a significant collection of documents from this period," says Colleen Terry, Assistant Curator for the Achenbach Foundation for Graphic Arts. "These works have been reproduced so broadly over the past 50 years that we lose sight of how startlingly original and inventive this work is; and how it defined, reflected and augmented the culture from which it emerged."
Maybe the names of these designers don't ring immediate bells to most people – Birgitta Bjerke, aka 100% Birgitta; Mickey McGowan, aka the Apple Cobbler; Burray Olson or Jeanne Rose – but they have created a truly unique moment in fashion history. Bay Area styles also took quite a decisive turn from mainstream "middle America". It became more bold, experimental in form and technique, using psychedelic color combinations and championing individualism at a time when cultural homogeneity was the aspirational goal. "Our collections have always reflected our respect for this period in Bay Area history," notes Jill D'Alessandro, curator of textile and costume arts at the Fine Arts Museums of San Francisco. So put on your favorite tie-dye T-shirt, hop on the Yellow Submarine time machine and pay tribute to the great American cultural (r)evolution of the Summer of '67!
Text by Nivetha Sundar, MA Fashion Journalism